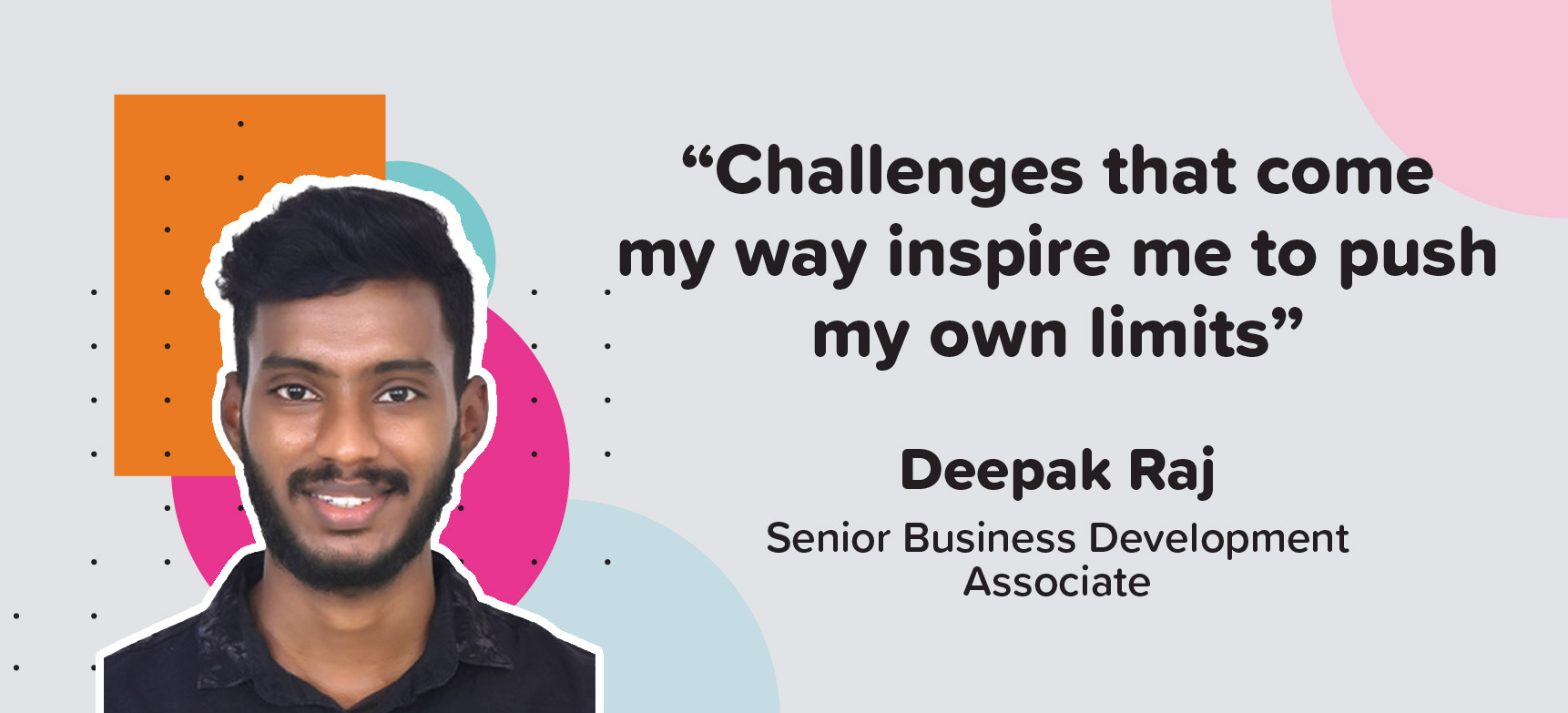 We all dream of following our passion but very few are brave enough to go after their dreams. Deepak Raj, a Senior Business Development Associate at BYJU'S, is among those few who are striking all the right chords, following both his love for music and his career in sales. 
From making bold career moves to starting his own band and a music movement which has since taken over the streets of Chennai, the 26-year-old's journey is full of learnings. In this edition of A Day In The Life Of, hear it from Deepak as he offers a glimpse into his typical workday, his roles and responsibilities, and the lessons from a career in sales. It's the best of both worlds for BYJUite Deepak Raj. 
What led you to join BYJU'S? 
I'm a mechanical engineer who has also successfully completed MBA. I have worked at one of the country's largest MNCs but I always wanted to try out something more challenging. 
In 2020, I found out that BYJU'S had an opening for Business Development Associates. Though I am a mechanical engineer, I wanted to pursue sales and knew I had what it takes to crack this field. I decided to give this role a shot and joined as a trainee. After 15 months, I'm now a Senior Business Development Associate. 
Also Read: From Running a Startup to Managing Digital Finance – RPM, Vilas N Shares His Biggest Learnings
What's something about you that might surprise us?
I am a trained classical musician; I have dedicated the past eight years to music. In 2017, my friends and I started a band in Chennai named, Akuli. The name of our band is derived from an ancient folk instrument. We've also created On the Streets of Chennai – a musical movement to develop the culture of street music. This movement aims at bringing together 100 aspiring musicians who perform at metro stations, malls and other public places. 
What excites you the most about working at BYJU'S? 
As a fresher, you don't expect growth or even perks in the early stages of your career. But my experience has been quite different. As a trainee, I picked up responsibilities that helped me work on my time management and gauge customer responses. No two days have been the same here, and that has kept me excited and motivated.
Also Read: When Dreams Come True: Shoaiba Khan Charts her Journey From Bulandshahr to BYJU'S
What's your daily source of inspiration?
The challenges that come my way, keep me inspired. I have experienced several highs and lows and want to make the most out of these experiences. And in the future, I aspire to take on managerial responsibilities as that is where my skills can shine through, building relationships and creating opportunities. 
Last but not the least, my family is my backbone. They never fail to inspire me to work hard, be it with my music or my career. 
How do you strike a balance between profession & passion? 
During my week offs, I jam with my band members at our studio called, Freedom Factory. We practice on Tuesdays and Wednesdays for all the upcoming performances. It's a very therapeutic experience, as I get to unleash my creative side every time I am performing on my guitar.