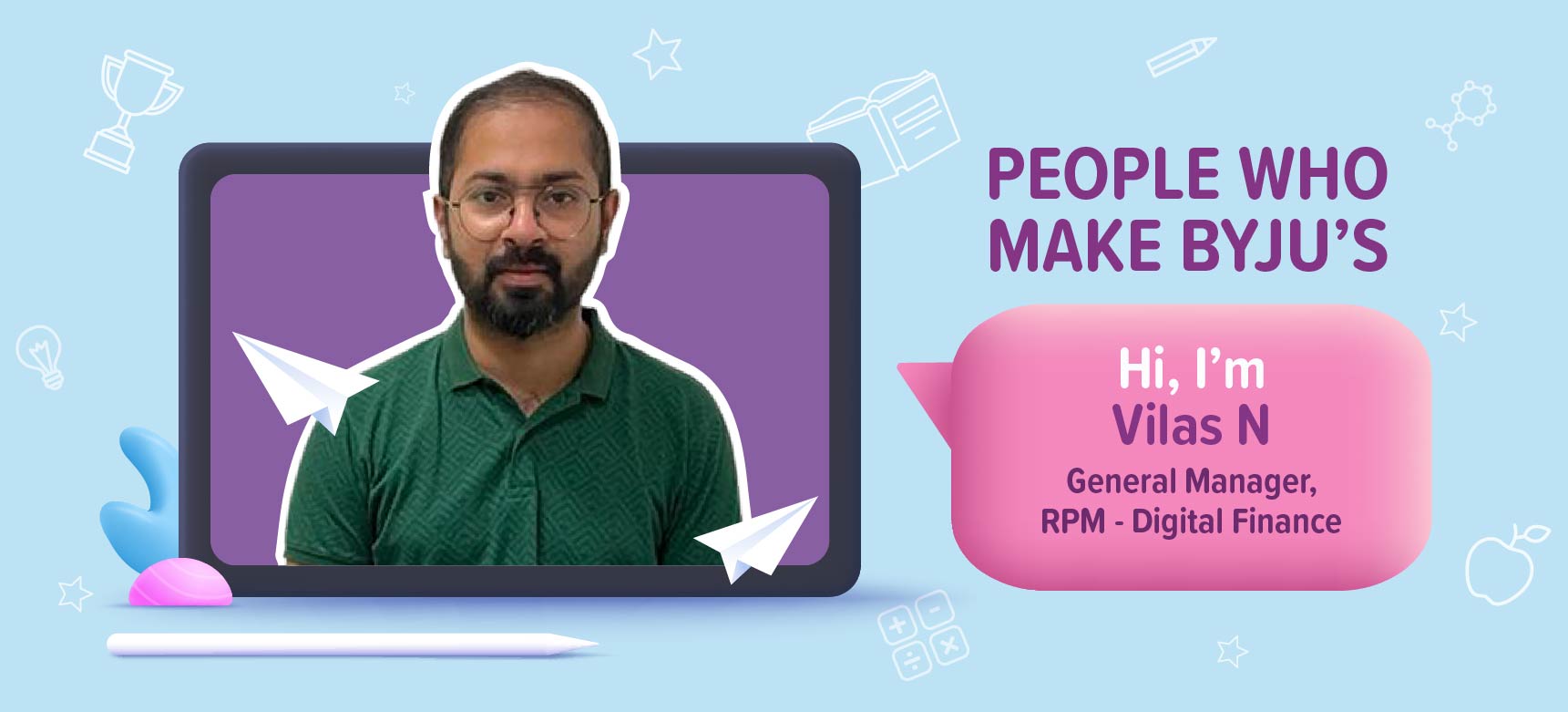 "After setting foot in the world of finance, I have realised how the backend work of financial planning and analysis can be strenuous and time-consuming. Most of it requires a lot of manual work. Mainly because the industry depends on human resources rather than automation."
"This prompted me to introspect, how can we further simplify this process? Will simple automation make a difference? What is next for the finance industry?"
Meet Vilas N, a finance whiz and former entrepreneur who joined BYJU'S as a Senior Manager – Supply Chain and took care of the business intelligence and analytics unit. Currently, as the General Manager RPM – Digital Finance, he oversees the risk and portfolio management team. 
For Vilas, a typical day at work involves improvising processes and planning new initiatives. As he puts it, "it's all about making the BYJU'S customer journey seamless". 
Also read: When Dreams Come True: Shoaiba Khan Charts her Journey From Bulandshahr to BYJU'S
The entrepreneurial journey 
They say, a career path is never a straight line, and Vilas' story is no different. Once in a dilemma to choose the right career, he started off in the BPO sector, before realising that he had a knack for finance. In between, the BYJUite also dabbled in the entrepreneurial life, starting up Wyzebulb in 2015.
The venture was born out of a simple discovery: that business process automation remains an unexplored area in the country. "We began customised automation for multiple companies across India and in other global territories," he shares, "And one such collaboration led us to BYJU'S." 
"It was a major moment for me and the team – and one of the best decisions I have ever made," the BYJUite adds. "When you become an entrepreneur, you need to don multiple hats. You can't just be a developer and not know how to sell the product. You need to learn how to be a skilled salesperson and how to pitch to investors as well. Running a startup has taught me a lot – lessons that now come in handy when I am managing my team and dealing with various situations."
From his experience as an entrepreneur, adds Vilas, the biggest takeaway has been the "openness to learnings". "Learn from the sales folks, from a software employee, from HR and anyone else you work with. Never say no to new learnings," he quips.
Also read: Of Resilience & Courage: How Hina Arora Carved a Career in Tech Against All Odds
Building the Digital Finance – RPM Dream team
At BYJU'S, Vilas' efforts in the past couple of years have translated into some transformative results. Particularly, in the face of the massive digital transformation in the finance space. 
Says the BYJUite, "In recent times, this sector has witnessed a major makeover.  Because of process automation, we have been able to scale the business by 3x in the last couple of years. Also, 95% of the process is now automated at BYJU'S, which was done manually before. All thanks to the efforts of the team on process optimisation."
Bigger changes, however, are on their way! Sharing a glimpse into the future of learning and innovation and the offerings from his team at BYJU'S, Vilas hints that the intersection of finance and technology is going to play a big role. In his words, "Our vision is to be a one-stop source for providing accessible and quality education to all through digital innovations."
Head to Life at BYJU'S to learn more about our work, people, and the stories that make us unique.  To explore job opportunities, check out Careers at BYJU'S .