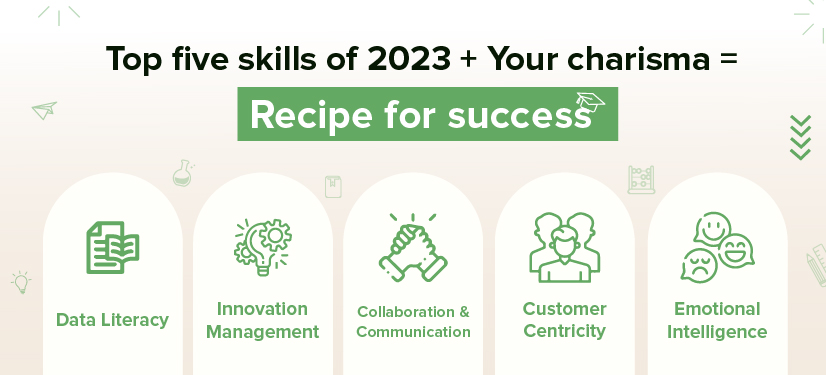 Update or become obsolete: In this ever-changing world with dynamic workspaces, the need to update one's skill set has become more essential than ever. What was relevant a few years ago (in some cases, only months ago), may not be as relevant today, owing to fast-paced technological advancements. As such, upskilling and reskilling are the way forward, especially as we delve into 2023, a new year that brings with it so many new possibilities. 
What are the top skills to learn in 2023? We have narrowed down the top five skills that employers are looking for, with the help of Pavan Rao R, Assistant Manager, Talent Acquisition. While some of these are digital skills and can be learnt on the job, others are inherently present in some people. "These are the essential skills for those looking to get hired, across domains. At BYJU'S, we also make sure that the candidate's values are in tandem with the organisation's culture," says Pavan. 
Also Read: New year, new goals: 12 ideas that will leave you inspired | Resolution Calendar 2023
Skill #1: Data Literacy
Today, more and more jobs across multiple sectors require analysis and interpretation of data. Research shows that data-driven organisations are able to take better and quicker decisions, have more effective processes, and increased productivity. As such, the reliance on data is no surprise. "Data research and analysis is an essential skill and perhaps the most important one, going forward in 2023," says Pavan.  
Skill #2: Innovation Management
Rapid technological development means continuous digital upskilling and reskilling. In this fast-evolving landscape, it's essential to be creative and innovative, and embrace every opportunity with an open mind. Continuous and regulated innovation, newer ideas and methods of execution, are key to sustainable growth within an organisation. 
"We are facing new challenges every day and it's important to devise fresh innovative solutions and strategies to overcome them," explains Pavan. Innovation in learning has been the cornerstone of BYJU'S and will be a continuing driving force in all our future decisions.  
Skill #3: Collaboration & Communication
If the pandemic has taught us anything, it's the importance of communication and collaboration. Teamwork has always been a good-to-have skill but perhaps never as crucial as it is now. With the future of work being a mix of remote, hybrid, and at-the-office, collaborating and communicating with the team to seamlessly execute strategies is paramount. At BYJU'S, cross-functional teams collaborate every single day to power some of the best learning products in the world. 
Also Read: From tutor to content developer: How Meena Srinivasan's dedication to teaching led her to BYJU'S
Skill #4: Customer Centricity 
Putting customers at the centre of all products, by truly understanding their needs, expectations, and perceptions, is what customer centricity is all about. It requires a combination of multiple skills and is an important aspect, as we step into  2023. From developing empathy to graduating from a problem to opportunity mindset, to even having a certain "love" for the problem, are some of the essential skills needed to develop customer centricity. 
This is not new to BYJU'S though. Students have always been at the centre of what we do, since the very beginning. Every learning product is optimised according to the students' needs and requirements, to ensure a seamless learning experience.
Skill #5: Emotional Intelligence
Perhaps the most underrated skill, having empathy and maturity to understand those working around you, is as essential, if not more, as the rest. The key to being a great teammate or manager is to know how to navigate emotions and foster great relationships at work, even when faced with complex situations. With an uncertain future in the offing, having emotional intelligence has never been this critical.  
Developing the right set of skills is the only way to ensure growth and success in your career. Whether you're looking to get hired in 2023 or advance your career, inculcating these skills will help in the long run. As the work landscape keeps altering, BYJUites continue to embrace the change and keep up with the trends. Will you? 
Also Read: From intern to BYJUite: How these youngsters converted their dream internships into full-time opportunities 
Like what you read? Head to Life at BYJU'S to learn more about our work, people, and the stories that make us unique. To explore job opportunities, check out Careers at BYJU'S.