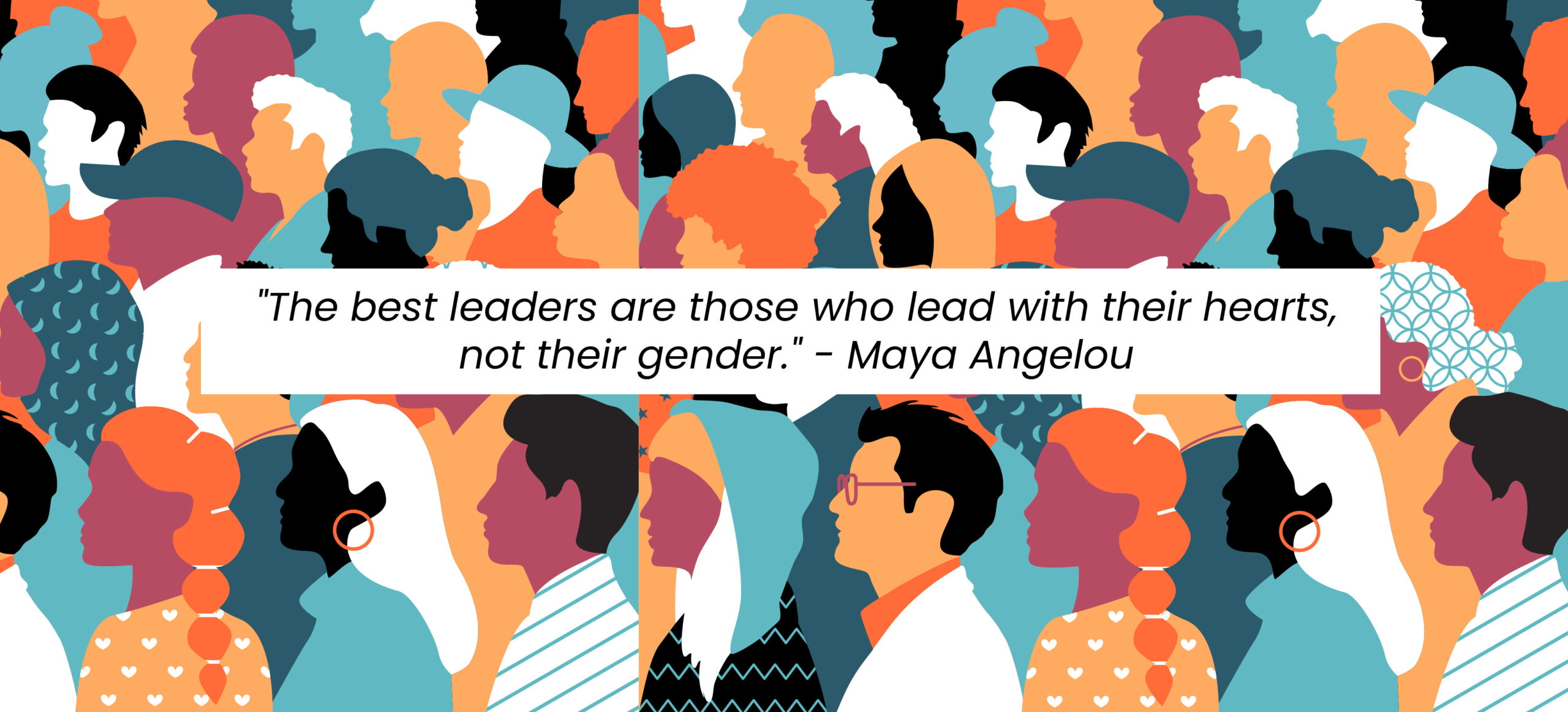 She's aggressive. Perfect to lead the team."
"He's too nice. Do you think he will make a good leader?"
These statements are a cue for us to challenge stereotypes and embrace an inclusive approach to leadership. Because genderless leadership should become the norm in every workplace, not a lucky exception.
What about BYJU'S? How do we promote genderless leadership? BYJU'S believes in an inclusive workplace culture that celebrates individual abilities, skills, and contributions, without labelling people based on their gender. Equal access to resources and training is provided to ensure everyone has a fair chance to grow and develop. 
Collaboration and communication are encouraged to break down gender-based stereotypes and create a culture of respect and inclusivity. Mentorship and leadership training are provided, regardless of gender, to develop their skills and prepare them for future leadership roles. Since its inception in 2011, BYJU'S has always made conscious efforts towards building an inclusive work environment and achieving a gender balance across all verticals of the organisation.  
Four amazing BYJUites share their insights: they identify the key qualities of genderless leadership, its benefits,  and its importance in today's world. Read on to discover how this can help us build a more equitable and inclusive world, both at BYJU'S and beyond.
Also Read: Women at BYJU'S | Haritha H on how an inclusive workplace aided her growth at BYJU'S Tuition Centre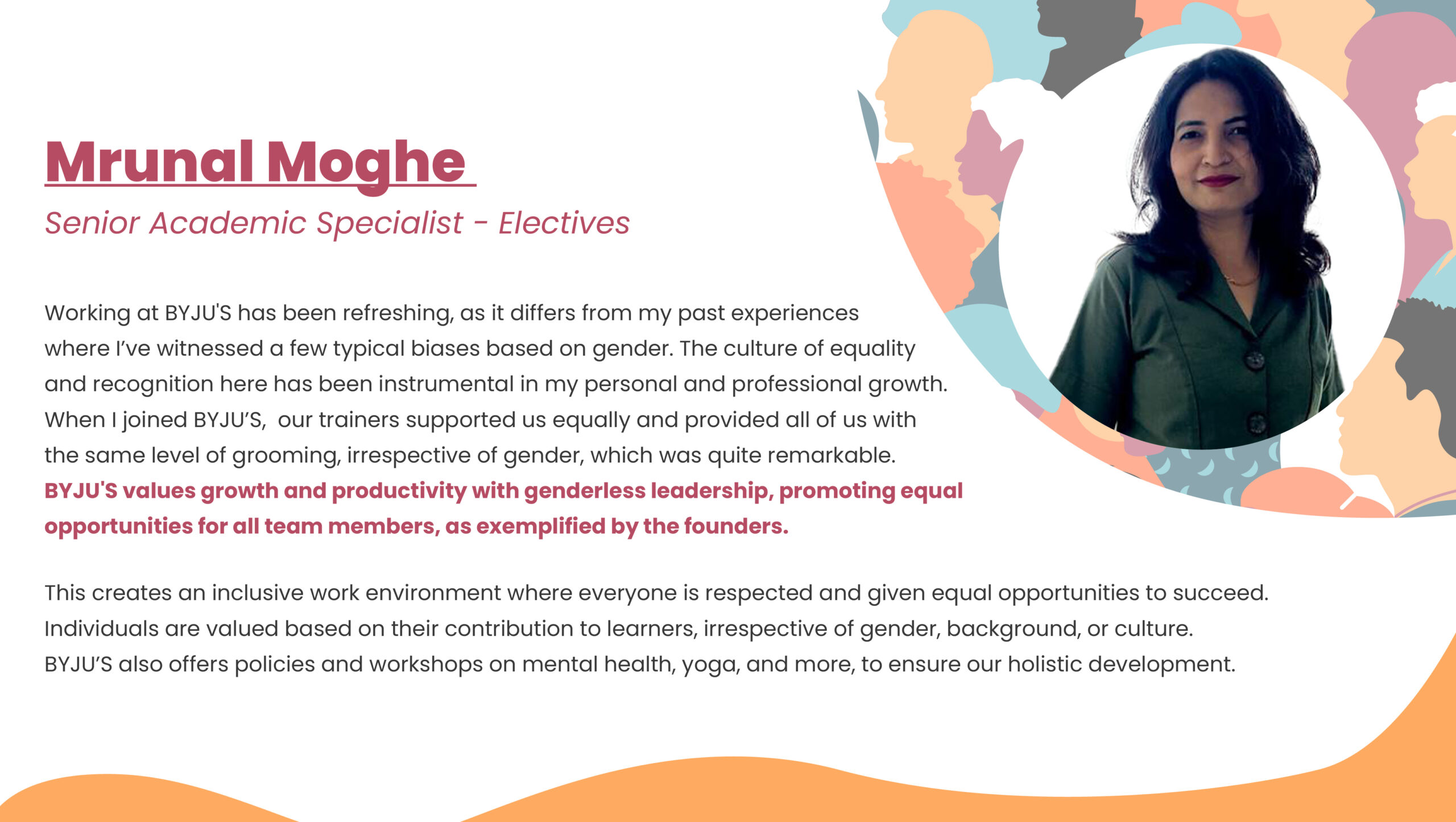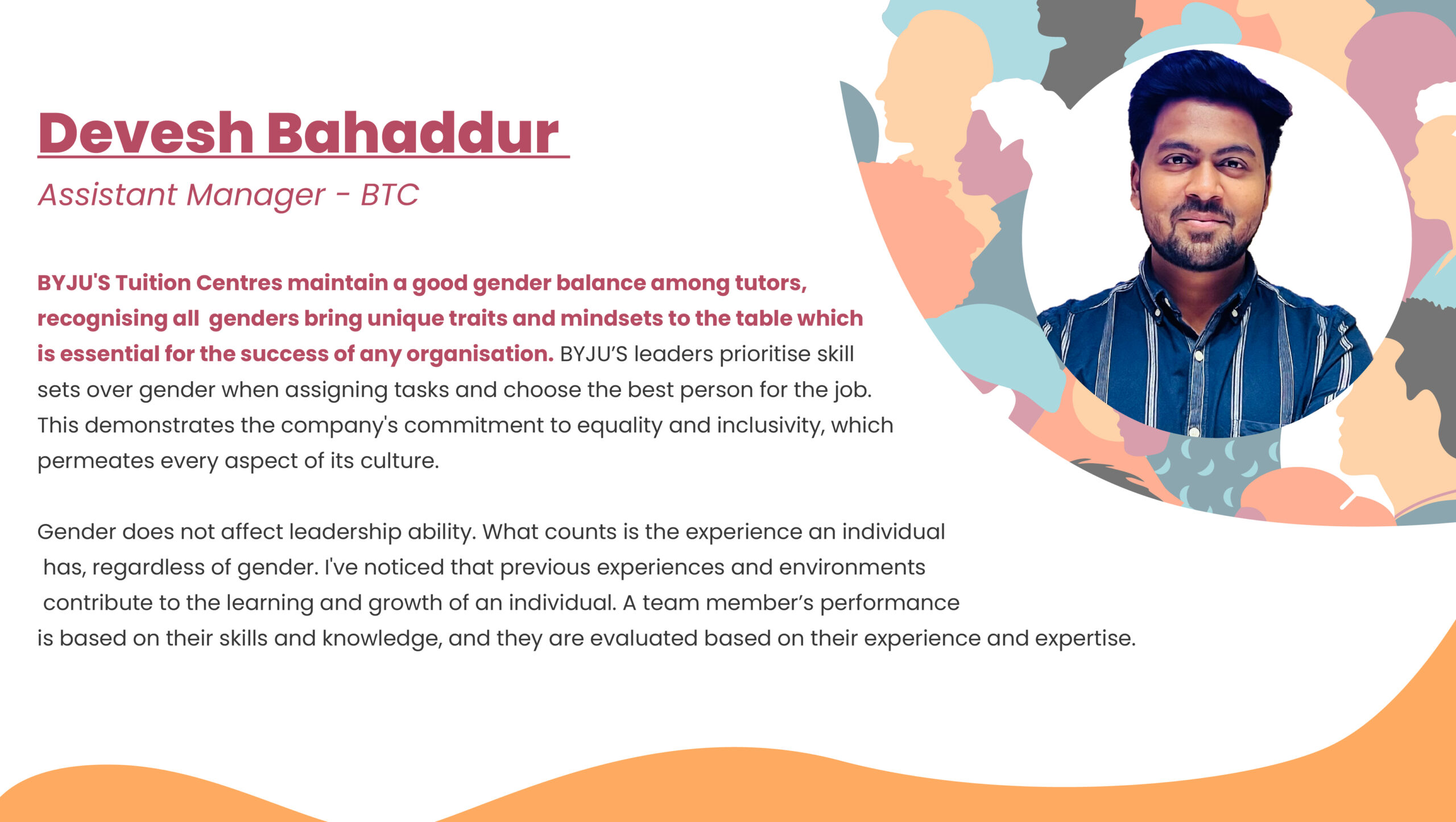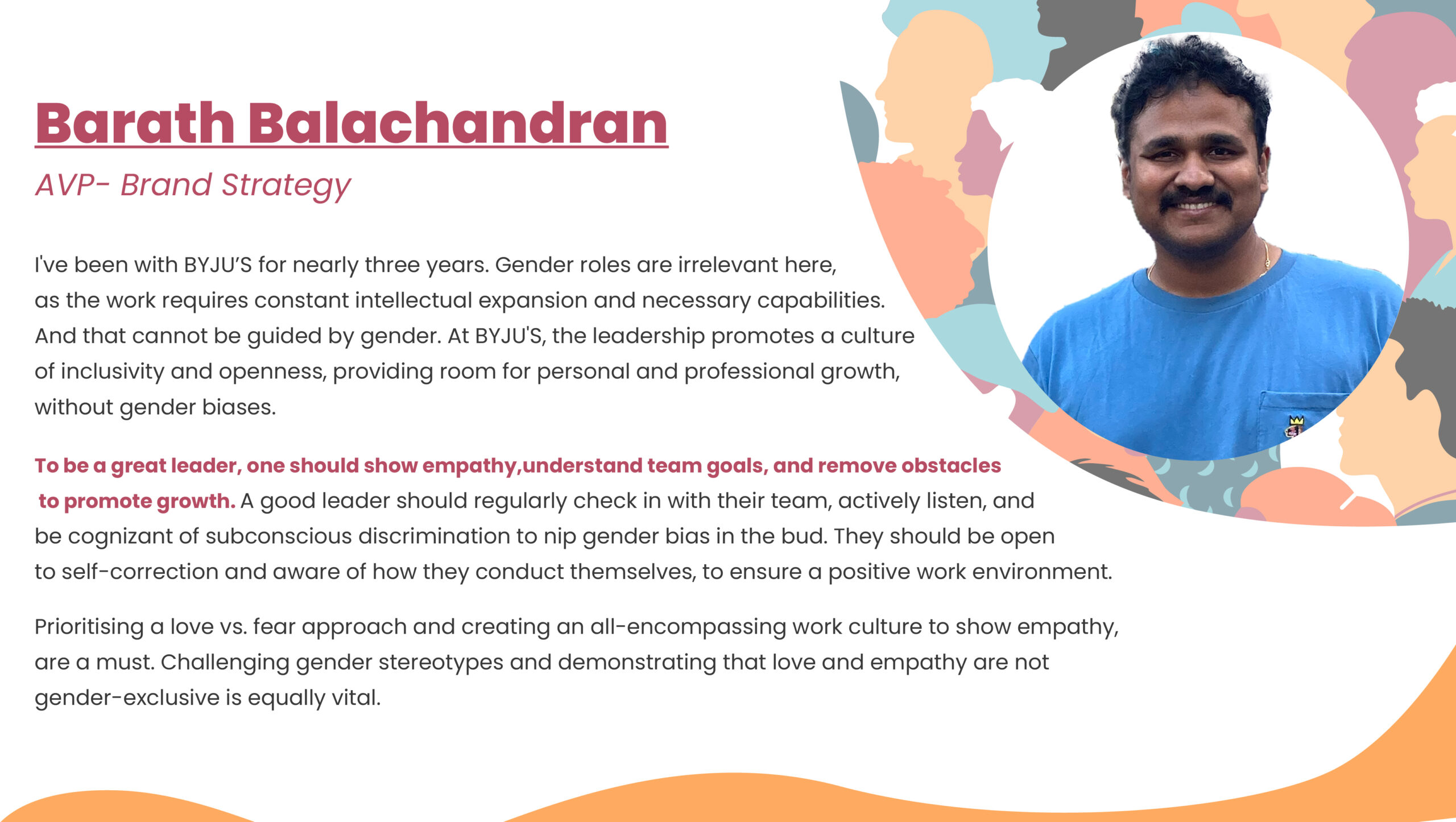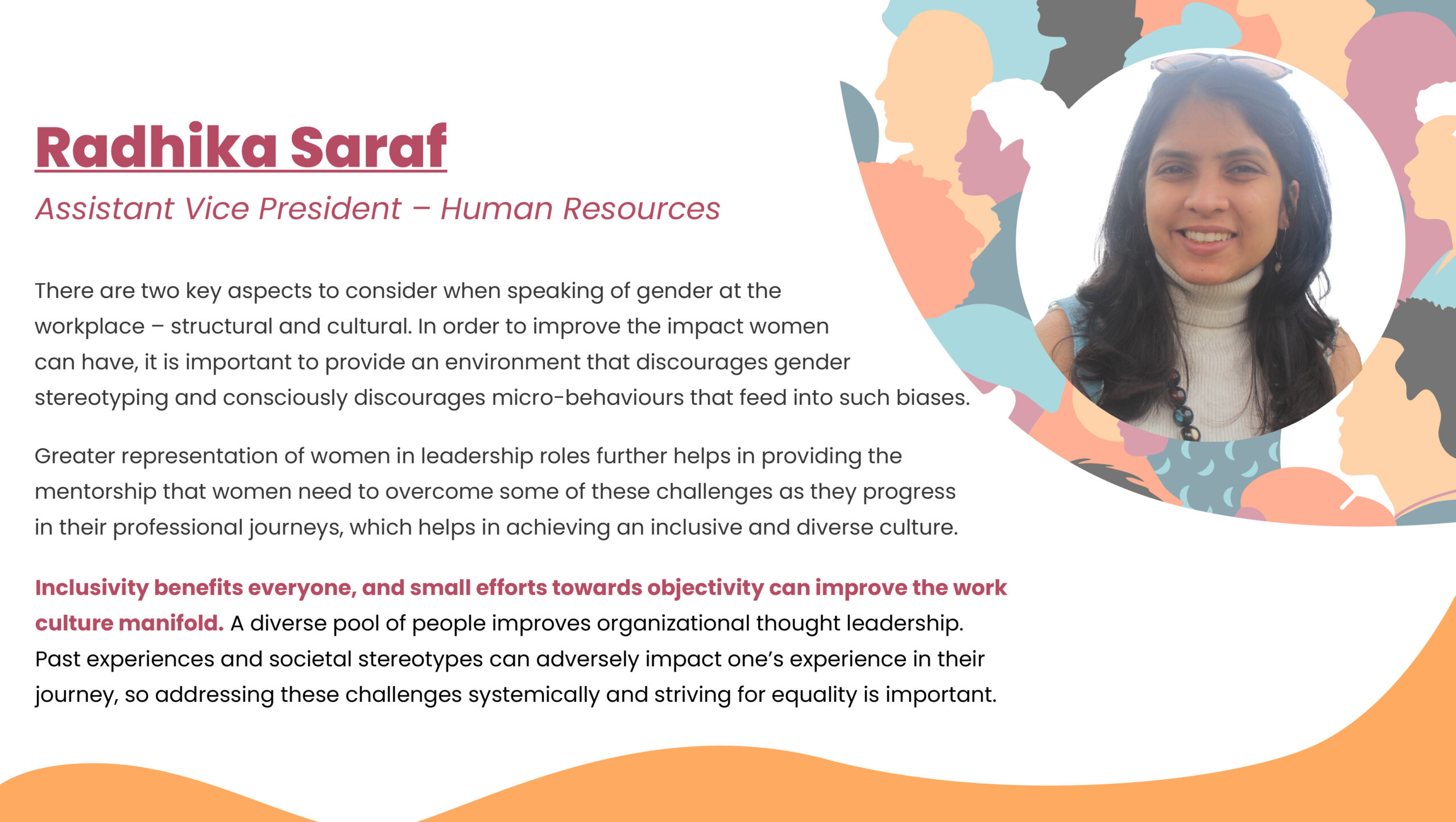 Also Read: Building bridges, not walls: BYJUites on fostering gender equality and respectful dialogue at work | International Women's Day
We heard you loud and clear, our dear BYJUites! And we agree that genderless leadership is not merely a theoretical concept, but an imperative approach to adopt at work and beyond. Let us all strive to break down the barriers of gender, and build a world where equality and inclusivity reign supreme.
How does YOUR organisation create a genderless atmosphere? Do you think your leader's gender dictates their business decisions? Leave us a comment. We would love to know.
Like what you read? Head to Life at BYJU'S to learn more about our work, people, and the stories that make us unique. To explore job opportunities, check out Careers at BYJU'S.