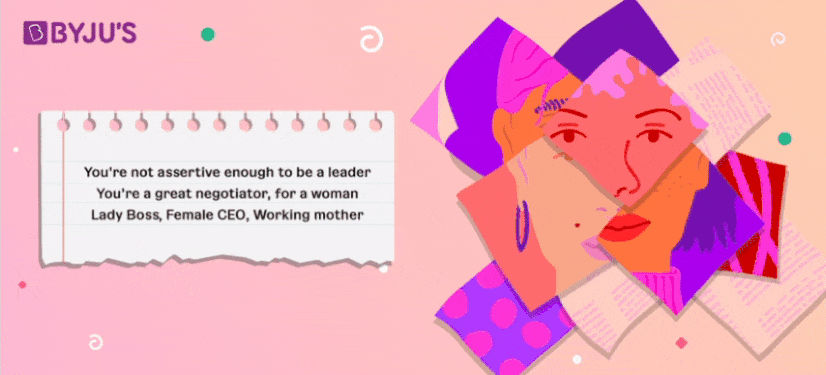 You're too emotional to handle this project
You're too pretty to be good at math
You should smile more
You're not like other women
You should dress more feminine/masculine
You're too old/young to understand
I don't want to work with a woman/man
These phrases are not only outdated but also highly problematic. Yet, we watch them being thrown around like confetti, even as we approach International Women's Day 2023. 
Although gender discrimination continues to be a challenge in today's fast-paced world, the good news is that putting an end to it is in our hands. Even the smallest step we take towards uprooting discrimination makes a significant impact in creating a more inclusive and equitable society. 
As an organisation dedicated to providing learning opportunities globally, BYJU'S  believes in fostering an inclusive ecosystem. We achieve this by implementing policies, hosting workshops, promoting active listening, providing valuable training and resources, cultivating a culture of respect and inclusivity, addressing discrimination if and when it arises, and encouraging networking and collaboration. 
Divya Gokulnath, Co-founder of BYJU'S, emphasises the importance of challenging gender biases, promoting equal educational opportunities, and empowering women to take leadership roles. Her words serve as a reminder that we all have a role to play in building a better future, and that by working together, we can achieve great things.
In an interview, Divya suggests that promoting diversity in an organisation requires unbiased hiring and prioritizing diversity from the outset. Studies show that women tend to hire more women, creating a foundation for inclusion. Proactively hiring diverse employees helps create a welcoming workplace that values all perspectives. 
If you're looking to be a better ally at work, these BYJUites have some advice for you. In this edition of How to be an Ally, they throw light on prioritising respectful communication practices that show support for women and create an environment where everyone can thrive. They believe that by learning more about different perspectives and being mindful of the words we use, we can all work together to create a more inclusive and supportive world. 
Also Read: Mental health terms are NOT adjectives: BYJUites on how to be mental health allies at work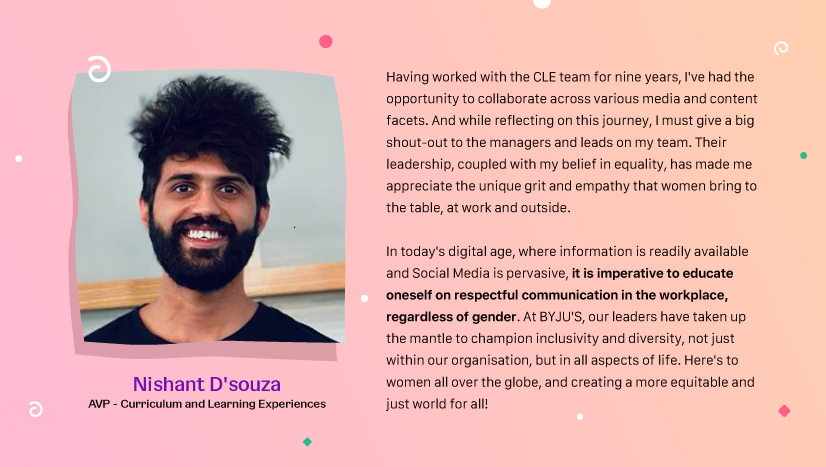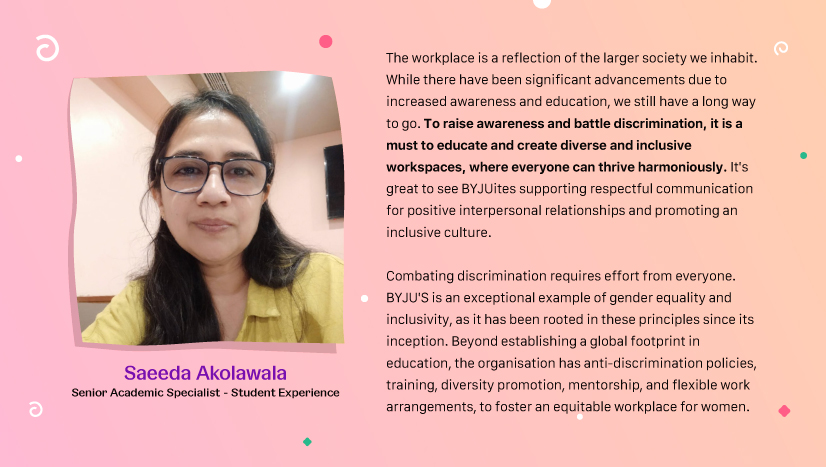 Also Read: International Day of Sign Languages | Being an ally is the first step toward inclusion
To sum up, promoting respect and eliminating gender discrimination is a must for a positive and inclusive work environment. We can achieve this by spreading awareness, providing training and resources, establishing policies, fostering a culture of inclusivity, and dealing with discrimination head-on. 
By practising respectful communication, we create a space where everyone can reach their full potential and succeed. Let's work together to make every workplace a welcoming and empowering space!
Leave a comment below to let us know how you uphold and push for gender equality at your place of work. Happy Women's Day! 
Like what you read? Head to Life at BYJU'S to learn more about our work, people, and the stories that make us unique. To explore job opportunities, check out Careers at BYJU'S.