The sales team at BYJU'S is responsible for driving business and reaching out to learners across India. Combine that with dynamic work culture, expert guidance and generous rewards, you have got the perfect environment to learn, grow and thrive! If you have applied or are considering applying for BYJU'S BDA job, we suggest you read on. Here's your opportunity to know all about the role, the prospects, the benefits and more from BYJUites themselves. Get all your queries answered and doubts cleared as people of the BYJU'S sales team address your FAQs.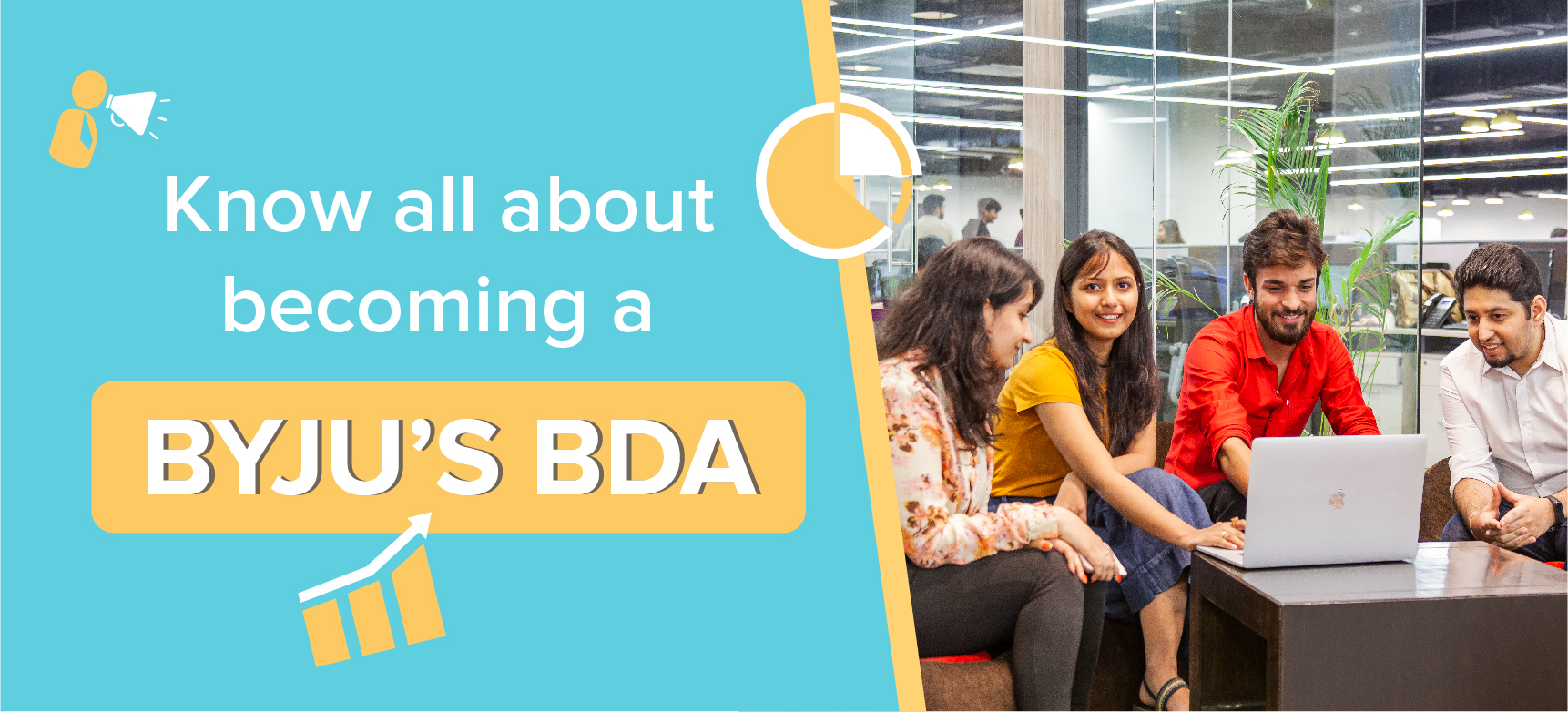 Also Read: 'Keep Your Eyes on Your Goals': Nomaan Ellahi Shares his Mantra to Stay on Top
1. What makes BYJU'S an ideal place to start your career as a BDA?
BYJU'S isn't just India's largest edtech company, it is also one of the leading brands in the edtech space across the world. As a fresher, you will be driven to put forward your best performance while being rewarded for excellence. A career with BYJU'S is a great stepping stone, one that will advance you to greater heights in the long term.
2. What is it like to work at BYJU'S as a BDA?
In one word, we would describe the BYJU'S work culture as 'exciting.' Each day is filled with learning opportunities from peers who keep you engaged and leaders who guide you when needed. Moreover, every sale you make is an opportunity to meet new people, create a positive impact in their lives, and encourage them to keep learning. The dynamic work environment at BYJU'S coupled with an agile career path offers the most holistic work environment.
3. How to prepare for BYJU'S Business Development Associate interview?
Here's how you can be our next BDA:
Check

Careers at BYJU'S

on a regular basis to know about

job openings

Apply for the BDA role on the careers portal at byjus.com or ask a friend to refer you if you already know a BYJUite.

Focus on your communication skills. 

Be clear and confident.

Brush up on your knowledge of

sales and BYJU'S

products.
4. BYJU'S BDA experience: what are some of the perks and benefits of this role?
With a BDA job at BYJU'S, you will not only learn the nuances of being excellent at sales but also pick up strategic skills. According to your performance, you will also be rewarded with accelerated career growth, incentives and management positions based on your potential. The work culture at BYJU'S is that of promoting homegrown talent. We believe in maintaining a balance between work and play, and that includes celebrating together as a team for work done well.
5. Work environment for BDA: What are the working hours like?
Being a BDA at BYJU'S will expose you to a fast-paced and energetic work environment. Stay open, enthusiastic and adaptable to thrive here. We also believe in nurturing a diverse and inclusive work culture at BYJU'S – one that is conducive to the growth and development of each and every BYJUite. There is a responsive, agile and encouraging support system to help you realise your highest potential. Although the work hours are dependent on your team, on average we work eight hours a day. However, it's not all work and no play here. Several activities, from fun Zumba sessions to book club meetings and art workshops are organised regularly to keep the spirit high.
6. What are some of the learning opportunities for a BDA at BYJU'S?
At BYJU'S we are all about driving innovation and intrapreneurship. We take pride in imparting sales knowledge that is further strengthened with people management skills. The quick career progression of a BDA gives everyone a shot at leading a team and the opportunity to mentor new team members. 
7.  What makes you a perfect fit for the BYJU'S BDA job?
If you're looking to build a career, and are willing to learn and grow fast – the role of a BYJU'S BDA is perfect for you. We believe in nurturing aspirations and working towards achieving your life goals. Our workplace has inspired thousands of young professionals and has pushed them towards greater opportunities and achievements. 
8. What are my career prospects if I work as a BDA at BYJU'S?
If you have the drive, we have the opportunity. BYJU'S work culture is agile and rewarding for employees who show passion, perseverance and potential. Career development is an active part of our culture and we ensure ample opportunities to hone your people management skills, leadership skills, personal and team accountability, and sales strategy.
Excited about becoming a BYJUite and kickstarting a career in sales? Check out open roles on Career at BYJU'S