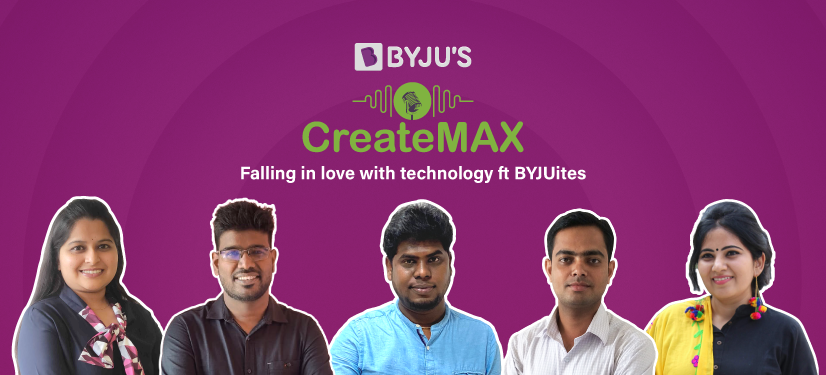 What powers tech? 
To answer this question, we need to take a look at how intrinsically human lives are linked to technology.
In the world we live in today, tech powers almost every aspect of our lives; right from our homes to our smartphones. And yet, behind every technological marvel, lies a problem that is, at its core, human. It is the people who are at the root of building and developing technologies that enable us to bridge the gap between the physical and digital worlds. And it is their innovative bent that makes it possible for us to not only explore and learn better but also to understand and think beyond what meets the eyes. 
In that sense, technology is driven by the people behind it; their collective experiences, the passions that fuel them, and the problems that motivate them to think and innovate. This Engineer's Day, we take you behind the scenes to meet some of our passionate techies and hear their stories of building and creating technologies that empower our learning products.
Watch: CreateMax | Listen to BYJUites Share Stories of Bringing Our Learning Content to Life
Learn by doing
Pramod Ramdurg, Principal Software Engineer 
Pramod Ramdurg tells us that he fell in love with technology after he wrote his first computer programme in college. It was after that he realised there's a lot more that can be done with technology. A BYJUite since last year, Pramod's role as a Principal Software Engineer is to design and develop platforms and frameworks for BYJU'S products such as Xplore, learning games, among others.
He says, "We were just a handful of people last year and we have grown a lot since then. We believe that 'learning by doing' is going to be the next big thing in education. And our team will play a major role in it by developing games, simulations and interactive content." 
Creating real-life impact
Nidhi Gondhia, Senior Software Engineer
For Nidhi Gondhia, leveraging technology is all about solving real-life problems. The Senior Software Engineer tell us that during her graduation days, she worked part-time as an admin at a manufacturing firm. There, Nidhi helped build applications that would digitise the entire operations of the firm. It was the moment of realisation for her.  
The BYJUite, who now helps create applications that power the learning journeys of millions of students, adds: "Seeing the impact of what I had built and created on real-life problems – that was the moment I fell in love with technology."
Also Read: From a Computer-obsessed 12th Grader to Director of Engineering, Ashish Rawat's Journey as a Techie
Focusing right
Thirunavukkarasu M, Engineering Director
Thirunavukkarasu M joined BYJU'S back in April, 2018. As an Engineering Director, he looks after business tech and offers engineering solutions to various departments. Besides focussing on building a better customer experience, Thirunavukkarasu says his team also takes care of the employees' work-life balance by reducing human efforts and including more automation in the work process. 
"I feel everyone's time is precious. By cutting off their unproductive tasks, we let them focus on what's more productive so that they don't have to do a recurring job. Here, we look for 'I-can' because skills can be developed but the will has to be inside them."
Happy accident
Samrakshini RS, Software Engineer 
Samrakshini RS tells us that she got into the tech and date accidentally. She soon fell in love with it after learning more about the internals and the concepts behind it. Samrakshini joined BYJU'S as the Software Engineer for the data platform team. As a part of her role, she collects, processes and stores data to run analytics and get the results.
"As a techie, you have very prominent responsibilities. Anyone who loves to explore different technologies, brings new ideas to the table, and wants to solve complicated problems in an optimised way will definitely enjoy working here at BYJU'S."
Also Read: Richu Michael on How an Engineering Degree Helps His Design Career
In love with learning 
Dinesh M, Tech Lead
Before BYJU'S, Dinesh M used to work as a college professor. After becoming curious about the technologies that his wife works with, he decided to explore the opportunity and learn more about the field. At BYJU'S, Dinesh handles logistics tech. His role entails getting the requirements from the business team and explaining them to his team members so that their job becomes easy.
"I have had quite an interesting journey with BYJU'S. I joined as a quality assurance engineer, got promoted as a Developer and currently I work as the Tech Lead for the Order Fulfillment System. I am the perfect example of how you can grow in your career."
Enjoyed the audio stories? Head to Careers at BYJU'S  to check out open roles and chart your unique path with tech at BYJU'S. 
(Stories have been put together by our Storyweavers, Fathima Ashraf and Sutrishna Ghosh)