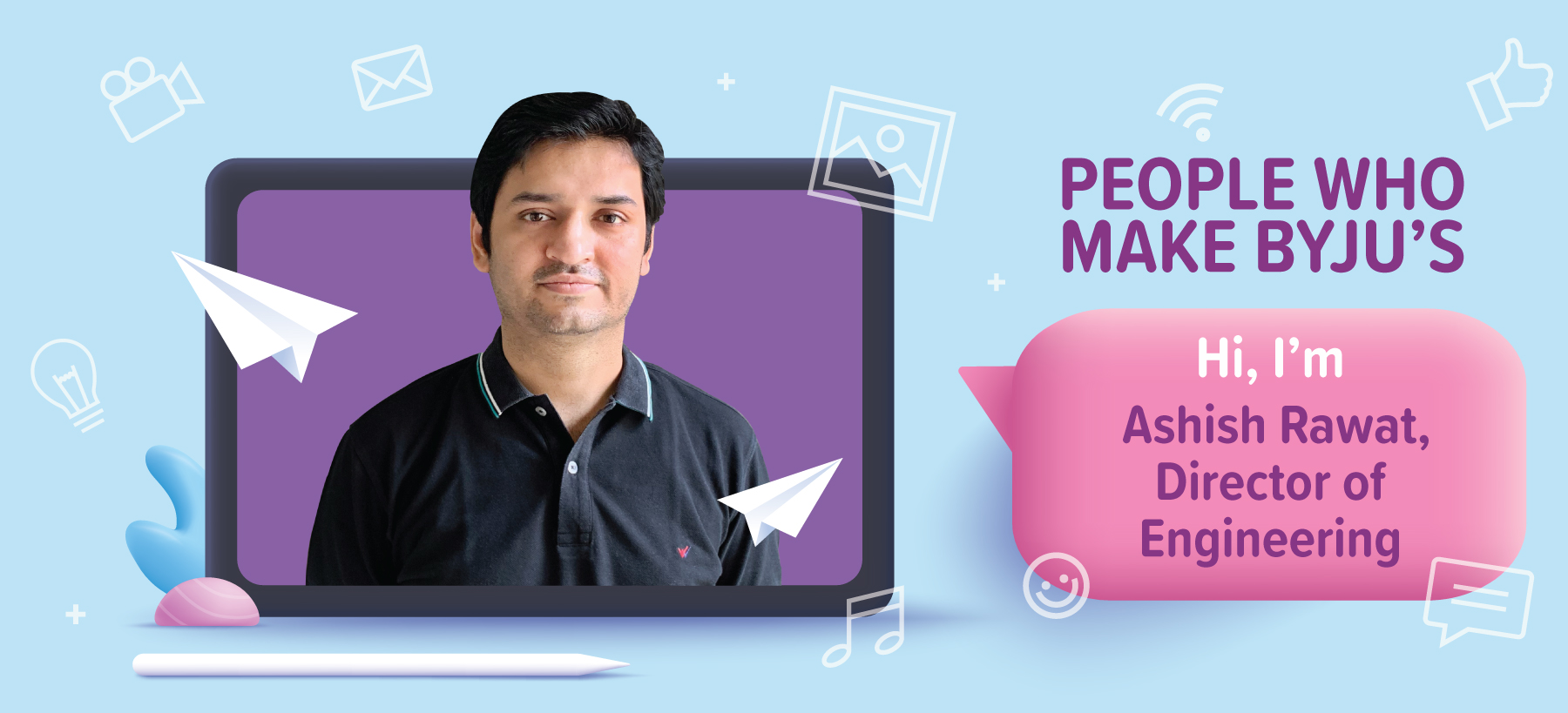 When Ashish Rawat joined BYJU'S in January 2020 – just a couple of months before we switched to remote work mode – he brought along with him a history of working with various companies in their different phases. "However, BYJU'S has been a unique, fast-paced experience for me," he says. "It has been really interesting to lead a team in this kind of environment where we continue to move at a very phenomenal pace and deliver massive impact." 
We caught up with Ashish Rawat, our Director of Engineering, ahead of Engineer's Day. He talks about his leadership role at BYJU'S, the valuable learning experience he has had so far, and what he believes makes a great techie. Catch excerpts from the interview below:
What does a typical day at BYJU'S look like for you?
Our typical day focuses on two things – long-term strategic initiatives, and tactical initiatives. Tactical initiatives include more of the day-to-day projects that we are executing. While executing these projects, we still need to keep our focus on how they are aligned with the long-term goal of servicing our learner-base.
So, on an everyday basis, we work on how some of these initiatives contribute to our long-term vision in the edtech space, and also new initiatives based on the shortcomings that we are seeing in the execution of regular projects.
Also Read: Richu Michael on How an Engineering Degree Helps His Design Career
Tell us about your journey and experience as a techie before BYJU'S.
It all began at school when I chose Computer Science as my subject; since I had a passion for computers. Further, for my higher education, I chose Computer Science Engineering, which gave me more perspective on how the systems work, both at a hardware level and at a software level.
In 2020, I joined BYJU'S with a mixed bag of experience, having worked with very early phase companies, as well as corporates. All of these have really shaped my overall view of the tech industry in general.
How has it been leading and managing a team here? 
BYJU'S has been a very different experience compared to my previous journeys because we continue to move at a very phenomenal pace. And it has been really interesting to lead a team in this kind of environment where we deliver massive impact.
In my role at BYJU'S, I take care of the learning app, which has been a core product from the beginning. Even now, with so many other products and so many acquisitions, it continues to sit at the heart of our overall offering.
I think just making people realise the impact of the product that we are delivering, and the value we are generating for the students is amazing.
At the same time, hearing stories from friends, family, extended families, and their children who are using these products – how they are getting impacted and how much they love using the learning app – is very encouraging.
Also Read: This Teachers' Day, Hear From BYJU'S Academic Experts on How They Are Reinventing & Learning
Could you share your biggest learnings from BYJU'S?
It's all about delivering software at scale, to hit millions of users with good quality, and at a very fast pace. We have to sustain the pace at which we are growing. For that, the tech team has to continue to deliver software and build systems at a massive scale, and be able to propel the brand forward. So, that has been the learning and the focus area where we continue to learn every day.
What are some of the interesting projects that you are working on? 
Right now, we are redefining the way we personalise learning journeys for students. I really feel the future of education is personalised learning.
Watch: Fostering an Ownership Mindset Builds Positive Work Culture, says Prashanth BN
How do you keep the team motivated when you are working remotely? 
BYJU'S is a fast-moving ship. So while we're moving fast, we need to take the teams along; we don't really want to work in a way that it becomes less fun and more work.
Continuous endeavour remains in that direction so that the team finds an affinity for the problem they are solving. Once they start to enjoy their work and learn from it, then some of the boundaries around remote work also dissolve. We still take mindful steps to stay connected and catch up with each other casually on a weekly or bi-weekly basis.
What qualities will make a techie an ideal fit for your team?  
We look for problem-solving and tech skills because our scenarios are unique, our domain is unique. Unique problems will present themselves to whoever joins BYJU'S, right? A techie should be able to look at the problem, dive deep into it, and solve it for our customers.
While leadership is a loosely defined word, I also believe that everyone has a leader in them. That's the only way the entire team can succeed. In that sense, we look at a blend of problem-solving skills, tech skills, and the ability to lead and take complete ownership.  
Like what you read? Head to Life at BYJU'S to learn more about our work, people, and the stories that make us unique. To explore job opportunities, check out Careers at BYJU'S.  
(Stories have been put together by our Storyweavers, Anju Ann Mathew and Damini Goel)