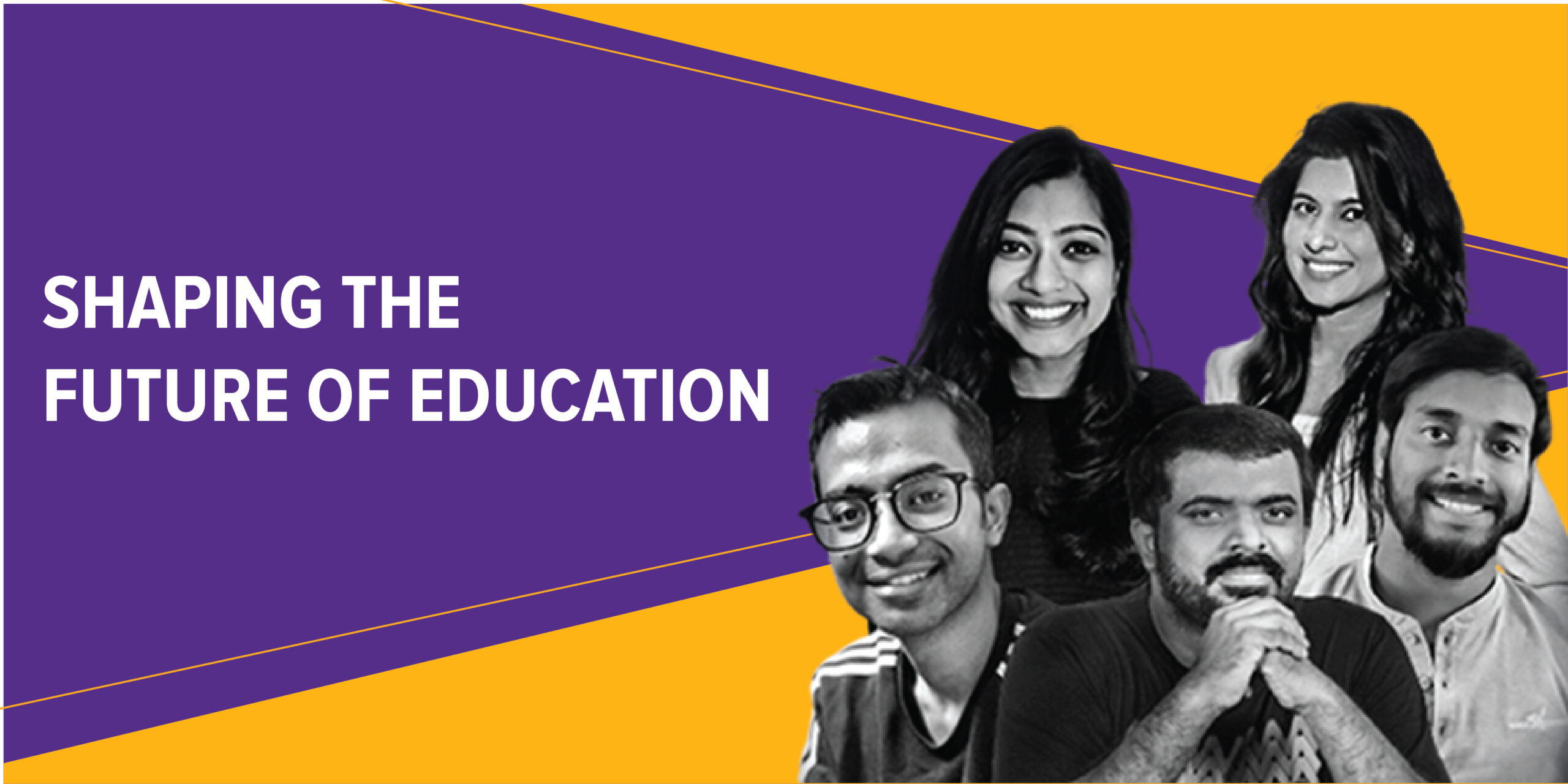 The role of a teacher – educating and shaping young minds – comes with great responsibilities. And in these trying times, it has certainly assumed a whole new meaning. Teachers across the country are playing a fundamental role in supporting students to make the most of e-learning in the current situation. While some have been employing creative ways to virtually engage with students, others are counselling students to help them stay focussed amid the pandemic. 
Our very own bunch of teachers, academics, pedagogical and subject matter experts are no exception. Keeping up with the changing pace and style of learning, these experts have been adapting to the needs of the students to find a balance between teacher-led and student-led learning. 
Many are even learning, unlearning and relearning methods to craft engaging and immersive experiences for the children. On Teachers' Day, we take a look at some of these stories of BYJU'S academic specialists and learning content developers. These brilliant professionals are revisiting their own styles and methods in order to become good learners and even better teachers.  
Also Read: Hemanth Bajaj on the Change he Wants to See in This World
Great teachers are constant learners
"When I was an offline teacher, there was a limit to the number of students I could teach in a classroom. That's what I wanted to change," begins Naveen Cherian, explaining why he transitioned from offline to digital mode of teaching.
A part of BYJU'S since 2017, Naveen believes that in order to be an effective teacher one must unlearn old concepts, and learn new and creative ideas to make learning fun for learners. 
He tells us, "At BYJU'S, we explore different ideas and methods to make content interesting for our students. Let's say I have to explain a difficult concept to a student. I will share the concept with our Media Team who will come up with stimulating visual artwork. This not just excites young minds and captures their interest but also helps them retain the information for a longer period."
Naveen, who is currently the Lead Content Developer at BYJU'S, has a multifaceted role here. It entails researching and identifying learning strategies for students from all backgrounds and cognitive abilities. 
Breaking down his role to us, the BYJUite shares, "The most important thing we consider while developing content is that it should relate to the learner. If a learner is from a particular state, we research their culture and area and craft the content or learning experiences around that to make learning personalised to suit the needs of the learner." 
By making personalised content, Naveen says that his team aims to bust a common myth about e-learning, that is personal attention does not exist in an online class. 
"In our online classes, we can track the performance of the learner, the pace at which they are learning and then fine-tune our content accordingly," he says. "In addition to this, BYJU'S Classes now offer a two-teacher advantage to students. With this, one expert teacher, with the aid of strong visuals and storytelling, will be ensuring conceptual clarity, while the second teacher will be focussing on instant doubt resolution. It's a one-of-its-kind experience"
Also Read: Fostering an Ownership Mindset Builds Positive Work Culture, says Prashanth BN
Shaping the future of education
"We are constantly finding new ways to engage and inspire students despite the current challenges and uncertainty. Inspiring students to become life-long learners is what keeps us motivated."
That's Pallav Raj, a Lead Content Developer at BYJU'S. From a software developer to working as a Physics teacher in various edtech companies, Pallav has donned many hats. Having joined BYJU'S in August last year, Pallav's responsibilities include ensuring a smooth, logical, and sequential flow of concepts. 
Sharing a glimpse into his role, Pallav shares how his team ensures that content for learners is orchestrated in the best visual way possible. He quips, "Our online sessions are curated in a way to increase student-engagement and their interaction with teachers. This is possible largely due to the latest two-teacher model, which ensures both conceptual understanding and individual attention."
At BYJU'S, the aim is to leverage technology in innovative ways to keep students engaged. And our Content Team is at the forefront of driving these efforts and ensuring that learning remains uninterrupted for every learner.  
If you ask Pushpendu Mondal about his role at BYJU'S, he would say, it is to create enriching learning experiences for students. In his words, he and his team are responsible for creating, curating and reviewing the content tailored to the needs of students. 
The Manager – Content Development – tells us that keeping an open-minded attitude is what helps him and his team in innovating new methods to create and curate content. "Ownership is what drives us. We constantly evaluate ourselves and ensure that we try out new and creative methods to unlock digital experiences that complement in-person learning."
Passion meets purpose
Teaching is all about learning every day. Aishwarya Ramakrishnan, Senior Academic Specialist, Student Experience Team at BYJU'S, breaks down her unlearning and relearning process for us as she takes us through her journey of teaching. She says that whether or not you have a BEd degree, you must be willing to learn new things to be a great teacher.
"From my college days, I knew I wanted to become a teacher. As soon as I graduated and joined BYJU'S in June 2019, I realised how passionate I was about teaching students and interacting with them," quips the BYJUite. 
Recalling the time when she was a student, Aishwarya says she was overwhelmed by some concepts in Biology and would mug up lessons during her exams. "Before embarking on my teaching journey, I had to unlearn those obsolete ideas to ensure that no student in my class feels this way. I wanted to make content fun and engaging using visualisation to evoke emotions and help them retain the concepts for a longer period," she adds.
Namrata Jaysinghani's journey into teaching was no different. The Lead Content Developer started teaching when she was in Class 10. What started as a hobby is now Namrata's passion to transform millions of lives through her work. 
"Before becoming a full-time teacher, I was working in an MNC as a software developer and would teach students part-time. That was the time when I realised that teaching gives me a sense of fulfilment and there was no better way to start my journey than with BYJU'S," she says. 
As teachers, as Namrata reiterates, our most important tool is empathy. Amidst the pandemic, we don't know what students are going through. So being empathetic and understanding can help them cope with the situation. "We are resilient when it comes to helping our students continue with their learning journeys, but we also understand the need for compassion. More now than ever, the extra attention to a student's needs can go a long way in aiding their learning journey," she adds. 
Tells us about your unlearn and relearn experience. And head to Life at BYJU'S to learn more about our work, people, and the stories that make us unique. To explore job opportunities, check out Careers at BYJU'S.