Hemanth Bajaj joined the BYJU'S sales team back in 2015. Now a General Manager, Hemanth vividly remembers his fondest office memory. In this week's edition of BYJU'S Super 5 — a series where we speak to BYJUites who have been with us for five years or more, we feature Hemanth. In a quick chat, he shares with us his favourite office memory, best lockdown companions and a cause he is passionate about.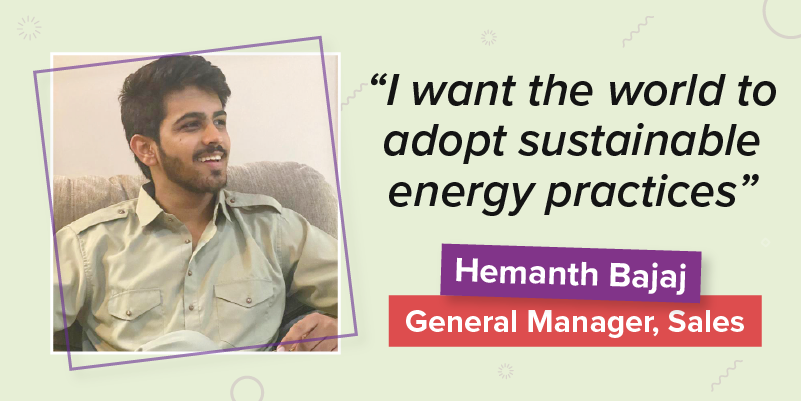 Quick Takes:
What is your office nickname?
Nobody calls me by my first name. Everybody calls me Bajaj. No one has ever called me Hemanth in my whole career (laughs). 
How would you describe your job at a dinner party?
I lead a high performing sales team at BYJU'S. My role here is exciting and also extremely rewarding.
What is your favourite memory from working at BYJU'S?
Back in 2016, when the first incentives were given, Byju sir himself had come out and handed me the check. I remember, when he called out my name, I just ran to him. It was really exciting. 
If you could have one super power, what would it be?
I would like to change the existing energy infrastructure from it being dependent on non-renewable fossil fuel to a renewable green one. That's what I would do if I could change something overnight.
Who has been your lockdown companion?
It's my boy gang from college. All of us were scattered across different cities. But because of the lockdown, we all came back to our hometown. After college, this is the first time that all of us are in the same city. The five of us have been extremely supportive of each other — both professionally and personally. Also, the lockdown has helped me reconnect with my family.
One cause that is close to your heart…
One cause that I want to pursue is the one I mentioned before, making the world adopt sustainable practices. I'm fully committed to that. And I plan to devote a better part of my life to that.
Like what you read? Head to Life at BYJU'S to learn more about our work, people, and the stories that make us unique. To explore job opportunities, check out Careers at BYJU'S.