Richu Michael knew early on in life that design was his true calling. The self-taught designer from Alleppey in Kerala, shares, "I joined BYJU'S as a UI/UX designer in 2019. The opportunity was exciting for me because I was getting to learn from the best people in the industry." 
But the transition into the creative field wasn't easy. A mechanical engineer by degree, Richu had to take baby steps into the world of design. He shares that after his school hours he would go to the internet cafes to download Photoshop tutorials. He would then spend the night recreating the designs and sharing them with his friends. Later, during his college years, he went on to lead the design team which, he says, turned his life around.
In this week's People Who Make BYJU'S, the Product Designer shares with us his journey to becoming a designer, the importance of having self-initiated projects and what aspiring designers should keep in mind while applying for jobs.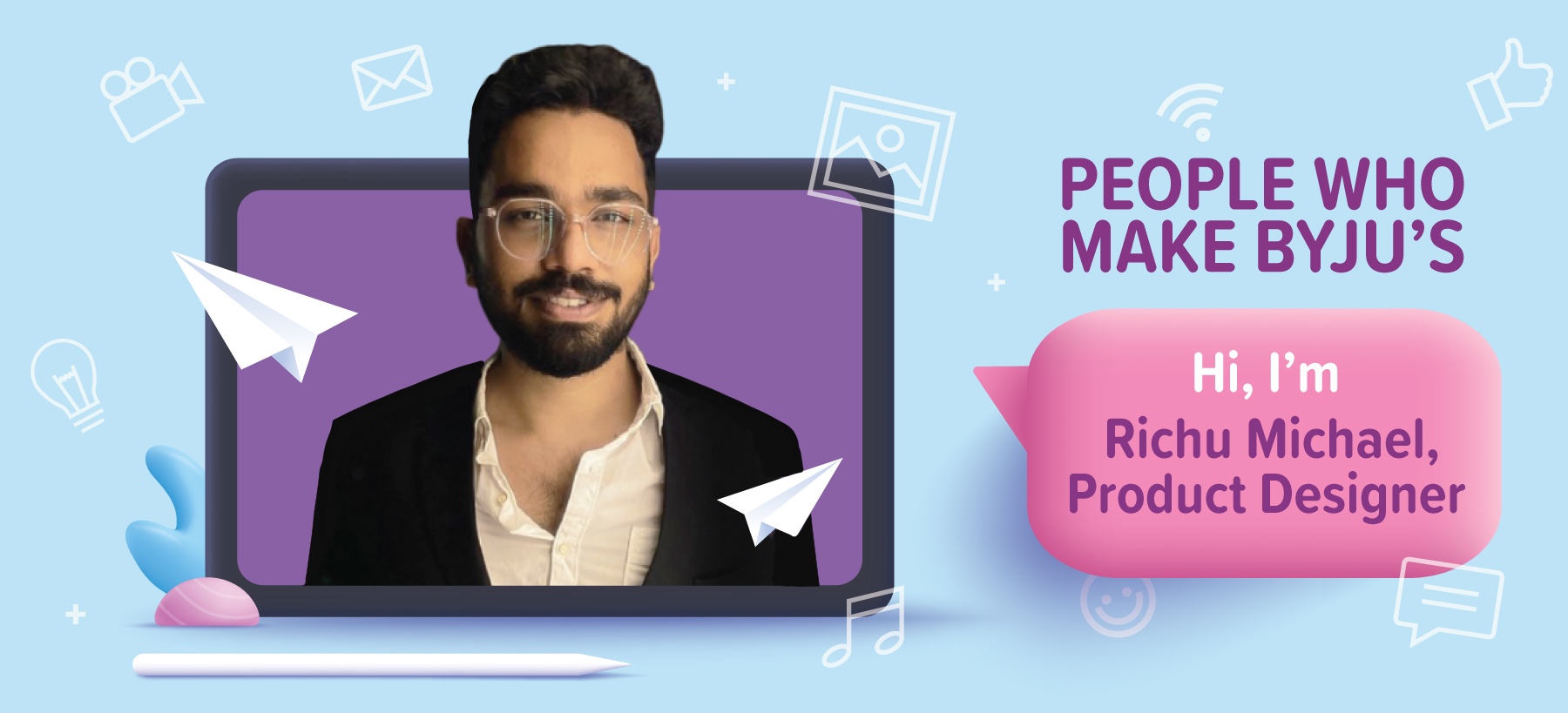 Tell us about your role.
Initially, I was working with icons and illustrations for the BYJU'S app. Then I moved on to the UI/ UX side, which is more about the app's interface. What should a screen look like? Why does it look the way it is now? What should the user feel when he's interacting with it? I deal with all of these questions. 
What excites me the most is that everyone here is good at their craft. And I'm able to shadow each of them and learn a lot from them. The work culture at BYJU'S is such that everyone made me feel comfortable from day one. They had no preconceptions towards me and treated me like an equal. I never missed a day at work until the lockdown started. I loved going to the office as I wanted to see the work that was happening there. 
How did you develop an interest in designing?
I have always been an artsy kid and knew design was what I wanted to do. Although I've never taken a formal course, I used to go to these internet cafes during my school days, save Photoshop tutorials on the pendrive and spend all night learning. I would recreate the designs and post it on Facebook. Back in college, I was also a part of a band. I would create logos for the band and people started noticing that. Soon I was leading the college design team. That was the best thing that happened to me. I got to work with a lot of people who shared the same interests. And that boosted my confidence. 
What would you say are some of your key learnings from working at BYJU'S?
To put it simply, it would be the right mindset. I have met great professionals in my team. They still think and work like curious kids; always looking for new ideas and inspirations. I realise that this curiosity and a positive work environment are what keep you growing. I have also learned to be humble and be willing to learn about things you don't know.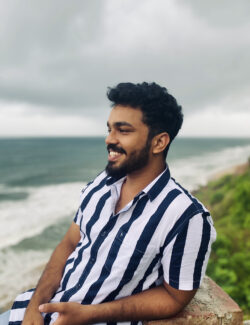 What is the best part about your job?
The fact that every small design I create will be used by thousands of children, excites me. My attitude towards learning is why I'm here. And the fact that I'm working for an organisation that supports learning is the most important thing for me.
You come from an engineering background. How has it helped your design career? Also, how important is a formal education in design? 
I have always had artistic instincts. However, designing is different from creating art. There is a different kind of aesthetic sense and analytical thinking behind it. You have to visualise through the user's eyes, especially when you design for a large group. You have to combine multiple skills when it comes to designing an interface. And engineering has definitely helped me develop that. 
Having a design education helps you  connect with like-minded people and explore avenues without much hand-holding. But just having a design degree won't make you a designer. You have to put in the effort. And that comes from having passion. 
What would be your advice to aspiring designers who want to join BYJU'S?
A portfolio is what people who hire you, want to see. Present your work beautifully. From that, we will know how much effort has gone into it. If you want to join BYJU'S, research some of our products and maybe attempt to redesign it and make it better. That would be a great way to make an impression. 
How have you been staying motivated while working from home??
I was having a hard time during the first few months of 'work from home'. I couldn't sit alone in a room from morning to evening and work. That is when I realised how important it is for a designer to have projects of his own. Self-initiated projects where you do all the things that excite you, the ones that made you want to become a designer in the first place. So I started working on my own little design projects on the side . And that was an outlet for me to think differently. It really helped break the monotony.
And how is your team supporting each other during this time?
Our Team Lead, Dhaneesh, ensures we have a healthy work environment. He understands the importance of breaks and lets us take time off work if we are not feeling alright. During the initial months of lockdown, everyone was going through something or the other and we all needed that kind of support. If somebody in the team is unable to meet a certain deadline, someone else would cover for him. If nobody's able to cover, we would take it to the stakeholders and buy some more time. All of this is happening organically now as people are more understanding of the situation.
Like what you read? Head to Life at BYJU'S to learn more about our work, people, and the stories that make us unique. To explore job opportunities, check out Careers at BYJU'S.