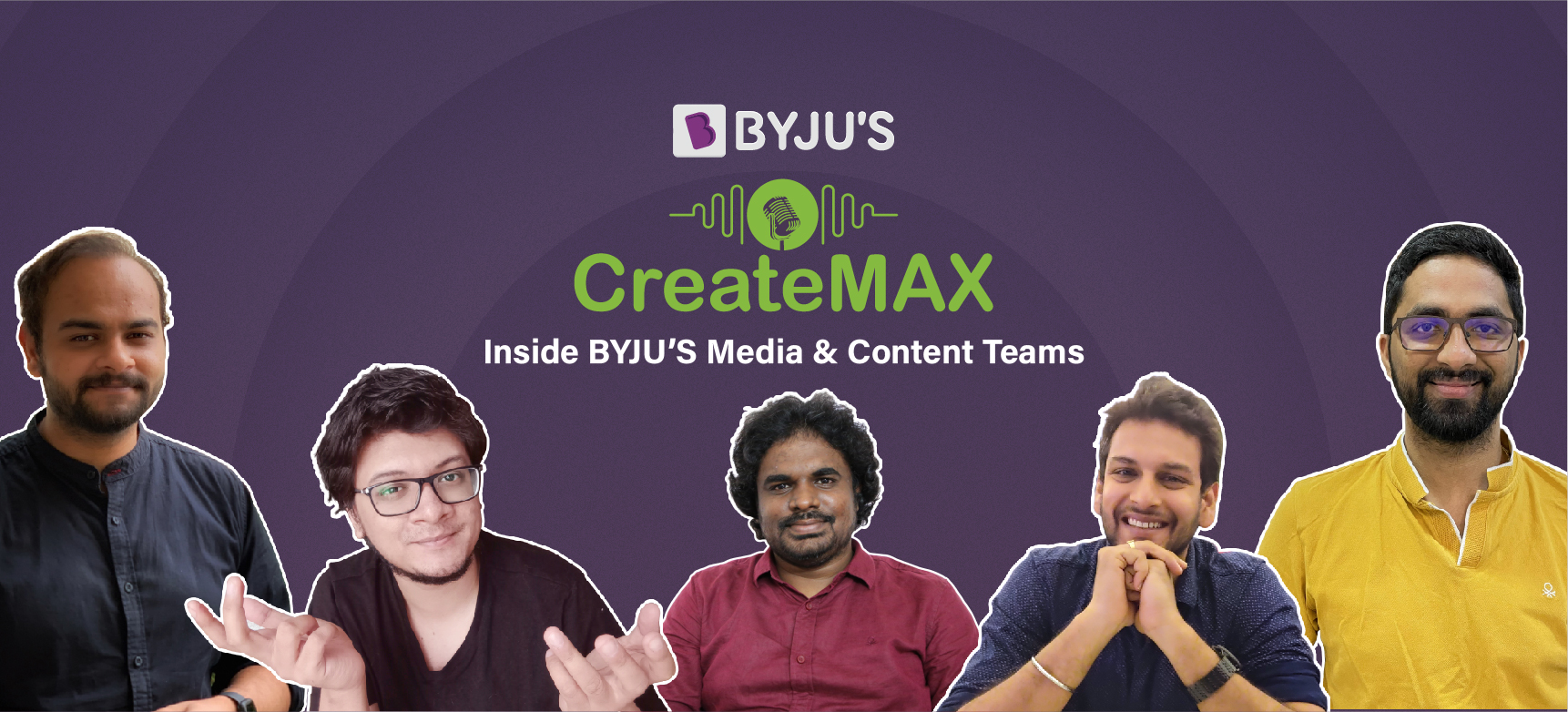 Behind every learning product envisioned and created at BYJU'S, there's a bunch of brilliant and creative minds. This bunch – collectively, the Media and Content Teams – is responsible for bringing BYJU'S educational content to life. United by the mission to make learning fun for students, this creative team is constantly brainstorming, innovating and experimenting with new and effective learning tools. In the process, inciting curiosity in children and putting them on the path to becoming life-long learners.
CreateMax is an audio story! In this instalment, we chat with the incredible people from BYJU'S Media and Content Teams. Scroll down to hear it from them, as they share their processes, favourite projects, and how they are helping make BYJU'S products better.
Also Read: BYJU'S Young Force on Driving Change Through Purpose | International Youth Day
Visualisation is key:
Rajat Sharma, Assistant Vice President, Content Development
Rajat Sharma takes care of multiple projects within the Content Development Team. From managing the JEE, NEET segments to BYJU'S Classes from grade four to 12, the AVP of Content Development makes sure that only the best courses and pedagogy are available to the students.
He tells us, "The students should be able to visualise the concepts in the best possible way and be able to crack the exams as well. So we make sure the content we create helps them achieve that." 
A part of BYJU'S since 2014, Rajat takes us through the evolution of the Media wing from when it was a 20-member team to the present day, where dedicated teams are working towards enhancing the visual communication of the content.
Attention to detail:
Krishna Goutham, Principal Director, Content
If you ask Krishna Goutham about his role at BYJU'S, he would say, it is to create rich learning content that is easier for children to grasp and understand. In other words, to make students fall in love with learning. Sharing a glimpse into his role and team, the Principal Director of Content tells us that his team can turn even the most boring content into fun experiences for kids. And this has been possible because of years of experience, experimenting with content and evolving and growing together as a team.
Krishna recalls, "Back in the days, we were just a few people doing everything. Today, we are a much bigger team, taking care of the smallest things. That's the kind of attention to detail we are dealing with now."
Watch: Arjav Jain Shares 5 Commandments Every Product Manager Should Live By
When history becomes fun:
Debayan Ghosh, Director, Art
Debayan Ghosh is the Creative Director for design innovations for BYJU'S products. His role involves generating ideas, setting up standards for upcoming products and creating guidelines so the team can execute them perfectly. He tells us that apart from working on animations for BYJU'S maths and science videos, making social science interesting for students is a project he's proud of. With effective storytelling and narrative techniques, the stories are beautifully told so that students understand the emotions behind the historic events.
"Usually when we think of history and geography, we do not think of animation. We learn these subjects so that we can write our exams. But with our animations, we tell the story in an immersive style. So students can connect with the emotions and feelings behind each lesson." 
Enriched experience: 
Venkatesh G, Principal Director, Media
Venkatesh heads BYJU'S Trivandrum Media Division that was established during the lockdown. He tells us that the team's main goal is to set benchmarks for visual and experiential learning. And they achieve it by creating relatable content using powerful imagery and motion graphics, music and SFX to evoke emotions, and facilitating active learning through games and simulations.
He shares, "Visual learning is very powerful. All of our projects are backed by years of experience of creative minds who have chosen to become educators to help students fall in love with learning."
Also Read: Ultramarathoner Nandhirajan Shares his Daily Habits for Productivity
From script to screen:
Tapan Kumar, Principal Director, Media
As the Principal Director, Tapan Kumar's role is to act as a bridge between the content and media teams. He looks after projects from their scripting stage to when they become final products and are showcased on the screen. Having been with BYJU'S for over seven years now, Tapan says every project he's worked on is a favourite. 
"There's something new that I get to learn with every product. And there are several things that we get to experiment with. Right from taking the presenter inside the human body to getting a child artist to act as an alien who wants to learn about Earth. All of these designs are done and packaged in a way to ensure that they supplement the student's learning process."
Enjoyed the audio stories? Head to Life at BYJU'S to learn more about our work, people, and the stories that make us unique. To explore job opportunities, check out Careers at BYJU'S.  
(Stories have been put together by our Storyweavers, Sutrishna Ghosh and Fathima Ashraf)