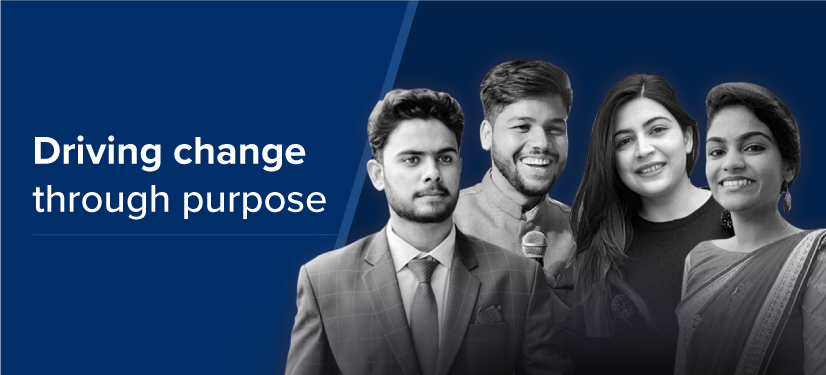 Navigating a new job is never easy. Especially now, when most young professionals and college graduates are faced with an interesting challenge: getting acclimated to an organisation and its work culture remotely. 
In these unique circumstances, it requires a certain amount of learning and agility to settle into the role and the team. Besides everyday work skills, developing adaptive skills and an intrapreneurial mindset is also essential. Qualities that professionals across the globe have been harnessing to adapt to the future of work. BYJU'S being no exception.  
Since going into the work from home mode, we have had several young professionals including freshers make the leap and begin their careers with us. These young and bright minds, who bring diverse skills to the table, are chasing their dreams while working towards a common goal, to make children fall in love with learning.  
On International Youth Day, we spoke with this young force of BYJU'S – this is their journey of finding opportunities, carving new career paths, and driving change through purpose. 
Also Read: 'To Be Part of a Passionate Team is Very Inspiring': Shreyansh Chamaria
When passion meets purpose
"When I first joined BYJU'S in 2017, my initial plan was to stay for a year and then go back to college to pursue my MBA. Three years later, I'm still here. I stayed on my career path because I love the work and the people here. I get to experience one of the most collaborative cultures at BYJU'S."
That's Avinash Kumar, Business Development Manager – Training & Development. Avinash, who rejoined BYJU'S in March this year, is responsible for identifying new sales leads, developing sales goals for the team and ensuring that they are met. 
For the BYJUite, it's the thrill of making a difference in millions of lives that gets him out of the bed. And it is also the reason why he continued his journey with BYJU'S.
"It's a learning experience to work with a diverse team. This has given me the opportunity to develop an entrepreneurial mindset and explore different approaches when dealing with challenges," he tells us. 
 "After joining BYJU'S I have also realised how much I value constant innovation and training people with the right skills. It's challenging, but exciting work," he adds.
Also Read: Ultramarathoner Nandhirajan Shares his Daily Habits for Productivity
When a BYJU'S student joined our workforce
For Shreesha Raveendranath, who has been passionate about teaching since college, working in edtech was a natural choice. This decision, however, was spurred by his experience, as a student, on BYJU'S – The Learning App.
"Before I joined BYJU'S as a Learning & Development Specialist," Shreesha tells us, "I was among the many students in India who use BYJU'S app to learn and get conceptual clarity. BYJU'S cleared my concepts and changed the way I learn. I also resonated with the brand's mission to make learning fun and this is what inspired me to be a part of the learning revolution." 
Now a part of the team creating one-of-its-kind learning programmes, Shreesha says this is the most exciting part of his journey; being able to create similar experiences for other students. "From being a BYJU'S student to working in the company, it's been an interesting transition. It felt like a natural match, not only in terms of my skills but also culturally, he says."
Sharing a piece of advice for those wanting to follow in his footsteps, the BYJUite adds, "Never doubt your abilities, if you have the right aptitude and passion, you can make the best of any opportunity that comes your way."
Also Read: Life at BYJU'S: Neha Kambli Shares her Biggest Lesson
Work culture can create a difference
Coming from an engineering background, Lini Rose Justin found her true calling while interning with an edtech company. As she says, "my technical background has paved the path for my career in edtech. And now that I am here, I am intrigued by the idea of how technology is shaping education." 
The Marketing Associate, Student Experience team, believes that tech-driven learning solutions have not only changed the way teachers deliver lectures but also the way students learn. "I was invested in this idea and that's why I decided to work in the edtech industry – to understand the personal needs of learners and be able to help them in every possible way," she adds.  
It's been less than a year since Lini landed the role in our Student Experience team – the BYJUite joined in October last year – and she is already a part of a vital role and mission. She says, BYJU'S work culture and the driving atmosphere is what makes her role all the more exciting. 
"The positive environment here is a major confidence booster, especially when you are starting your career and getting used to a new job and its work environment remotely. My supportive colleagues have always encouraged me by showing me the ropes. I am learning and growing every day," she adds. 
Exposure leads to growth
"You don't need a specific degree to follow your dreams. All you need is the curiosity to try out new things," begins Kanika Sharma, explaining nothing should stop you from exploring a new field. 
Kanika, who joined BYJU'S in 2020 as a Learning and Development Specialist, is responsible for conducting one-on-one sessions with learners and helping them with their academic doubts. She says whether or not you come from a teaching background, you must be willing to learn and unlearn to grow in your career. 
"I did not have a formal education in teaching. In fact, what I studied was Nuclear Physics. But I would say that my teaching career, which started during my college days, has been fruitful because I kept an open mind," quips the BYJUite. 
Taking a cue from her own life, Kanika tells us that more than the experience, it's the exposure that leads to one's growth. In her words, "If I look at my one-and-a-half year at BYJU'S, I would gladly say that I learned a lot here. As a Learning and Development Associate, I got to explore the core subject of my interest, which gave me exposure in the field. Being able to help learners grow academically is something that will continue to inspire me," she adds. 
Making learning exciting, accessible and engaging for children across the globe is the mission that drives the young force at BYJU'S. For these young professionals, it's all about translating this passion into purpose, and driving a meaningful and impactful change in the long run.
What motivates you to give your best? Tell us in the comments below.  
Head to Life at BYJU'S to learn more about our work, people, and the stories that make us unique. To explore job opportunities, check out Careers at BYJU'S.