BYJU'S Super Five is a mini-series where we celebrate the journeys of some wonderful BYJUites who have been with us for five years or more. In a fun conversation, they take us through their life beyond work, their inspirations, dreams and more. In this week's edition, we feature Shreyansh Chamaria. The General Manager (Sales) shares with us his best BYJU'S memory, favourite lockdown activities and what keeps him inspired to do his best.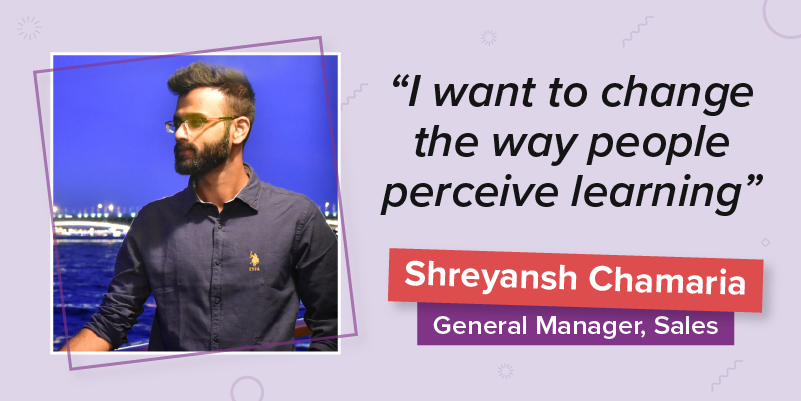 Shreyansh Chamaria – General Manager, Sales at BYJU'S
What's the best part about your job?
Educating the future of the country.
Your favourite memory from working at BYJU'S?
2018 FIFA World Cup. We were in Russia with Byju sir. All of us who went were like one big unit, we spent time like a family. It was one of the best moments. 
Also Read: Life at BYJU'S: Neha Kambli Shares her Biggest Lesson
If you had the power to change one thing about the world, what would it be?
The education system. I would like it to break away from the conventional system and change the way people perceive learning.
Who's been your favourite lockdown companion?
There are two people who have been my constant – my friend from college, and my fiance. And incidentally, they both work at BYJU'S.
What's something you picked up during the lockdown?
I'm more involved in sports and fitness now. In the past one year, there's been a considerable change because I get the time and space. I'm playing a lot of cricket and tennis now.
What keeps you inspired to do your best?
It's the liberty we get here at BYJU'S to come up with our own ideas, and the passion and ambition with which people work here. To be part of a team like this is very inspiring.
Head to Life at BYJU'S to learn more about our work, people, and the stories that make us unique. To explore job opportunities, check out Careers at BYJU'S.