A team can be built with one thing — trust! Nandhirajan Pandiaraj, Engineering Manager at BYJU'S, believes that when it comes to team building, the attitude of the people is more important than their technical skills. And he proves his point by taking himself as an example. 
First in the family to become a graduate, Nandhi says he never thought he would be able to continue his education after class 10. However, with sheer will power and determination, he completed his schooling and college education all the while juggling multiple part-time jobs. Now, a manager at BYJU'S, Nandhi — who is also an ultramarathoner — builds applications for the Sales and User Experience departments.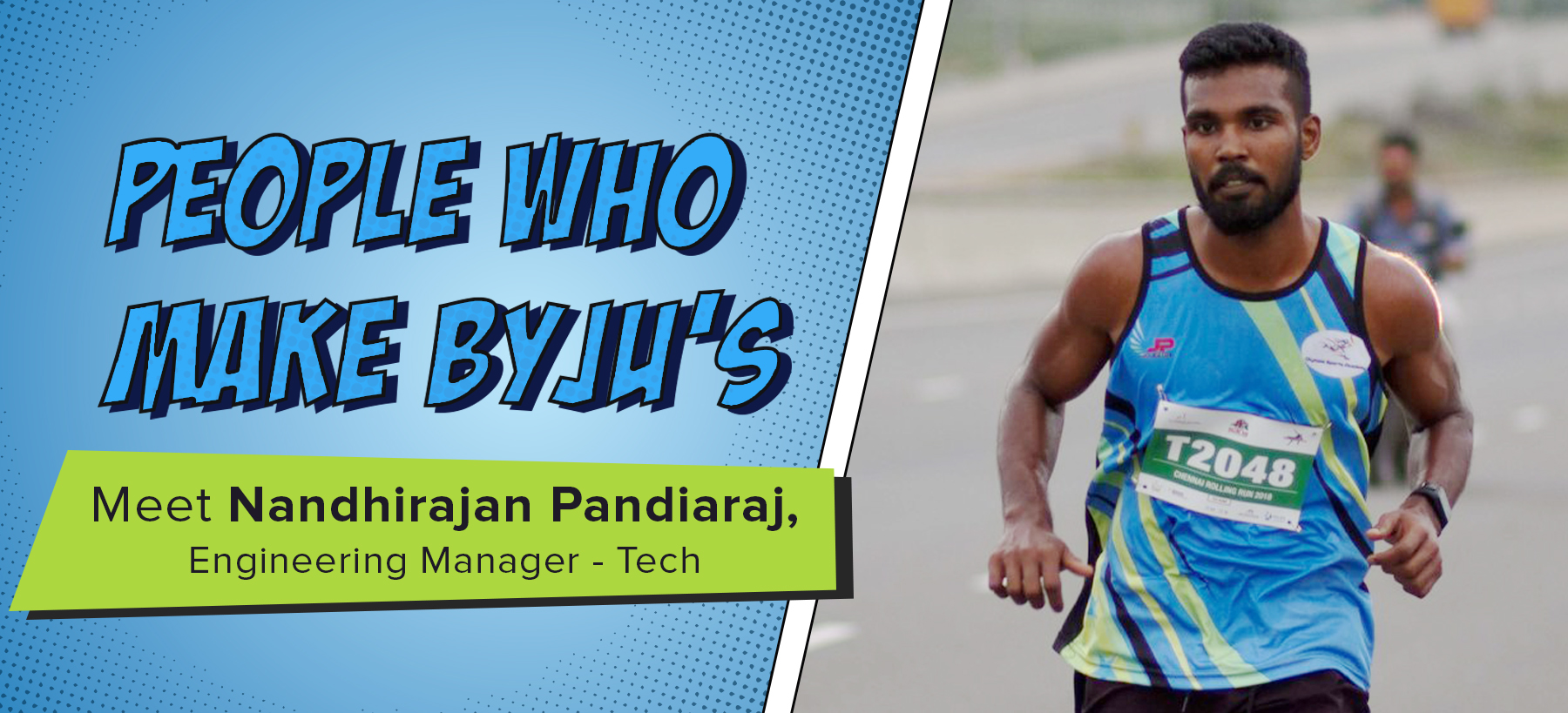 In a candid chat, Nandhi shares with us his journey that led him here, daily habits he follows for optimum productivity, and why he thinks he is making the best use of the lockdown.
Also Read: Innovation is Not Enough, It Needs to be Coupled With Intrapreneurship, Says Abhilash John
Tell us about your role at BYJU'S.
I just completed two years at BYJU'S in May this year. Currently, I'm the Engineering Manager and I build applications to help the operations for the Sales and User Experience Department.
Walk us through your journey and what led you here.
I am the first person to graduate in my family. I never thought I could continue my studies after my 10th standard because of my family's financial struggle. It was a long journey and now, I feel I have landed at the best place. Here, I get the opportunity to meet some like-minded people and learn more every day.
What are some of your key learnings from working as a Tech Lead?
To run a team, you need to trust your teammates. I follow the same principle in my recruitment process as well. As my mentor used to tell me, "A great team can be built with great individuals." So I always give more weightage to people's attitude than their technical skills.
What is the most exciting part about working at BYJU'S?
My job here keeps me excited. The more problems you solve, the more you learn. Every day I learn new things and it makes me all the more excited to start the day.
How has your previous work experience helped you shape your career?
I started working at the age of 10 in order to support my family. And while keeping a part-time job, I finished my school, diploma and even college. So now, I have three daily alarms on my mobile. One at 5 am for a physical activity like running or yoga, at 8 am to learn something new, and at 11 pm as a reminder to take some rest. I have been following this schedule for several years now and it works well for me.
What inspired you to take up data entry? 
I chose this field for survival. During my school days, I used to pull tricycles to move goods to factories. Once I started my diploma and college, I was trying to find a way to continue my part-time job. And I got into data entry jobs after I came across some ads.
What motivates you to do your best?
I am an ultra marathoner. And I do have a few achievements I'm proud of. A 75km marathon in 10 hours, a 130 km run from Chennai to Pondicherry in a day and a 12-hour stadium run are a few among those. My running experiences have given me more confidence than anything else. I believe that If I can run for a whole day continuously, I can do anything. 
During the pandemic, how have you been offering support to your teammates?
As a manager, I make it a point to tell my team that "I am there on the backend. Don't worry about the timelines. We can deliver better than we promised. Take care of your families and that's your priority now".
What's your advice for staying productive while working from home?
I would say that these are my golden days. I don't think I will ever get this much time to spend with my family again. Nowadays, I am reading a lot, eating healthier food and exercising regularly. I would suggest everyone make use of this time to be in touch with their hobbies. When you do something you love, you won't be bored.
Like what you read? Head to Life at BYJU'S to learn more about our work, people, and the stories that make us unique. To explore job opportunities, check out Careers at BYJU'S.