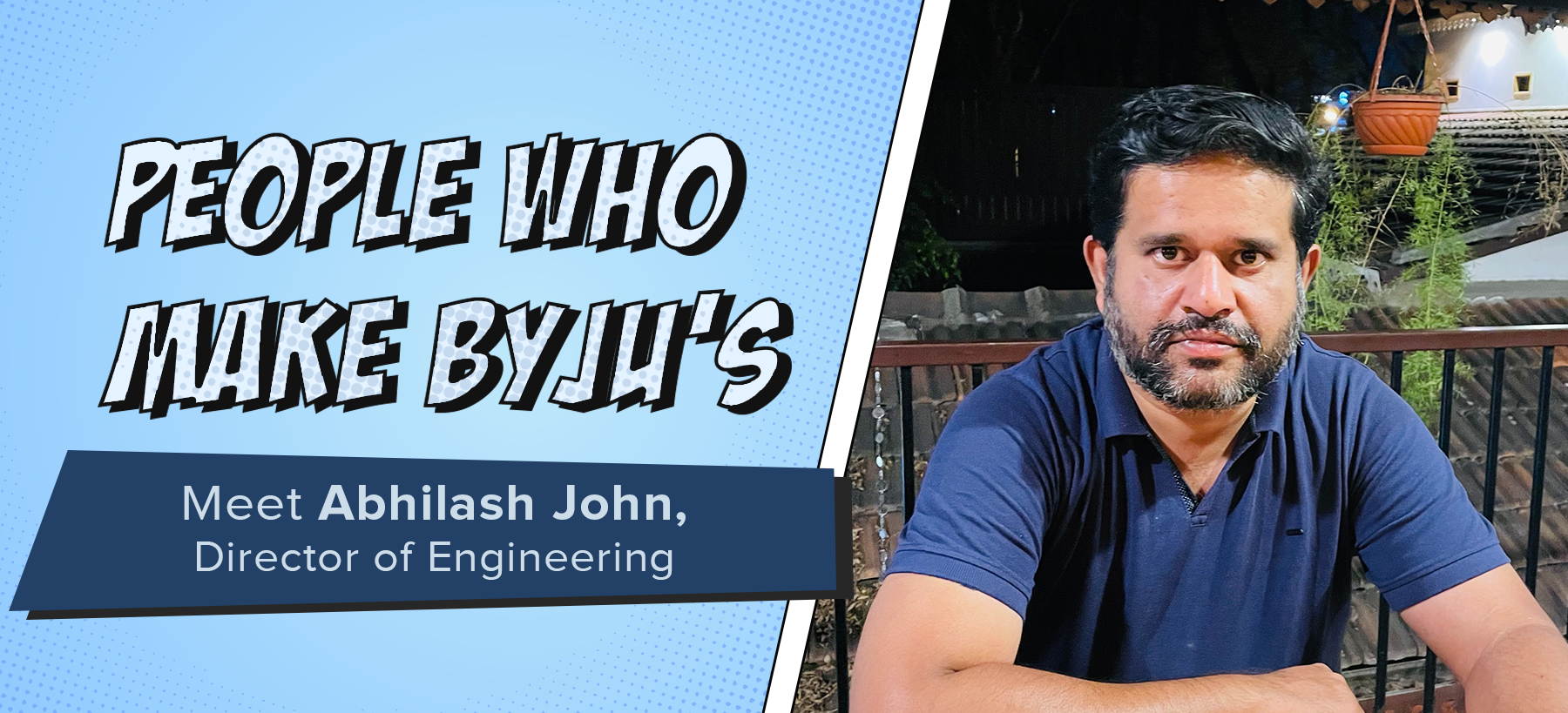 "Having an ownership mindset drives innovation, and people who embrace this culture are naturally passionate about their work. At BYJU'S, we have a culture of intrapreneurship where ideas are heard and people have the autonomy to make decisions. And this is what makes us unique." 
That's Abhilash John, Director of Engineering at BYJU'S. With over 20 years of experience across domains such as investment banking, outsourcing, retail, startups and edtech, Abhilash joined BYJU'S in February 2020. He has since led engineering for several projects to build and scale our products.
He explains, "Innovation is the key element to stay ahead in the game. But innovation alone is not enough. We need the right people and the right environment to be successful. And this is one thing you will definitely find at BYJU'S where there is a culture of intrapreneurship to support and sustain innovation over time." 
The techie, who has in the past helped many startups build and manage high-performance teams, believes that a sense of trust and transparent communication is what makes a cohesive team. He adds, "The key ingredient to creating a top-performing team is to be able to openly and consistently communicate with them."
In a candid conversation, Abhilash shares key insights on how to build and manage teams and keep them motivated in these unique times. 
Also Read: Life at BYJU'S: Rahul Raj Shares his Top Tip for Productivity
What does your typical workday look like?
On a day-to-day basis, I get to lead a high-performance team for various projects. The team is quite multi-talented with most people bringing diverse skills to the table. My key responsibilities include managing stakeholder expectations, offering scalable, reliable and easy to maintain solutions, consistent and timely delivery of products, and delivering well-thought technical decisions. 
Tell us about your experience as a technologist?
I completed my engineering in 1999 from Cochin University of Science and Technology. After that, I worked as a Java Developer with several companies for over 10 years. Then I moved to the position of engineering manager at a startup in Bangalore. And that's when I realised that I like building teams and nurturing them. I helped another startup build a team of engineers to work on several products from scratch. Before joining BYJU'S in February 2020, I worked with an American multinational retail corporation for many years. 
Also Read: Audience is Different but Quality Remains Same: Anantha on EdTech Games
What are some of the interesting projects you have worked on? 
A project that I am extremely proud of is BYJU'S Schools wherein we launched Vidyartha that offers BYJU'S content and Google technology. I lead the engineering for this initiative. Currently, I am also building a team that looks after Salesforce engineering and post-sales activities. 
What inspires you the most about your work?
Each day, I am inspired by the fact that we are able to touch upon millions of lives. It's just a great feeling knowing that through the work we are doing and the products we are building, we are able to help so many children fall in love with learning. As a team, we get to learn a lot from the kind of challenges we solve on a day-to-day basis. We take this as an opportunity, in fact, to come up with creative ideas for doing things.
There's an interesting learning in all this. I have come to realise that when you are managing a team, you have to think about your growth and the growth of your team. It is your responsibility to make sure that the people you manage learn, grow and prosper.
It's been more than a year of remote work. How do you stay positive and keep your team motivated in these unique times?
By staying connected and communicating as much as possible! Last year, all of us were going to the office, seeing and talking to each other. But as we work remotely, it's not possible anymore, so we are supporting each other by staying connected. With the tech at our disposal, our team is ensuring that we have the right tools to collaborate across all levels of the company. We also organise virtual meetups to check in on each other personally and professionally. 
Also Read: BYJU'S Dream Chasers: Women Who Defied All Odds and Found Success
What skills are essential when managing such a large team?
It is important to have an ownership mindset which means being empowered to make the decisions that will lead to desired outcomes. At BYJU'S, we have a culture of intrapreneurship where ideas are heard and people have the autonomy to make decisions. Another important skill is to be able to communicate openly and consistently with your team members to ensure they understand exactly what is happening and what they need to do. 
What qualities do you look for in a potential BYJUite?
Only hard work with dedication paves the way for opportunities! So, be open to any kind of opportunity that comes your way. Don't get into a job thinking about success, it will automatically come when you put in your best. Whatever you do, just do it with passion and take ownership, success will follow.
Liked what you read? Head to Life at BYJU'S to learn more about our work, people, and the stories that make us unique. To explore job opportunities, check out Careers at BYJU'S.