In this week's edition of BYJU'S Super Five — a mini-series that spotlights some of the wonderful BYJUites who have been with us for over 5 years or more — we present you Rahul Raj. In a quick tête-à-tête, the Assistant General Manager (Sales) takes us beyond his work to share a glimpse into his lockdown life. Rahul tells us who his favourite WFH buddy is and also shares his secret to productivity.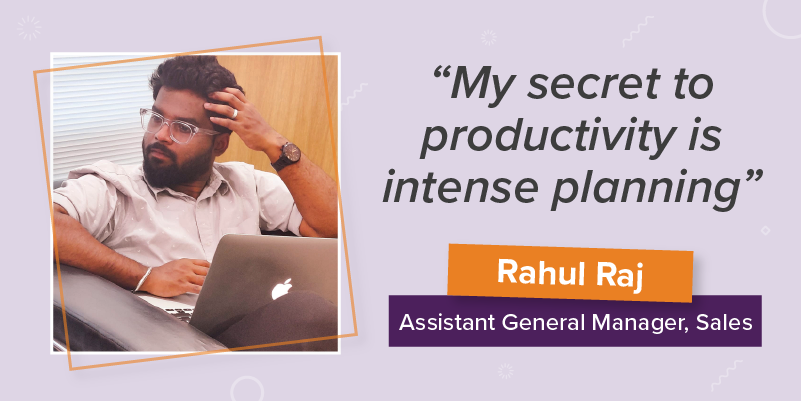 Rahul Raj, Assistant General Manager – Sales
Instead of Rahul Raj, my friends and colleagues often call me "da". It's like saying "dude" in Malayalam. And it has become such a thing that once I heard a senior manager refer to me as "da"  
What's your role in BYJU'S?
I work as Assistant General Manager — Sales. I handle multiple verticals, sales training, and performance for the entire South region. My job is to ensure that when somebody joins the organization, they go through the BDT programme, and once they pass the programme, they are inducted into the system seamlessly. 
What's your biggest skill?
I talk and I teach people. I look after training, and my basic skill revolves around teaching people the nitty gritty of sales. 
Who has been your favourite WFH buddy?
During this lockdown, my mom has become my best friend. Until now, I didn't get to spend so much time with her or stay at home for this long. It was pretty cool hanging out with mom and even watching some of her favourite Malayalam-language shows. 
What's your secret to productivity?
My secret to productivity is intense planning. I believe in Murphy's Law: whatever can go wrong, will absolutely go wrong. So, I focus a lot on prepping and enabling my team to be prepared for challenges. 
Head to Life at BYJU'S to learn more about our work, people, and the stories that make us unique. To explore job opportunities, check out Careers at BYJU'S.