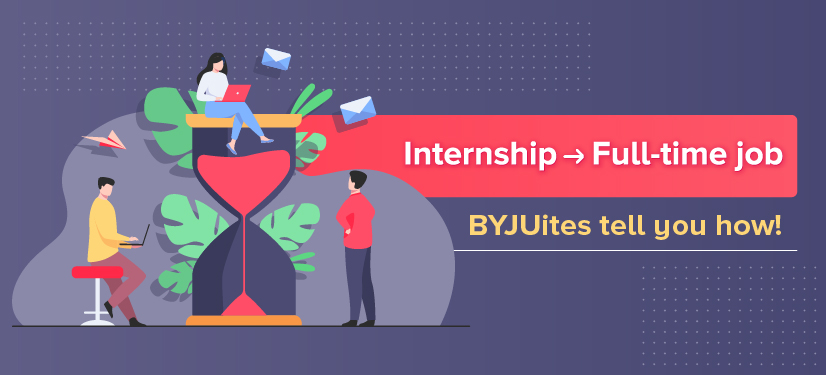 Landing your dream internship is no mean feat. But when that internship gets converted into a full-time opportunity, it's even more impressive. Talented, hardworking, and dedicated students, aspire to gain valuable experience and hope to transform their careers with internships and pre-placement offers.
We take a look at two such individuals who came to BYJU'S as starry-eyed students. They combined their love for learning, innovation, and growth, with sheer hard work, to successfully navigate the organisation as professionals. Read, as these youngsters speak of their journeys from interns to BYJUites, and what they learnt along the way. 
Also Read: How BYJU'S pushed the envelope in Maths learning in 2022 | National Mathematics Day
Internship by chance turns into a dream role 
Parthipan S was in his final year of engineering college when he got the opportunity to work at BYJU'S. "BYJU'S had conducted a placement drive at our college in Coimbatore and after clearing several rounds, I was selected for the internship," he says. 
"I hadn't planned on pursuing a career in edtech. But I'm a keen learner and innovator and BYJU'S offers the opportunity to explore those attributes," he says, adding, "When I got the internship and subsequently became a full-time employee, I realised that THIS was the place for me." 
The Digital Finance Associate has been with BYJU'S for the last two years. "My learning curve has been amazing. I've had the chance to receive training from some of the best in the industry. My seniors have not just taught me more about my domain but also helped me develop my soft skills," he says. "I was a kid, fresh out of college, but today I've become a true-blue professional." 
He believes he's more confident, and has better communication skills than before, thanks to his colleagues. "I'm now sort of a mentor to all the new joinees in the team. My seniors have entrusted me with their training; something I never thought I'd be able to do. But this is the beauty of working at BYJU'S. You're given a whole lot of exposure and you get to work on things you never thought possible," he explains. 
Also Read: From Nagaland to Bihar: Alok Jha's inspiring journey of overcoming obstacles and challenges
Converting her dream internship into a job
An internship with BYJU'S was like living out her fantasy, for Nikita Borude. A student of animation and multimedia at the time, she got the opportunity to work with our talented and dynamic Media team as a motion graphics design intern. "BYJU'S is among the biggest platforms for us designers to showcase our skills and creativity. When I got the opportunity to intern here in October 2021, I knew I had to make the most of it," she says. 
"I was selected after a test and an interview, and there has been no turning back since," says Nikita. Her excellent performance eventually got her the pre-placement offer. "I learnt so much from my seniors and peers that it never felt like an internship, and I'm so glad that I got the chance (in July 2022) to join BYJU'S as a full-time employee; now I can continue to learn," quips the Animation and Editing Associate. 
Learning and creative growth as a designer are the cornerstones of Nikita's BYJU'S journey. "Everyone around me is always eager to learn, explore newer avenues, and push their creative boundaries. The environment is thriving and I have the freedom and tools to expand my design knowledge," she says, adding, "The scope to collaborate with and learn from various teams is a great boost. All you need is to be committed and have a hunger for knowledge."
Also Read: Using ingenuity and creativity to make an impact: BYJUite Tapan Kumar's career has been a journey of learning and change
Developing a founder's mentality, encouragement and motivation from those around you, and a determination to make the most out of the opportunity, drives youngsters like Parthipan and Nikita to put their best foot forward at work. With the right mix of passion and dedication, they have carved a niche for themselves in our vast organisation and you can do too!
Like what you read? Head to Life at BYJU'S to learn more about our work, people, and the stories that make us unique. To explore job opportunities, check out Careers at BYJU'S.