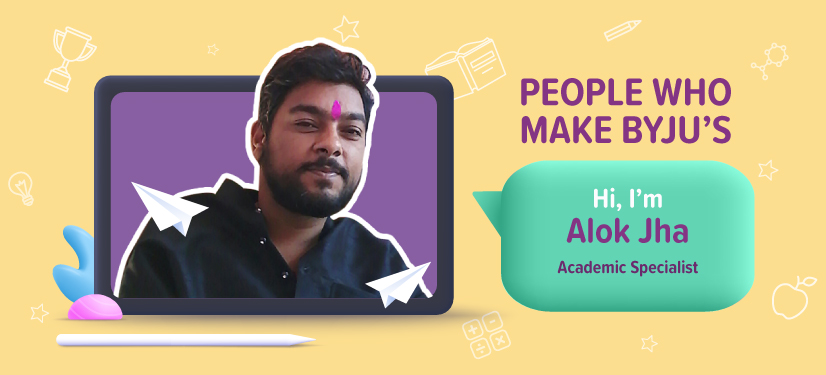 "I was a year old when I was diagnosed with paralysis, which left me with limited physical abilities. But my parents always motivated me to have big aspirations and pushed me to dream big regardless. In fact, my passion for teaching stems from home, as my grandparents and father were teachers. Now I take maths sessions for students from grades 4-10 and I'm committed to inspiring these children so that they can achieve any dream they set their minds to."
That was Alok Jha, an Academic Specialist in our Student Experience Team. Alok's journey into teaching has been guided by a lot of dedication and hard work. As a child, he always dreamt of pursuing a degree in medicine or engineering, however, his medical condition didn't allow him to take up either. Instead of getting bogged down, his situation fueled him to work harder from a young age, landing him a degree in Bachelor of Education and fulfilling his goal of becoming a teacher. 
"BYJU'S looks for people capable of learning and problem-solving over people who have mastered technical skills. Right from the onboarding process, candidates are encouraged to speak confidently about themselves and their experiences, with no hesitation. This created a safe space for me to continue to explore and grow my career at BYJU'S," he quips. 
Also read: Dedication + Teamwork = Success: BYJUites share their formula for success | National Mathematics Day
Building a culture of support and trust
It's this culture of support and trust from his mentors and colleagues that has sparked professional aspirations for Alok. The experience, as he says, has also driven him to chart a unique career path and inspire children to become lifelong learners. 
"My younger brother encouraged me to apply at BYJU'S, but when I got selected I wondered if I would be given flexible working options. To my surprise, everything went smoothly – from onboarding to training. We have a thriving flexible work environment that helps me prioritise my day in a phased manner. I've had the opportunity to learn from industry experts who have supported me at every stage of my career. This is the culture of BYJU'S," he tells us proudly.
He adds that he comes to work every day with a fresh perspective and a strong desire to keep learning and providing quality education to students. "What's unique about BYJU'S is that each session is different from the next. Complex maths concepts are explained with the help of rich visuals and real-life examples, so that students can retain information for a longer period. This way, we encourage our students to become self-learners and creative thinkers," he says.
Making a real impact
For most of his life, says Alok, he was focused on completing his education and accomplishing his goal of becoming a teacher, and now he aims to help all students succeed. He continues, "It is interesting how technology sparks curiosity in the minds of students. All our learning products are backed by the latest tech that keeps students energised to learn and grow with us. It is amazing and humbling that I'm able to positively impact so many lives through my work."  
As a teacher and life-long learner, Alok takes pride in helping others become their best selves. He shares, "Be your true self no matter where you go. Failure is part of the journey — you have to make mistakes to get better. You will learn much more from your failures than your achievements."
Like what you read? Head to Life at BYJU'S to learn more about our work, people, and the stories that make us unique. To explore job opportunities in our Student Experience Team, check out Careers at BYJU'S.