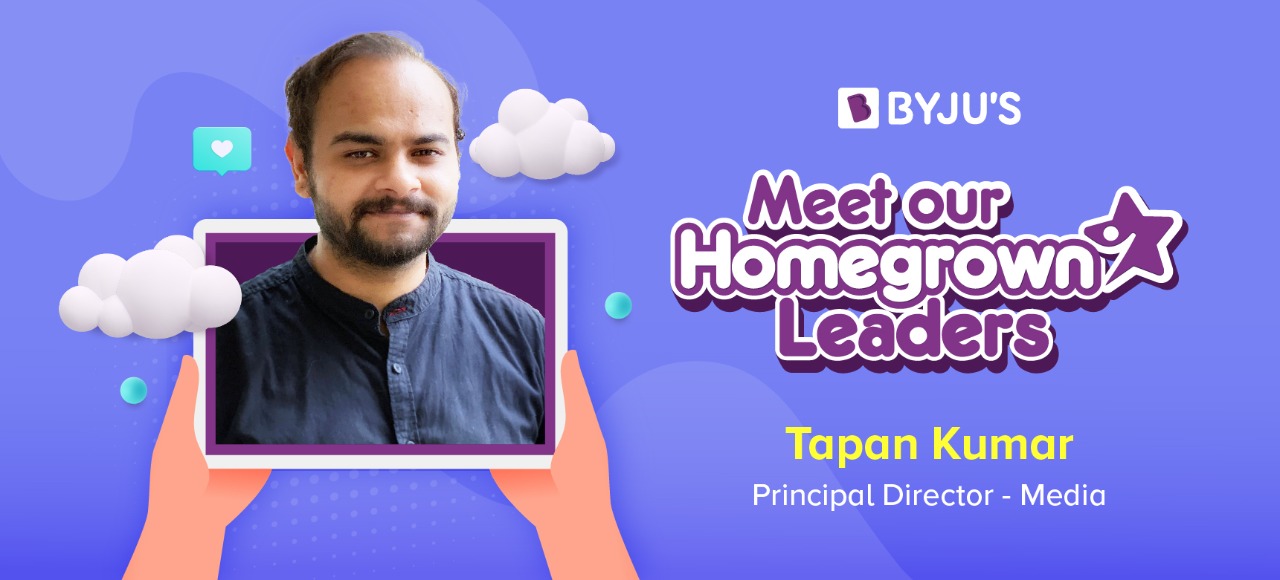 "When I started looking for a job, all I wanted was to bag one where I would never be bored, where every day would be different, and where my work would constantly challenge me. This probably sounds too simplistic, but believe me, it's not. I joined BYJU'S as a fresh graduate in 2014, and I have been very fortunate to have experienced multiple dynamic roles and projects, with endless opportunities for growth."
That was Tapan Kumar, our Principal Director in the Media Team. Since Tapan joined BYJU'S, one key thing that stood out for him was how learning is a part of everyday life. "One of the biggest surprises  in my eight years at BYJU'S is the level of autonomy you have, to explore your interests. And it's been an incredible learning opportunity, teaching me how to manage people, develop my leadership skills, and continue to learn and grow with the company."
In this instalment of our Homegrown Leaders series, Tapan gives us a glimpse into his role at BYJU'S, and the diverse skills and experiences he's gained in his fabulous eight-year journey.
Also read: From fresh graduate to full-time BYJUite: Umang Singh is driving change and creating a real impact
Great ideas can come from anyone, anywhere
For Tapan, it's continuous learning combined with a positive mindset that inspires and connects him to work. He says, "We have a very diverse culture at BYJU'S but everyone is aligned with a common goal: to instil a love for learning in children. This mission has been bringing together several unique talents to create an impact through their work."
In these eight years, he adds that his team has been discovering ways to encourage children to learn better through videos, by means of rich animation and storytelling. "We are constantly exploring ideas to create the best learning experiences where students are motivated to learn and fall in love with learning. BYJU'S is a place where ideas can come from anyone, regardless of their level in the organisation. Everyone has the freedom to explore, learn, fail, and try new things," quips the BYJUite. 
Getting the right support
When Tapan joined BYJU'S, he found the work extremely exciting and kept dabbling with projects that looked interesting. It was then he realised that even at a junior level there are opportunities to engage with the latest technology, ideas, and people. He says, "Everyone at BYJU'S has been so friendly and welcoming. It's amazing how approachable our senior leaders are. At every step of the way, I've been encouraged and supported by Byju sir, Ashwin, Vinay, and Siddharth, to follow my goals – both personal and professional."
It's a culture of learning, he adds, where learning is valued and supported by leaders, and people help each other learn constantly, which keeps him inspired at work. "That's probably my biggest piece of career advice: Never stop learning, always keep an open mind, stay positive, think big, and stay focused on your goal," he concludes. 
Like what you read? Head to Life at BYJU'S to learn more about our work, people, and the stories that make us unique. To explore job opportunities, check out Careers at BYJU'S.