"When it comes to working as a software developer, it's not just about coding. It is about taking ownership of the projects we are a part of. In doing so, we are not just developing software but also growing as individuals," says Hina Arora, Senior Software Engineer at BYJU'S.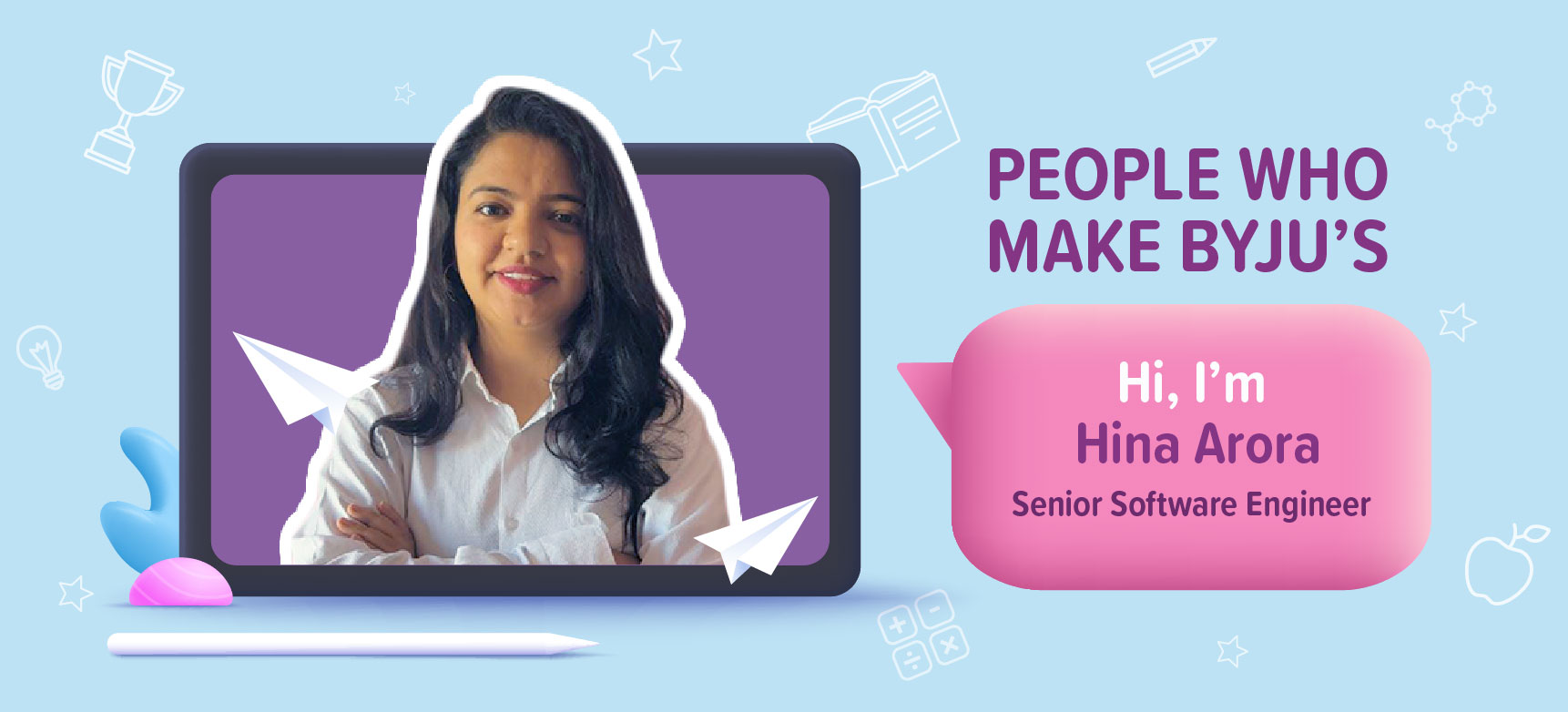 For Hina, who joined BYJU'S in July last year, forging a career in tech and getting to work on a suite of world-class products is nothing short of a milestone. One that's made special by the challenges she has overcome along the way.  
Shares the techie, "Coming from an orthodox family, it was difficult for me to step out of my city and study BTech in Ghaziabad. I didn't have much family support either. But my mother stood strong through all this and over the years, I feel like I have been able to gain the confidence of my family too. I'm happy that they are growing after seeing me grow in my field."
If family support has played a huge role in shaping Hina's journey, exposure to the real-life tech world has been instrumental in building her confidence. Particularly, the failures, which have taught her to be resilient and never give up. 
"Before I bagged the role at BYJU'S," says Hina, "I appeared for several interviews that I could not get through. It was disheartening at first but with every failed interview, I learned something new about myself and rectified my mistakes. This experience has taught me to steer clear of self-doubt and focus on my artillery of skills." 
Also read: Want To Be a BYJU'S Teacher? Get All Your Questions Answered By Our Academic Specialists
Coding and collaborations: On supportive tech team 
During the early days of her life at BYJU'S, Hina shares that she was eager to learn and take up challenging tasks. In this phase, it was her team that helped her at every step of the way and mentored her on critical projects. 
''Initially, I would reach out to my team and my manager, asking gazillion questions. The questions might have been very simple but at that point, they were tricky for me. I would always go back and forth if I wasn't clear. But no matter the query, I have always been answered patiently and no one has ever called me out. This helped me learn how to tackle projects from the very beginning."
Talking about some of her endeavours at BYJU'S, Hina adds, "One of the major projects I have been a part of was the Monthly Progress Report. With this, parents could track their child's performance, class attendance, the topics they were learning, and even their scores." 
She adds, excitedly, "We are also working on another major product which is still in the development phase. This is one of my favourite projects as it includes research work."
Also read: They Came, They Discussed, They Broke Biases | International Women's Day at BYJU'S
On making an impact as a woman in tech
Having donned the BYJUite's cap for almost a year, Hina believes that the advantage of joining a fast-growing edtech brand is that you also grow along with the company. "Being a part of BYJU'S, I'm exposed to enormous opportunities, leading and learning every day. I am highly motivated to innovate and ideate for a name that has made a mark, globally." 
This also means pushing the envelope and widening the scope for her skills. As she says, "Motivation means different things for different people. For some, it's about exposure to opportunities, work-life balance or exploring new facets. For me, as a developer, it is all three."
The BYJUite, drawing from her experiences, also shares a few tips for young women who aspire to join the workforce. "Work-life balance is vital!" the techie advises, "so give yourself enough time to get things done. Don't overschedule and overcommit. And make yoga or exercise a major part of your life."
And last but not the least, Hina shares golden advice for women who aspire to be a part of the tech world:
Find out what motivates you. It could be Coding, Testing, UI UX designing and more.

Don't let self-doubt get in the way.

Work on negative feedback, but don't focus on negative people.

Never stop learning and keep trying.

When you focus on learning new skills and topics in-depth, you will be able to solve anything that comes your way.
Head to Life at BYJU'S to learn more about our work, people, and the stories that make us unique.  To explore job opportunities, check out Careers at BYJU'S .