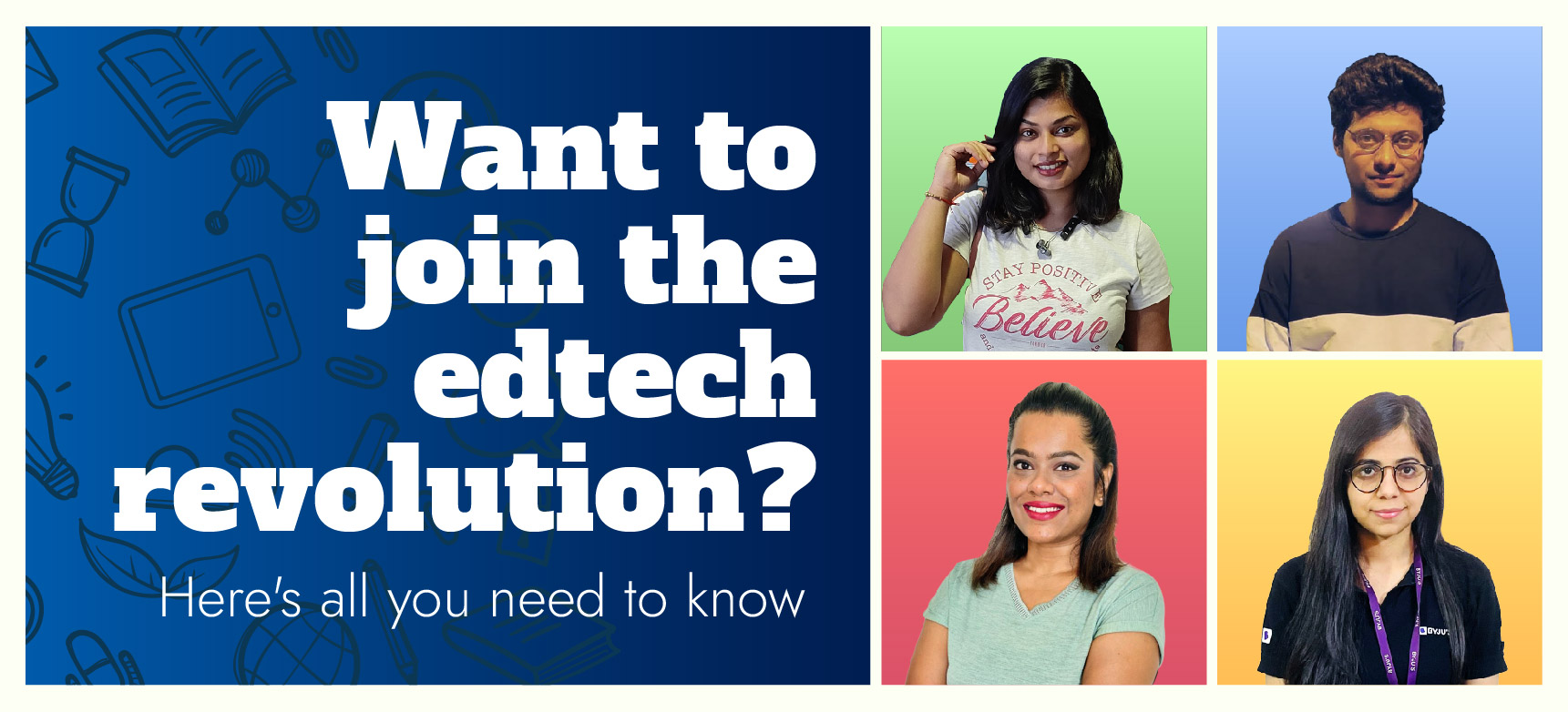 Teachers play a crucial role in shaping and nurturing children throughout their developing years.  And to cater to every child's unique needs, a diverse teacher workforce is essential. It ensures that students have empathetic mentors who can understand and guide them in their learning journeys. 
From the very beginning, we have strived to do just that: build a diverse and creative teaching community to provide wholesome experiences to our students. It is innovation and creativity blended with a conducive working environment, diverse teams, employee-centric policies and benefits that offer a platform for our Academic Specialists to learn, grow and thrive! 
If you aspire to be a part of BYJU'S teaching community then we suggest you keep scrolling for more. Here's your opportunity to know all about the role of an Academic Specialist, the team, the benefits and more. Our Senior Academic Specialists Ankita Sahu, Khushboo Bhawnani, Parth Saxena and Shilpa Shirley answer all your queries and address your FAQs.
Also read: Her Darkest Phase Gave Her Strength to Powerlift, Teach, and Inspire Others: Meet Upasana Mahajan
What is the process to apply as an Academic Specialist at BYJU'S?
Ankita Sahu: Our application process is quite smooth and simple. All you have to do is apply for the AS role on the careers portal at byjus.com and fill in the required details. The next step is to record a short teaching demo video on any concept of science and mathematics and upload it on our portal. The only two things to keep in mind are the video should be in English and the duration should be between 5 to 7 minutes. You can also ask a friend who is already a BYJUite to refer you.
What is the interview process like?
Ankita Sahu: Once shortlisted, a personal interview round will be held via Zoom. Our interview process really tests your fundamental knowledge of the subject and your ability to deliver the content. We truly believe that education must be student-driven, and to achieve that, we ensure that our learners get conceptual clarity on each topic, which is what an Academic Specialist does. Being able to make learning easy for students from different backgrounds and of divergent cognitive abilities makes us stand out. 
Khushboo Bhawnani: I vividly remember the day of my interview.  As a new graduate, it was my first job interview, and I didn't know what to expect. It was scary and fun at the same time. However, I was surprised by how friendly the interviewers were and the amount of communication with them throughout the whole process. It was reassuring to have someone reach out with answers to all my questions and doubts. It was a really great experience, and I got a sense of the company culture from there itself. 
Also read: Meet the Unstoppable Women of BYJU'S Taking Charge of Their Career Comeback
What is it like to work as an Academic Specialist?
Shilpa Shirley: Each session differs from the other and each day is filled with learning opportunities from peers who not only keep you motivated but mentor you when needed. Every session provides an opportunity to connect with students, create a positive impact in their lives, and encourage them to keep learning. That's what is unique about BYJU'S work environment; it fosters diversity and cultivates a culture where team members feel respected, valued and confident in their contributions.
Khushboo Bhawnani: In my role, every day is different. Some days are spent largely on meetings (virtually) with my colleagues, to brainstorm and plan. While others are spent conducting online sessions for students. But I regularly carve out time for virtual, casual meetups, where I get to meet folks in the company based in other locations and get to know them. Due to the diversity of backgrounds and experiences of the team members, there's always something fun and interesting to learn from others.
Can someone with no prior experience in online teaching still consider applying at BYJU'S?
Khushboo Bhawnani: Absolutely! Being a fresher myself, I am awestruck by the talent and creativity that I encounter on a daily basis here at BYJU'S. We have a strong and diverse network of teachers, hailing from small towns and remote areas of the country. As long as you are driven to create an impact and willing to be adaptable, nothing else matters. I would encourage anyone who aspires to be a teacher, to not doubt themselves and apply confidently. 
Shilpa Shirley: We look for people capable of learning and problem-solving, even if they don't have professional experience in teaching. BYJU'S has bolstered thousands of professionals towards greater opportunities to learn, grow, and excel. Our teachers come from major cities like Delhi, Bengaluru, Mumbai, but we also have people from Tier 2 and Tier 3 cities, who bring different skills to the table. Our diverse and inclusive workforce is our key to innovation.
Also read: How Teaching with Empathy Motivates Students to Learn Better: Manasa Hegde Shares Her Take
What are some of the perks and benefits of this role? 
Parth Saxena: At BYJU'S, there's access to several employee benefits, focussed on supporting the physical, financial, and emotional wellbeing of employees. Apart from competitive compensation, incentives and management positions based on your performance, we ensure that BYJUites get time off to unwind and recharge. We have remote work opportunities available. There's also access to medical insurance for employees and their dependents while employee-first initiatives such as Let's Talk and BYJU'S Amber is focussed on the overall well-being of BYJUites.  
Shilpa Shirley: Our top priority has always been to build a work culture where BYJUites feel happy, safe and supported. Our leave policy that includes period leaves and child care leaves is a step towards creating a fair and balanced work culture at BYJU'S.
What are some of the learning and growth opportunities for an Academic Specialist?
Shilpa Shirley: With new-age technologies powering our learning products, we are continuously innovating and investing in how we personalise the contents on our platform. We have teachers with different levels of experience in teaching and even have fresh graduates; so opportunities to learn and grow are abundant. We impart training to everyone onboarded to our teams to help them stay up to date with new technology and familiarise them with the BYJU'S way of learning. 
Does this excite you to join the learning revolution? Head to Careers at BYJU'S to become a part of our teaching community and help students learn better.