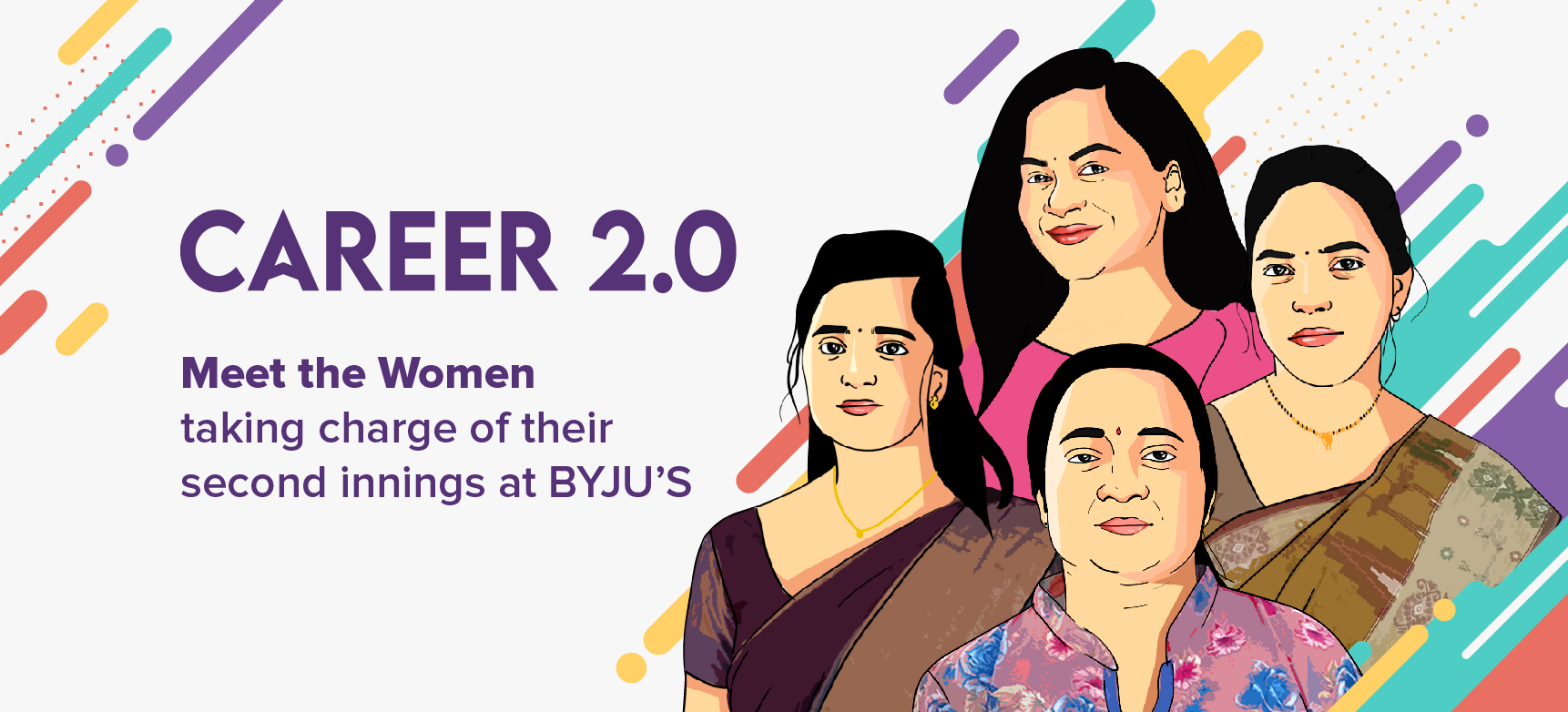 Women comprised 23 percent of India's labour force in 2019, as compared to a global average of 48 percent, according to a World Bank report.
There's growing evidence of a direct correlation between heightened innovation and performance and women returning to the workforce. This, however, doesn't discount the challenges women face like lack of opportunities, finding roles that go well with career aspirations and those that offer work-life balance. Despite the challenges, this talent pool is known to bring in hunger for excellence when provided with the right ecosystem to grow and thrive. 
At BYJU'S, we are strongly committed to creating opportunities that ensure a seamless transition for women kickstarting their Career 2.0. We are striving towards this commitment by ensuring a smooth and structured onboarding process, focussed mentoring, flexible work options, and on-the-job learning opportunities for anyone returning to work after a break. 
We believe that this initiative is not only integral to collaborating with the best talents in the industry but also harnessing their potential to deliver the best to our students. 
Keep scrolling to read about the women of BYJU'S as they share their incredible back-to-work stories >>>
Also Read: BYJU'S Academic Experts on How Blended Learning Offers the Best of Online & Offline Education | International Day of Education
A career break isn't a career ender
After working briefly as a teacher, Puja Panda took almost a two-year break to embrace motherhood. But when she was ready to return to work, she couldn't find a role that aligned with her skill set and goals. 
"It took a lot of effort to find a job that aligned with my interests and aspirations. This went on for nearly two years and I was relieved when I finally bagged the job that suited my skills and interests, a goal that had remained elusive for years," says Puja, an Academic Specialist at BYJU'S.
Puja, who joined BYJU'S in 2021, believes that taking time off to look after your children doesn't mean you can't make a comeback and build a thriving career. "I believe that being a mother is an important part of every woman's life, but that should not hamper your decision to rebuild your career. With motherhood, my career goals have taken a different route and I need flexible work arrangements to help me balance all my priorities. This is something I experienced first-hand at BYJU'S, where the team helped me structure my work around my life and needs," she says.
Besides learning new things and honing her skills, adds Puja, another important goal on her list was to become a role model to her two daughters. "I wanted to show them that they can achieve anything in life once they set their mind to something! This is what prompted me to continue my passion for teaching."
Also Read: Do What You Love! How BYJU'S Young Force is Inspiring Us to Keep Learning | National Youth Day
Staying positive is the key
For someone who has been on a career break for over 18 years due to family commitments, K Rajalakshmi was immensely inspired by her 18-year-old daughter. The Academic Specialist says her daughter has been the driving force behind her restarting her career.
"I've had a great time being there for my daughter and watching her grow up. But this doesn't mean that I gave up on my passion for teaching during my career break. I made the most of my free time by teaching students at home. Now, 18 years later, as I take the steps to get my career back on track, BYJU'S has offered me the perfect platform for it. I'm proud to be a part of a company that empowers women like me to have a meaningful second innings at work, and makes our integration into the workforce seamless," she says.
Sharing a piece of advice for parents and other women considering a return to the workforce, the BYJUite says, one should never doubt their abilities. "When you doubt yourself, you underestimate yourself. The key is to develop a positive mindset and keep learning, experimenting, failing, and then trying again," she adds.
Never give up on your dreams
Returning to work after an unplanned break could be daunting and even challenging. At least, that was the case for Meghna Gupta, an Academic Specialist at BYJU'S. 
"I was going to join an educational institution as an Academic Head but I got a call from their HR a few days before joining, saying that they won't be able to hire me because of the second wave of the pandemic. Just a few days later, I got infected with Covid-19 and my symptoms were too severe. As I recovered, I started applying for jobs but the hiring process in some of the companies was based on a set of fixed expectations. This left me disheartened and I had lost all hopes of getting back to work," recalls Meghna.
However, the unconditional support from her family pushed Meghna to not give up on her dreams and return even stronger after her break. She tells us, "It was my husband who kept searching for jobs on my behalf, and that's how I landed the role at BYJU'S. The whole onboarding process was smoother and quicker than I had expected. Although I was a bit nervous because I was returning after a break, I was surprised to see how friendly my colleagues were and even found myself feeling more confident when dealing with professional responsibilities."
Meghna shares that she wanted to use her second innings as an opportunity to rejoin the workforce, upgrade her skills, and create a difference. "It's been great coming back to the workforce and BYJU'S has made it rewarding in all aspects. I'm keen to keep learning, upgrade my skills, and I look forward to it every day," she adds.
Also Read: Full-time Mom, PhD Student and Teacher: How Sushma Sheshadri is Acing all Roles
Back with a bang
"When it comes to rebuilding your career, just one person opening the door can make all the difference. I went on maternity leave for six months and got promoted two months after returning from the break. This made me even more confident to keep doing what I love and continue with my mission to educate students around the world."
That is Dhanisha Chammini, a Senior Academic Specialist at BYJU'S. When you're returning as a person with new priorities, says Dhanisha, the most important thing you look for is a positive work environment where you are considered and respected for the skills you have to offer. 
"Thankfully for me, the transition was smooth as I got the right guidance and motivation. Through BYJU'S Refresher Programme, I was able to bridge learning gaps that helped me make a stronger comeback. This really enabled and empowered me to take charge of my second innings at work," she tells us.
Dhanisha emphasises that it is important to keep reminding yourself about your dreams and passion when planning a comeback. "Although you have to deal with a lot more responsibilities, don't forget to stay strong and seek help from your colleagues and family whenever needed," she adds.
It is this unstoppable force of BYJU'S and their desire to make an impact that inspires and empowers us to keep doing what we love: make children fall in love with learning! 
Are you someone who has made a career comeback? What helped you in the process? Let us know in the comments below!
Head to Life at BYJU'S to learn more about our work, people, and the stories that make us unique. To be a part of our Student Experience Team, check out Careers at BYJU'S