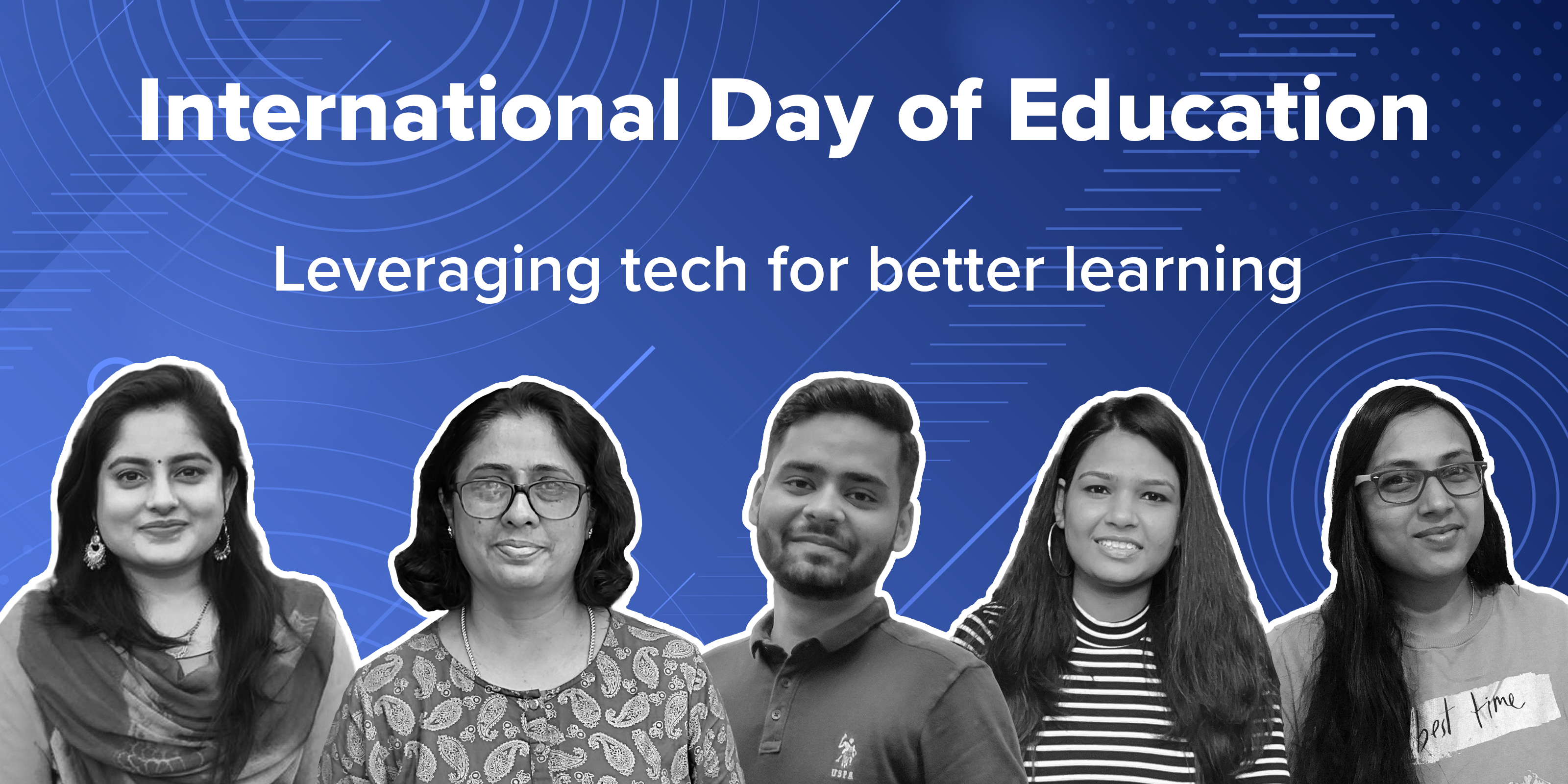 For students to fall in love with learning, it is essential that education is student-driven. From the very beginning, we have strived to do just that: enable students to become self-learners. No doubt, technology has created many opportunities to provide innovative experiences for students. Yet it is the right blend of technology, creative minds at BYJU'S, and our students who enable us to craft unique and personalised learning products and programmes.  
This International Day of Education, our Academic Experts share the key factors that keep students engaged in an online learning environment and how we are combining the best of online and offline learning methodologies to deliver quality learning experiences. Scroll down to read their stories as they share their memorable classroom moments and how they are helping make BYJU'S products better.
Also Read: How Shaheen Sultana Discovered Her Passion for Teaching at BYJU'S
Leveraging tech to redefine learning
"We believe that through technology, we can motivate children to fall in love with learning. We are ensuring the quality of our programmes by using cutting-edge technologies that offer interactive learning platforms and help students learn better. With our learning modules, students have the autonomy to decide the pace of their learning journeys. For instance, for every student, a learning profile is built on our platform to personalise the experience based on their strengths and weaknesses, and their specific learning gaps, pace and needs. That's where we stand out."
That is Aniket Sharma, Senior Manager in our Student Experience Team. Since joining BYJU'S in 2016, his team has been driven by a single mission – to create seamless and personalised learning experiences for every student. "We aim to keep students at the centre of innovation and want them to become active learners. Our products are designed in such a way that students can get their doubts resolved during and even after the class. We also collect feedback from students on how the class went and this helps us understand their learning journeys from an operational point of view," he tells us. 
While new-age technologies empower our learning products, says Aniket, it is our Academic Specialists who are continuously innovating and investing on how we personalise the content on our platform. "We are hiring teachers from across the country, who have different levels of experience in teaching. But we want to ensure that they are fully accustomed to the BYJU'S way of learning and that's where tech plays an important role. Our teachers are fully equipped with digital learning tools to ensure that students have a firm understanding of the concepts."
Also Read: Do What You Love! How BYJU'S Young Force is Inspiring Us to Keep Learning | National Youth Day
 

Building a strong support system

"To boost student engagement and offer quality learning opportunities, our learning content is available in multiple languages. This helps ensure that learning is accessible to children in every nook and corner of the country," begins Umang Singh, Senior Manager, explaining the key factor to student engagement in an online learning environment.

The engineer-turned-teacher, who joined BYJU'S in 2017, elaborates how technology is being leveraged to personalise every aspect of learning and teaching experience for both students and teachers. 

She says, "To strike the right balance between online and offline learning, it was essential to address the challenges faced by teachers and students. Since it was not possible for everyone to have high-speed internet connection, our products were optimised for low bandwidth networks too. Not only do we offer guidance to students but we also provide technical support to ensure seamless learning. For example, if a student is unable to use a mic during an online class, they can get in touch with us through our live chat feature and our designated team will help them resolve the problem, so that learning never stops for anyone."

Akhila Chandran, Academic Specialist, chimes in on other ways we have utilised tech to support teachers. She says, "Just like textbooks and classrooms, tech tools are helping teachers like me to use their skills most effectively, and to be accountable. Regular training opportunities help us stay up to date with new technology."

With technology playing a vital role, we are continually working towards innovating various products, with students' and teachers' needs at the centre of it all. The right use of technology, says Akhila, enables us to create personalised learning paths for our students. 

"One of our latest introductions includes the two-teacher advantage. This model simulates an offline classroom experience, with one expert teacher offering conceptual clarity and the second teacher solving doubts on the platform. This is a hybrid model wherein we want to make the best use of online and offline learning," explains Akhila. 

Also Read: Full-time Mom, PhD Student and Teacher: How Sushma Sheshadri is Acing all Roles
Empowering children to become self-learners
While talking about how blended learning empowers students to become self-learners, KM Rashmi, Academic Specialist, says, "When I made the transition from offline to online mode of teaching, student participation was a major concern for me. However, our sessions are designed in a way that students can give direct feedback on how the lesson is going for them. Our unique lessons bring together the best of online and offline learning for children, allowing them to interact directly with teachers and peers, just like in a traditional classroom."
Sharing a proud moment as a teacher, Rashmi adds, "Our live sessions are designed in a way so that teachers can act as a personal coach and an encouraging friend. I have a lot of students telling me after my class that they were able to understand science concepts in a simple way and that they have fostered a love for learning which is my ultimate goal. This is when you know you are making a positive impact on students around the world."
While we continue to innovate and design new learning experiences, we also aim to maximise the student-teacher interaction in the online learning environment. 
"A mix of live classes, video tutorials, and interactive games keep students engaged, stimulated, and motivated to learn science concepts in a simple yet fun way. This has helped us get good student engagement. The chat feature proved to be a fantastic tool to increase student-teacher interaction during online sessions," says Swastika Dash, Senior Academic Specialist.
In fact, if there's one thing that inspires Swastika in these unique times, it is maintaining strong relationships with her students virtually. "As a teacher, we wear multiple hats. Apart from guiding students in their learning journeys, I also check-in on them regularly in these trying times. This positive social and emotional connect makes its way into the pursuit of academic excellence," she adds. 
How do you think classrooms can benefit from implementing blended learning? Tell us in the comments below.
Like what you read? Head to Life at BYJU'S to learn more about our work, people, and the stories that make us unique. To explore job opportunities, check out Careers at BYJU'S.