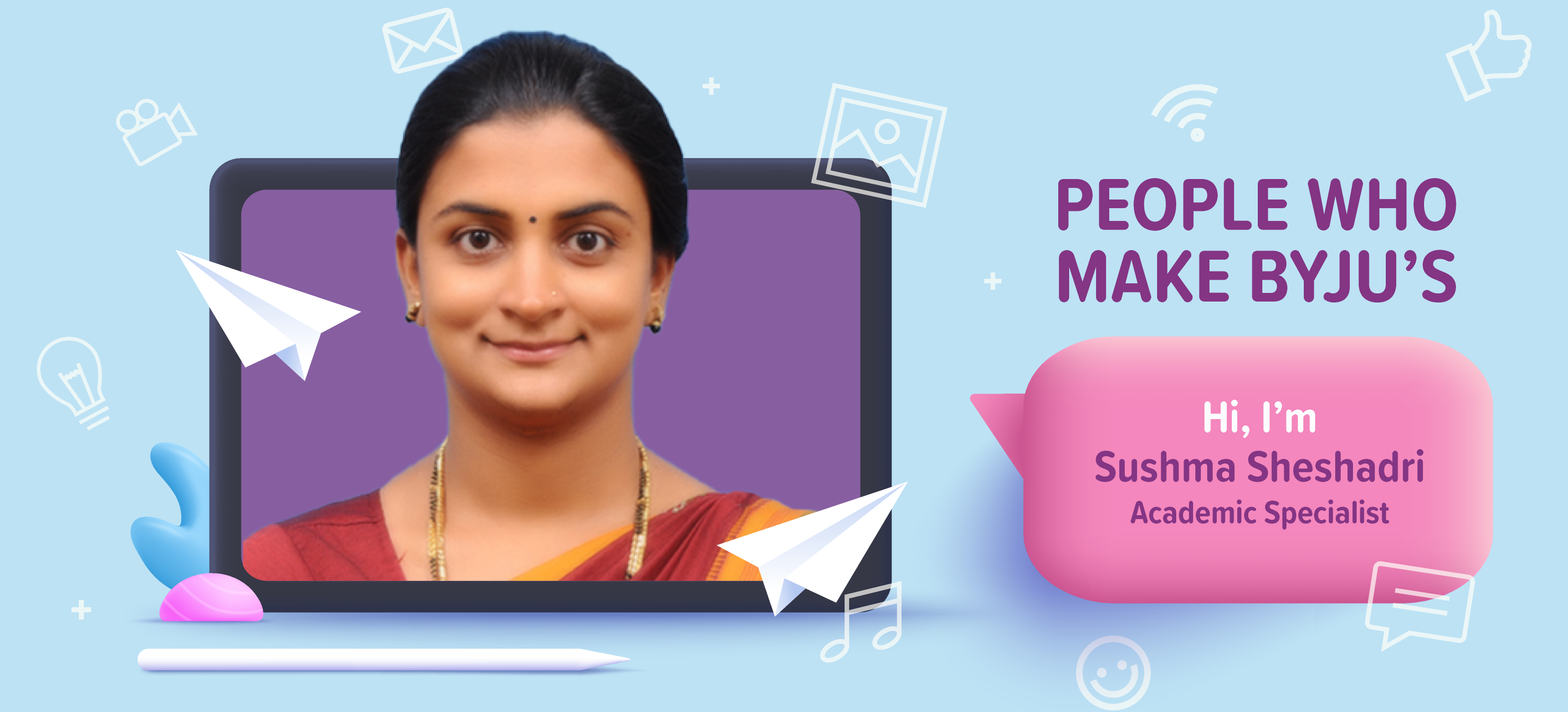 To be successful in any field, you have to learn to embrace challenges. Sushma Sheshadri, an Academic Specialist at BYJU'S, believes that  pursuing your dreams can sometimes introduce a whole new set of challenges as well as unexpected joys if you are open to tackling your problems and turning them into opportunities. 
"I had to adapt to new technologies and unlearn a lot of things as I was teaching college students for the last four years," shares the BYJUite. She continues, "College students are well-acquainted with the concepts; however with younger students, you have to get the basics right. Their doubts and questions are pretty straightforward so I had to brush up some of the concepts in physics as that's my core subject."
Sushma's journey towards achieving her goals has been guided by a lot of dedication and hard work. A full-time mom and educator, she is currently pursuing a PhD in biomedical image processing. While this might sound like a full plate, the pandemic-induced move from offline to online mode of teaching has pushed her to discover new ways to continue unlearning and learning.
Also Read: Product Management and User Empathy: Watch Shravan Tickoo Connect the Dots
Finding a balance
As an Academic Specialist at BYJU'S, Sushma is responsible for conducting online classes for students in grades four to 10, clarifying their doubts, and creating a conducive learning environment for them. And coming from an engineering background, she sees her role as an opportunity to make physics concepts interesting and relatable to students. 
She says, to become a good teacher, one has to be a good learner. Sushma proves this point by taking a cue from her experience of transitioning to online teaching from the offline mode. In her words, it meant unlearning the traditional ways of teaching and exploring new ideas and tech tools to keep students engaged. 
While as a mother, transitioning to working from home with her three-year-old son meant that Sushma had to take on multiple roles. This includes donning the caps of a teacher, cook and even an entertainer for her little one. 
"While balancing research, motherhood, and teaching, establishing a routine was important for me. However, transitioning to a different routine was an experience that proved to be both challenging and rewarding. Although it was difficult to juggle between coursework, teaching and parenting, the experience has taught me a lot about resilience and empowered my desire to continue to learn," she tells us. 
Also Read: Srijan Mishra on Why Every Challenge is an Opportunity to Learn & Grow
Having a support system
For this Academic Specialist, having a strong support system is crucial to managing the day-to-day tasks. "My colleagues and manager always had my back during difficult times. In fact, the most important thing is to surround yourself with a supportive team. That's what I found at BYJU'S and this has helped me stay inspired and motivated me to keep doing what I love," quips the BYJUite.
But the most surprising support, Sushma says, came from her family, especially her son. "They helped me unwind from a long workday, gave me my daily dose of laughter, and made my life meaningful. There were times when I felt overwhelmed, but now I think being a mother while doing a PhD is a blessing. Being a student allows me to keep learning and experimenting, and being a parent helps me become more responsible in life."
In Sushma's words, things are not always going to be easy. "Some days are harder than others, but if you find a bunch of positive people at work and your family who are always there to lift you up, then your journey becomes smoother."
Sharing a piece of advice for other moms aspiring to pursue higher education, Sushma says, one should always keep their eyes on the goal. "With a goal-driven mindset, I was able to push through the difficulties. And that way I found purpose and meaning in whatever I did," she says. 
Like this story? Head to Life at BYJU'S to learn more about the stories that make us unique. To explore job opportunities, check out Careers at BYJU'S.