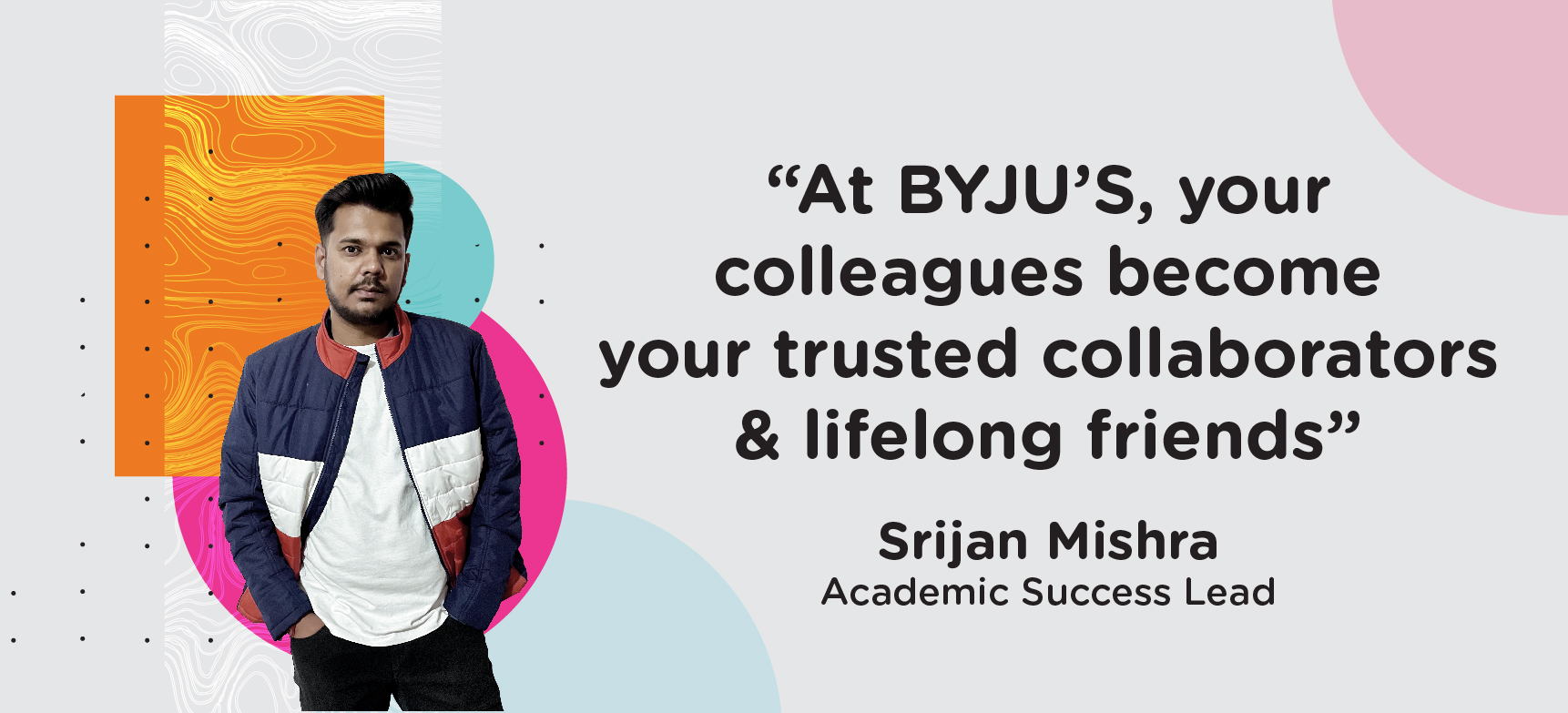 "At BYJU'S obstacles become opportunities when you give your best. And that is very inspiring," says Srijan Mishra in this week's edition of A Day In The Life Of. Our new series where BYJUites offer a glimpse into their typical workday, from a morning ritual they religiously follow to how they unwind after a long day at work at BYJU'S. 
In this edition, Srijan Mishra, Academic Success Lead – Student Experience, gives us a glimpse of his team and tells us why his colleagues are his trusted collaborators and what keeps him motivated to give his best.
Quick Takes
Tell us about your role at BYJU'S.
My responsibilities include training peers for conducting one-on-one online sessions for students across the globe, designing an effective training plan, and encouraging product adoption.
What does your typical workday look like? 
As a Team Lead, I spend a lot of time (virtually) meeting with my team where we speak about their current challenges and how I can help them. I make it a point to check in on their well-being in between meet-ups. 
Also Read: Ranjitha on How Her Love For Learning Fuelled Her Interest In Teaching at BYJU'S
What do you do in your free time?
I'm a big-time foodie. In my leisure time, I love discovering new restaurants and experimenting with food. 
What excites you about your work?
One of the perks of our work is that it impacts many lives. It would be unfair not to mention all the amazing people I work with on a daily basis. At BYJU'S, your colleagues become your trusted collaborators and lifelong friends.
How do you unwind after a long day at work?
Since we are all working from home, some downtime away from the screen is a must. I usually go on a stroll with my friends and we discuss our day and work. 
What keeps you inspired to do your best?
We are encouraged to come up with our own ideas. Like every team, we also face challenges but at BYJU'S obstacles become opportunities when you give your best. That is very inspiring.
Like what you read? Head to Life at BYJU'S to learn more about our work, people, and the stories that make us unique. To explore job opportunities, check out Careers at BYJU'S.