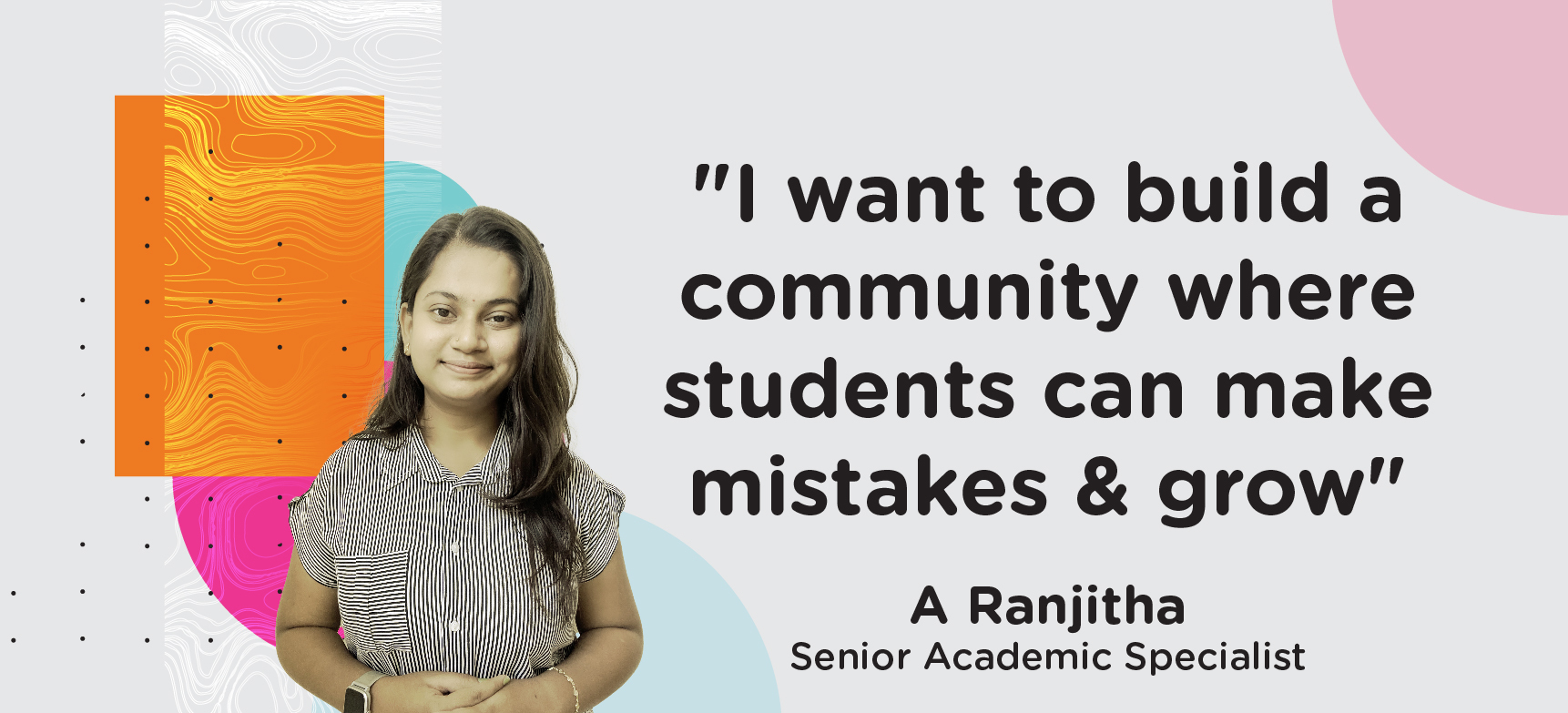 A Ranjitha joined the BYJU'S Student Experience Team back in 2019. Now a Senior Academic Specialist, Ranjitha tells us how her role is an opportunity to keep learning and creating lasting memories with her students. 
In our new series — A Day In The Life Of — where BYJUites offer a glimpse into their typical workday, from a morning ritual they religiously follow to how they unwind after a long day at work, we have Ranjitha. Keep reading to know more about what excites her about her role at BYJU'S and an advice that she would give to her younger self. 
Quick Takes
What is the first thing you do every day?
I usually start my day by journaling. This helps me with a positive start to the day. 
Describe your typical workday.
My job is to train Academic Specialists on how to conduct one-on-one sessions to help students strengthen their understanding of the concepts of science and mathematics.
Also Read: How Pranjal Mishra's Career Took Him From Startups to Driving Growth at BYJU'S
What has been the driving force in your career?
I used to teach physics when I joined BYJU'S as an Academic Specialist. Physics requires more critical thinking than other subjects. When I was a student, I got the opportunity to learn from great teachers. They would make learning fun by giving everyday examples to make concepts easy to understand. That's where I cultivated a love for learning and teaching.
What excites you the most about your role?
Learning from my students and creating lasting memories with them. So far, I have taken more than 150 sessions but every class is different from another. Whenever a student has a doubt or lacks motivation to study, they talk to me, and we work through it together. That's how we build a strong community where students can make mistakes, grow and feel comfortable with one another. 
What advice would you go back and give yourself?
I got the opportunity to join BYJU'S much earlier but I couldn't take it up due to personal reasons. I would go back and tell myself to take the opportunity and be a part of the learning revolution, any day. 
How do you stay at the top of your game?
Try to give your best. We always tell our students to stay positive and remember that they are learning. We don't apply this to our own lives enough. When I make mistakes I always tell myself that I am trying my best. I don't want to forget that I'm not just a teacher, I'm a learner, too.
Like this story? Head to Life at BYJU'S to learn more about the stories that make us unique. To explore job opportunities, check out Careers at BYJU'S.