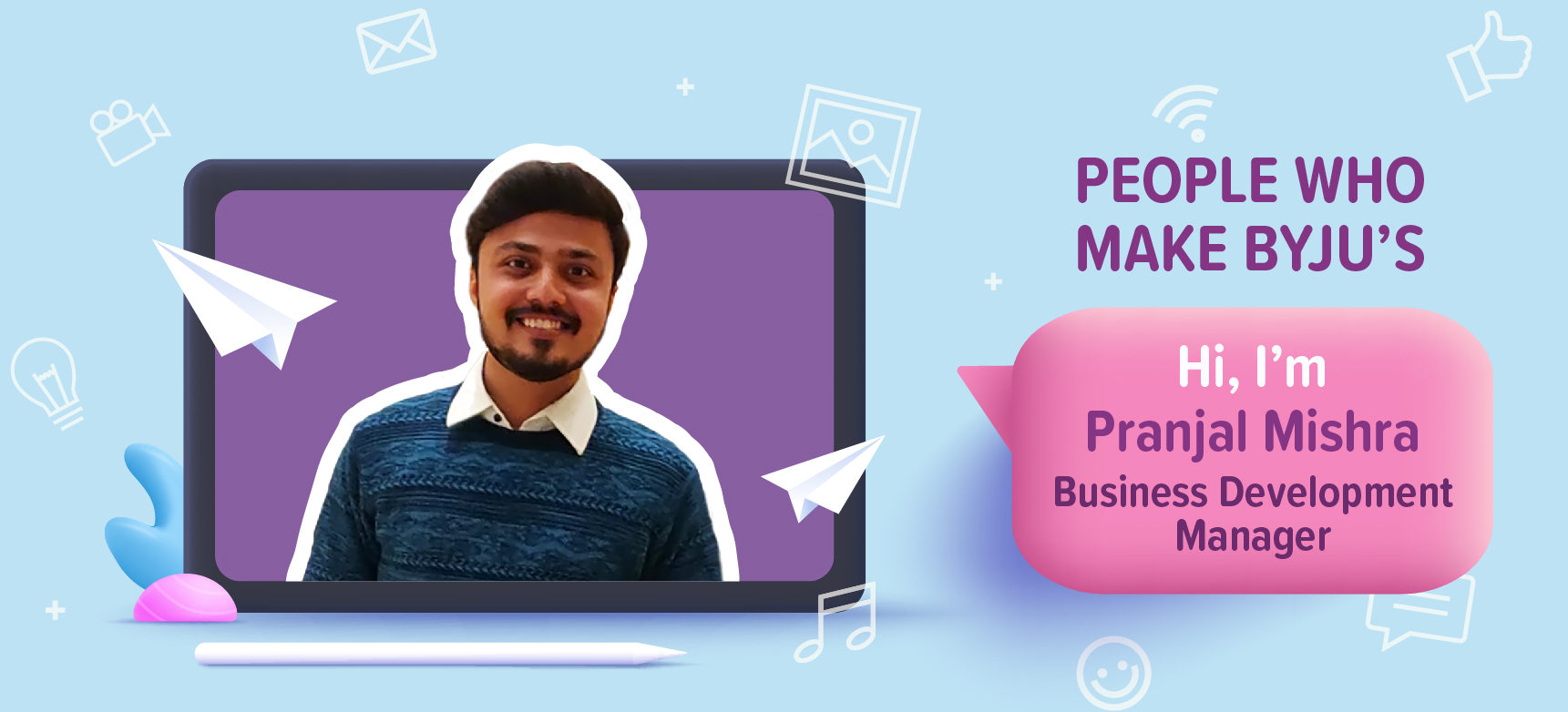 Entrepreneurial spirit comprises the ability to embrace innovation and continuous improvement. For Pranjal Mishra it was this mindset that helped him overcome the challenges in his life and kickstart a career at BYJU'S. "Things took a U-turn when my startup journey did not prove fruitful due to unexpected challenges. Despite the hardships, I didn't want to stop learning. This quest for learning new things and starting afresh led me to become a better version of myself."
In his words, it was the roadblocks he faced in the startup journey that motivated him to take things into his own hands. And ultimately, these experiences helped him bring diverse skills to the table as a Business Development Manager at BYJU'S. 
Starting a career at BYJU'S
Pranjal joined BYJU'S as a Business Development Associate in 2019. His role entails working closely with the Business Development Team to identify channels of growth and mentoring the team.
"I had little idea about edtech. That changed when I visited our Bangalore office for a one-week induction. There I heard Byju sir talk about his vision of building the best educational products and how each and every BYJUite is adding value to someone's life through their work. This prompted me to be a part of this mission and chart a unique career at BYJU'S," he says.
After being a part of the team for the last two years, a key skill that Pranjal says he has learnt is people management. He shares that before moving onto the role of BDM he had no experience of managing and mentoring a team.
"BYJU'S offered me a positive work environment where my ideas were heard and my contribution was valued regardless of my position. And I kept this in mind when I started managing a 15-member team. The key to managing people is to understand them."
Also Read: Dhaneesh Jameson on Leveraging Tech and Design to Build Scalable Learning Products
Learning is key to self-improvement
Like everyone else, Pranjal says that navigating the sudden changes at work in the last one-and-a-half years was challenging. But gradually he adapted and started getting used to working remotely. "I was asked to take on the role of BDM when the lockdown happened. It was a challenge initially to collaborate and mentor the team virtually as we were all new to remote working. But eventually, we figured out efficient ways to make things happen."
In the process, Pranjal has also checked a few personal goals off his list, while adding new skills to his name. He says that the key to self-improvement is to keep experimenting, failing and learning new things. "You should be willing to develop your skills and competencies continuously. This is important at every stage of your career at BYJU'S. It will only boost your chances of growth, both personally and professionally."
Like this story? Head to Life at BYJU'S to learn more about the stories that make us unique. To explore job opportunities, check out Careers at BYJU'S.