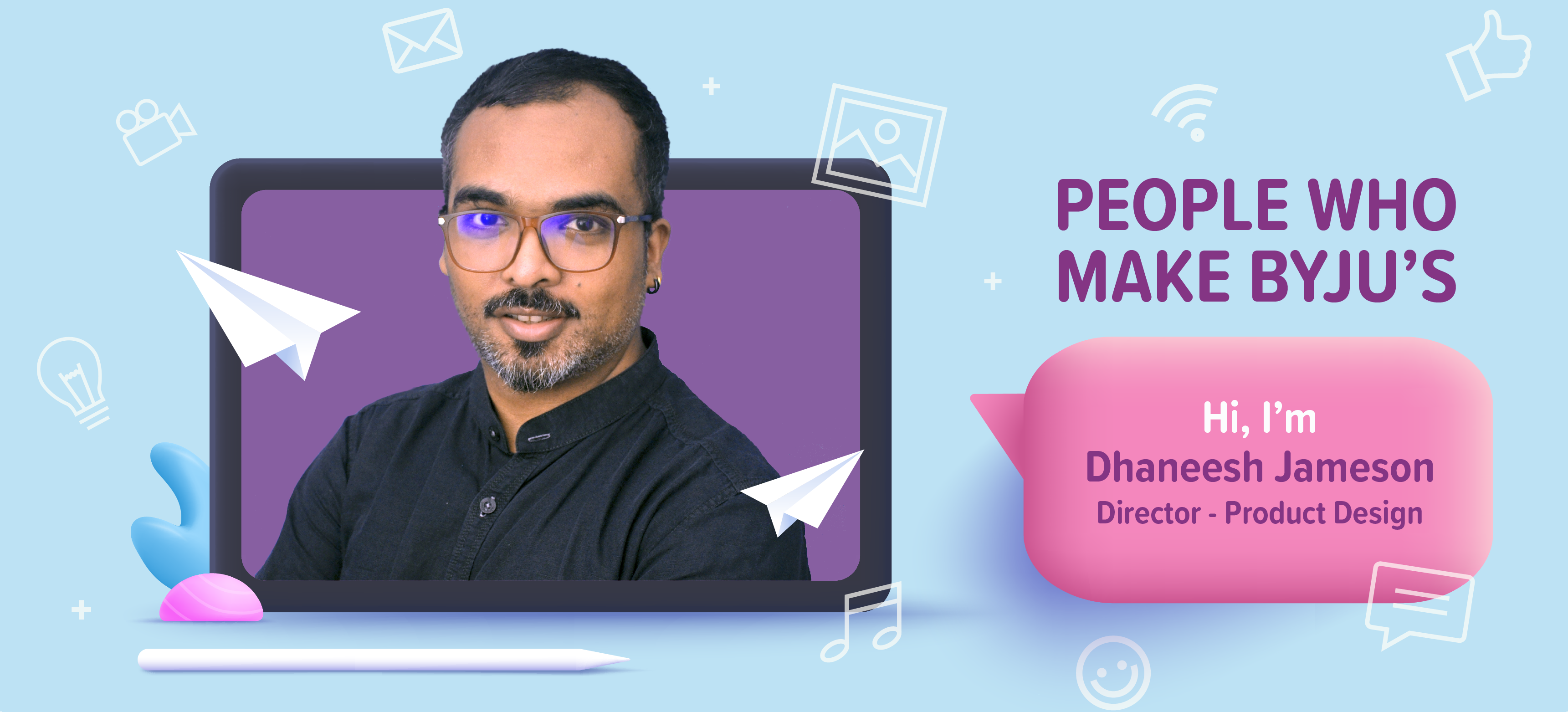 "Building any product requires planning and strategy. Ultimately, it's the people with the right attitude and skill set that make it a success," says Dhaneesh Jameson, Director – Product Design at BYJU'S. His first stint at an edtech company, Dhaneesh says when he joined BYJU'S last year, it was for a purpose: to create engaging learning experiences for children. 
"My role here is to ensure my team functions smoothly. When I joined, we were at the stage of revamping one of our learning products with the vision to enhance the online learning experience. For that, I was asked to help build the Design Team by hiring more people and ensuring that we do things efficiently."
Coming from a strong design background, Dhaneesh sees his role at BYJU'S as an opportunity to learn how an edtech company builds its products. "As part of my day-to-day functions, I have to interact with different departments. This was a bit challenging considering the current work from home scenario, as I had not met with any of my team members in person. So this role was an opportunity to understand how things are planned, worked, and delivered in the given situation," he says.
Also Read: Innovation and Ingenuity: Celebrating 10 Years of Leveraging Technology to Redefine Learning
For the love of design
Dhaneesh always knew that design was his true calling. After completing his graduation in Visual Communication Design from the National Institute of Design, Dhaneesh decided to join the Rochester Institute of Technology to pursue his passion. And he hasn't looked back since. Working as a Design Consultant for several firms has only led him to more interesting opportunities along the way.
Letting us in on some of his biggest learnings from working in a creative field, the BYJUite says it's important to have the right mindset. 
"While hiring people in my team," he shares, "I have met young professionals who bring diverse skills to the table. They are always curious and looking for new ideas, opportunities and inspirations. I believe that it is the right mindset and a positive work culture that keeps you growing. In this role, I have also learned to be willing to learn about things you don't know." 
Also Read: From Short Films to BYJU'S Sound Team, Nimal Vijayan Shares His Journey
Learn, unlearn and relearn
Building and managing a team requires certain skills and efforts. More so, when you are doing it during a pandemic, when everyone is working remotely. 
"I strongly believe it takes great leadership to build great teams. So, everyone on the team is given the autonomy when it comes to experimenting with the latest technology and design. And that helps to get the best out of everyone, ultimately making the product better," says Dhaneesh adding, "Cultivating a collaborative culture that supports its members' growth is what makes us unique." 
Since every new project the team handles requires them to explore new and creative ideas, staying up-to-date with the trends is also an important part of growth for the team. Shares Dhaneesh, "Design is a creative field. There is always a new challenge to solve with every project. If you are curious to learn, unlearn and relearn, you will always find a way around the challenge. Going through the process of experimenting with new ideas and figuring things out, keeps us going."
Also Read: How BYJU'S is Creating a Culture of Equality and Diversity | International Day of the Girl Child
Building products that scale
Of all the projects he has worked on, Dhaneesh says BYJU'S Classes is his favourite. 
"I was pumped for playing a role in reimagining the BYJU'S Classes' digital experience. It was an opportunity to bring innovative product solutions. Through BYJU'S Classes, we wanted to create an impact on the lives of millions of school children by building the best digital alternative to the current brick and mortar tuition classes, where students can experience the magic of live classes conducted by great teachers," says Dhaneesh.
"We also offer a two-teacher advantage with BYJU'S Classes. With this, one expert teacher, with the aid of strong visuals and storytelling, will be ensuring conceptual clarity, while the second teacher will be focussing on instant doubt resolution," he adds. 
The most exciting part about the work here, quips Dhaneesh, is that we are doing something new every day. As he shares, "We work with a vision to create an impact through our learning products to help children learn new things in an exciting way. And that is something I'm very proud to be a part of."
Like what you read? Head to Life at BYJU'S to learn more about our work, people, and the stories that make us unique. To explore job opportunities, check out Careers at BYJU'S.