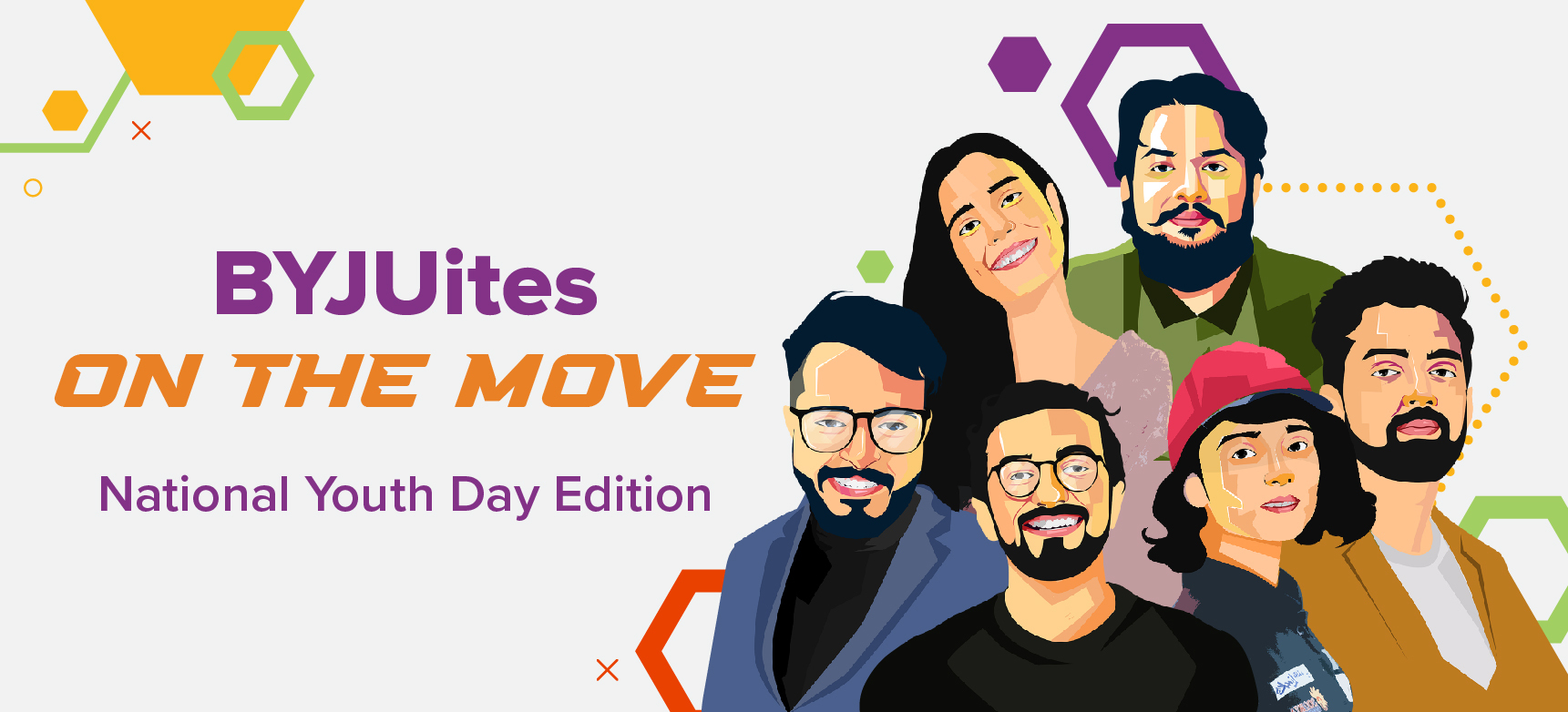 Doing what you love and loving what you do – there's a fine (and often, overlapping) line between the two. At BYJU'S, an incredibly talented bunch are treading this with panache to add to their skills set, expand their knowledge, and continue to keep learning.
For these BYJUites – with a creative bent and an entrepreneurial spirit – balancing their career and chasing their passions is critical to leading an enriched life. It translates into learning something new, cultivating a leadership mindset, and, more importantly developing a sense of empowerment.
This National Youth Day, hear from these BYJUites as they share how their passion outside of work aligns with their role, challenges them to think differently, and contributes to their personal and professional development.
Also Read: Full-time Mom, PhD Student and Teacher: How Sushma Sheshadri is Acing all Roles
Letting passion lead the way
"Writing has always been a massive part of my academic life. I've been writing essays since college, and now I am a tech and travel writer. It might not be an obvious connection, but being a writer requires a methodical and analytical mindset, just like being an educator," says Aditya Arun, sharing how his passion complements his role at BYJU'S. 
The Curriculum Manager, who joined BYJU'S in 2018, is responsible for designing curriculum and building lessons for young learners. His previous stint includes co-founding a student-run logistics company in Makhanda (previously, Grahamstown), South Africa. A role in which he was responsible for building the brand's social media presence and overseeing content development. Together, these experiences have helped him think differently and to keep learning. 
"I don't see my passion for writing and my career as exclusive pursuits but as complementary to each other. In fact, writing has helped me understand students' experiences as learners and create immersive and engaging content for them," says Aditya adding, "Just like understanding how a word fits into a sentence, understanding how my work aligns with the goals I've set for myself, keeps me motivated and passionate." 
Also Read: Product Management and User Empathy: Watch Shravan Tickoo Connect the Dots
The secret to happiness is helping others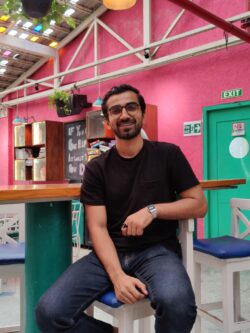 Pursuing your passion can lead to all kinds of rewarding experiences and even prepare you to handle the difficulties in life. Rizwan Ramzan Ahamed, Team Lead – Student Experience, proves this point by taking an example from his life. Having battled depression for six years, Rizwan's wellness journey has been fuelled by the desire to help others dealing with mental health issues. That's what motivated him to start a self-improvement podcast. 
"I thought of sharing my story with people going through similar experiences. And in doing so, help them deal with insecurities related to their life, finances, and career. With my podcast, I'm fortunate to have fascinating conversations with experts and bring them on board to share insights on how to deal with insecurities and live a happy life," he tells us. 
Being in this position, says Rizwan, where through his experiences he can help others, has also given him a sense of purpose and motivation to do what he loves.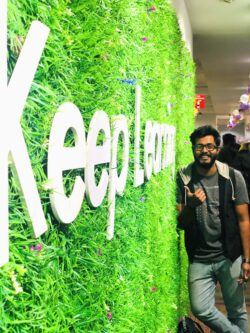 "Even before graduating as a Computer Science engineer, I knew my true calling was somewhere else. I was so stoked to start my career as a tutor at BYJU'S in 2019. That's when I realised that it is important to follow your passion, and success will follow," he shares. 
Akash S Kumar, who has been passionate about dancing since college, believes in making things happen rather than waiting for opportunities to come around. The Senior HR Specialist co-founded a Dance Club back in his college days as well as organised the first-ever flash mob that took BYJUites by surprise. 
"It was fun organising the flash mob and was quite a sight to watch people dancing during a busy workday. I can never forget the experience when the crowd was cheering for us. I'm glad I got to showcase my talent and pursue my hobby at BYJU'S," says the BYJUite.  
Also Read: Srijan Mishra on Why Every Challenge is an Opportunity to Learn & Grow
Racing her way to glory
"Since childhood, sports, adventure, and travelling have been the fuel for my mind and soul. Maybe because I was encouraged to take up sports and try out new things as a child by my parents, coaches, and teachers. That's how my journey to professional racing took off. As part of this, I got a lot of exposure, met new people, and even travelled to new places. All this has only made me independent and confident from a young age."
That's Apoorva B, a Senior Business Development Associate at BYJU'S. If there is one essential skill, says Apoorva, that she has learned from professional racing and that aligns with her role at BYJU'S, it is dedication. "There is no doubt that every sportsperson has to be dedicated to their passion for sports. Similarly, it is an art to understand every child's unique needs and help them in their learning journeys. Sports has taught me to put in relentless effort and dedication – qualities that help me stay consistent and achieve my personal and professional goals."
Apoorva has several championships to her name. She won the Indian National Rally Sprint Championship (Women) in 2019, Mangalore Open Surf Competition 2021 and many more titles. And while these are achievements she is proud of, what truly motivates her, is knowing that the parents she interacts with, see her as a role model. 
"As part of work, I get to interact with many students and their parents on a daily basis. I got an amazing response from parents when I shared my journey as a professional racer with them. Some of them even consider me a role model for their children, and this has only made me proud of my personal and professional achievements," quips Apoorva.
Transforming lives through fitness
P Sarath Chandra's foray into BYJU'S and the fitness sector is closely linked with his desire to create an impact. 
The Director of Content Development tells us, "I became a part of the learning revolution almost six years ago. The entire content team was around 80 people back then, and now we've grown by leaps and bounds. And, personally too, I have grown tremendously. I got to work on some of the most amazing projects at BYJU'S and what excites me the most about my work is the impact I get to create on many lives. This is what prompted me to work on my side hustle as a fitness coach."
"My fitness journey started seven years ago, and I was able to transform myself with proper guidance. That's when I collaborated with my college senior and decided to share my knowledge with others and help them get healthier. Since then, there's been no looking back."
"The best thing about BYJU'S work culture is the freedom you get here," adds Sarath. "There's an open and supportive environment where you are encouraged to follow your dreams." 
Music for the soul
For Shibangi Nag, Content Development Associate, pursuing her passion for singing goes back to her childhood days. It was her mother who inspired Shibangi to take up singing as a hobby, which she says has since turned into a passion that helps her stay calm and collected in these extraordinary times. 
"I started singing when I was three years old. My mother is a fantastic singer, and I learned from her. Music has helped most of us get through the pandemic, and I was no different. It helped me stay sane and made me feel worthy during tough times. 
Sharing her favourite memory as a singer, Shibangi adds, "A proud moment for me and my mother was when I sang during the BYJU'S 10th-anniversary celebration. It brought me a lot of appreciation from my colleagues and peers at BYJU'S, who have encouraged me to keep following my passion."
If there's one thing common among these BYJUites, it is their willingness to keep learning and doing what they love. It gives them a reason to have new experiences and empowers them to achieve personal and professional goals.  
What is that one passion that motivates you to #KeepLearning? Tell us in the comments below. 
Like this story? Head to Life at BYJU'S to learn more about the stories that make us unique. To explore job opportunities, check out Careers at BYJU'S.