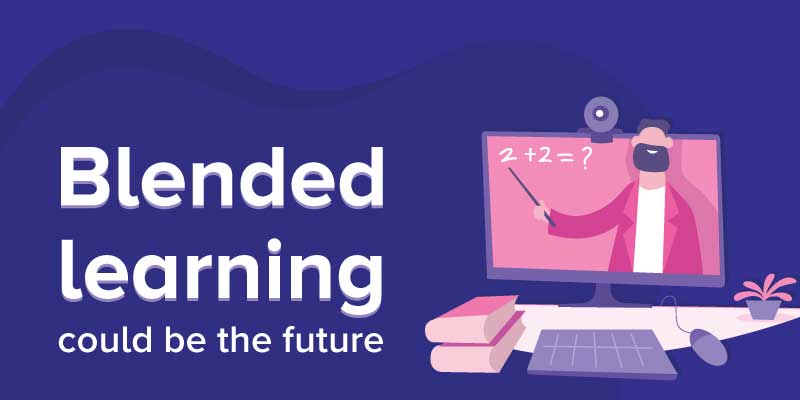 Schools in India were asked to shut down  on March 16, 2020 as the first wave of the pandemic broke out. However some schools intermittently opened for classes 9 to 12 as infections seemed to be on a decline. And most younger classes continued to attend classes online, while underprivileged students in remote locations had no access to education at all. 
Cut to 2021, with the second wave of the pandemic ravaging across India, reopening schools in the near future seems to be highly improbable. So if we are in this for the long haul, how do we make sure we are able to reach students in difficult circumstances and adapt our pedagogy to best suit these difficult times? 
The answer might just lie in blended learning, a combination of offline and online education. Simply put, it offers the best of learning face-to-face in a classroom setting and digital learning. This unique learning experience allows students to access study materials, and interact with teachers and their peers. In fact, 81% of Indians believe that students can have a better learning experience with blended learning [1]. 
The shift towards blended learning is fast picking up, especially with the launch of platforms like SWAYAM, an Indian Massive Open Online Course (MOOC) by the Government of India. Besides, the National Education Policy (NEP) 2020, mandates educational institutions to develop their own online courses to supplement classroom learning.
How blended learning is poised to shape our education system
Change in the roles of teachers
Blended learning re-looks at the role of teachers. A teacher is seen as a person who not only provides students with knowledge but also mentors and coaches students in a more holistic way.  A teacher plays an active role, enabling a child's wellbeing beyond the classroom, by not just stopping at what's prescribed in the syllabus and laid out in textbooks but by equipping students with practical knowledge of subjects. 
Additionally, according to blended learning styles, any environment can be transformed into a learning environment. This is bound to push teachers to become all the more creative in keeping students engaged. Now might also be the right time for school managements to check-in with teachers and make sure they are not overburdened and extend support as and when needed. 
Top-down to bottom-up way of learning
Classrooms have traditionally followed a top-down approach. Teachers take classes, students take notes, ask questions when needed, complete assignments, take tests, and finally get graded based on their performance. By and large, a one-size-fits-all approach is taken throughout the learning process. 
Blended learning helps address this issue by customising how children learn by making sure their unique needs are met. As no two learners are alike, education must be driven by students and what works best for them, while a teacher helps steer the class in the right direction. 
Empowering teachers and students with digital infrastructure
Implementing a blended curriculum will push schools to upgrade their infrastructure in order to enable a seamless teaching-learning experience. Students and teachers will need to equip themselves with hardware, devices, and software to make the most of blended learning. More importantly it will boost digital literacy among the education community. 
Demands more involvement from parents
Blended learning looks at learning opportunities beyond the classroom. While students learn remotely, parents need to play coaches as they monitor their children's progress and acknowledge that every child has a varied pace and style of learning. Parents will have to become more active participants in the learning journey to enable the child's all-round development. 
Challenges in implementing blended learning
While blended learning could tremendously improve our current education system by creating well-trained teachers, better infrastructure, upgraded curriculums, personalised education — the real question to ask is how inclusive will this transformation in learning be? Here's a hard fact: According to an ASER report published in February 2021, only 17.7% of children in private schools and 8.1% children in Indian government schools had access to live online classes [2].  The reason behind this — lack of smart devices. 
According to the same report, 90% of households owned cell phones, but only 62% owned smartphones. These smartphones mostly stayed with the families' fathers, making it hard for students to use. With limited access to smart devices, it is safe to say that most families also lagged behind in digital literacy. These drawbacks pose as huge deterrents to the implementation and adoption of blended learning. 
In yet another survey, The Shantilal Muttah Foundation [3] found that in 6 regions across Maharashtra, only 50% of students had access to online education, while only 45% of students had attendance over 45%. Additionally, there seemed to be a clear gender bias with female students having limited access to smart devices in comparison to male students who were given better access to whatever they needed to learn online. 
How blended learning can be a step towards inclusive education
The key to solving this problem would be to make devices and digital learning content accessible more easily. A step in this direction is BYJU'S Education for All programme – a social initiative that collaborates with NGOs and government schools to help students make the most of digital learning by providing devices and learning content for free. 
Additionally, change on-ground could further be accelerated by training teachers and parents to better understand and meet the learning needs of children and empower them to  navigate between face-to-face classes (whenever schools reopen) and digital learning. 
The core belief behind blended learning is to help students steer their own learning paths with what suits them the best and make the most of the collaborative, personalised and interactive nature of digital learning. And true change can take place only when no child is left behind in benefiting from it!
References
[1] https://www.indiatoday.in/education-today/featurephilia/story/importance-of-blended-learning-in-the-era-of-digital-education-1783488-2021-03-25
[2] http://img.asercentre.org/docs/ASER%202021/ASER%202020%20wave%201%20-%20v2/aser2020wave1report_feb1.pdf
[3] https://timesofindia.indiatimes.com/city/pune/new-school-year-begins-online-today-with-old-concerns-about-access/articleshow/83526219.cms