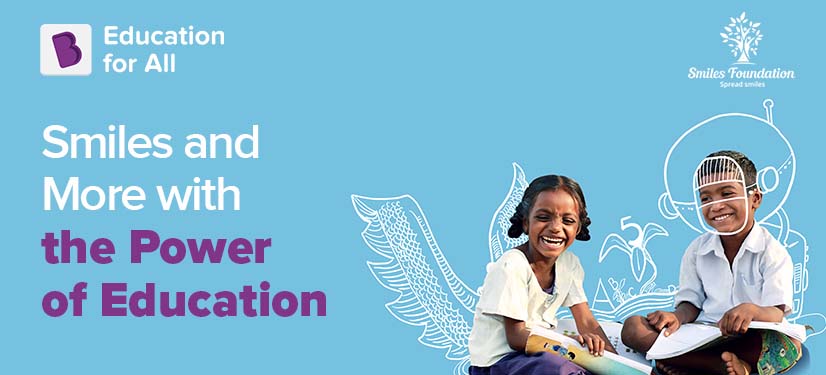 When the COVID-19 pandemic struck, millions of families in India lost their livelihoods and had nowhere to go. Many children were isolated within their homes and their families had no financial fuel to support their education. Forget education, the breadwinners couldn't even feed their families.
In such trying times, many NGOs and individuals came forward to help these families out of their struggles. One such NGO was the Smiles Foundation.
Mumbai-based Smiles Foundation was started by a group of women with a goal to uplift women and children with educational, health, and vocational skills.
Smiles Foundation was founded by seven women – Uma Ahuja, Shalini Vidhani, Priyanka Singh, Avneet Bhatia, Shefali Nair, Bhavana Agarwal, and Aruna Anand.
"We've been working with HIV-infected children, differently-abled children, senior citizens, sex workers, and women for over a decade. We wanted to channel our efforts into one entity and started the NGO Smiles Foundation in 2020," says Uma Ahuja, Founder and President of Smiles Foundation.
"Our NGO grew out of a passion to give back to the society and to bring smiles to everyone's faces, with ideologies of dignity, equality, and respect to mankind, and a vision to empower the needy," she adds.
Smiles in Action
Since its inception, the Smiles Foundation has been on its toes to ensure the safety and well-being of the most vulnerable sections of society during the pandemic.
In addition, they have also been distributing food grains, rice, dal, vegetables, oil, biscuits, fruits, chocolates, protein snacks, flavoured yoghurt, masks, and sanitisers to over 1,75,000 families.
"We also distributed about 500 packets of cooked food on a daily basis, and rations to tribal folk, migrant workers, orphanages, senior citizen homes, domestic workers, sex workers, transgender women, municipal sanitation workers, slum dwellers, and unemployed youth, among others," Uma shares.
Apart from distribution, they have also been involved in arranging other essential services like ambulances, and oxygen cylinders, especially during the peak of the pandemic.
Smiles Foundation has also been monumental in supporting the families affected by disasters, providing people with the essentials needed during the situation.
Educating Children in Need
Smiles Foundation has managed to set foot in different places across Maharasthra including Satara, Sangli, Pune, etc. Through their initiatives, they've reached out to Zilla Parishad Schools, self-help groups (SHGs), postal departments, children of people impacted by COVID-19, etc.
"It was quite difficult to reach children, especially in the last two years. So, we are trying to help children earn as well as learn, by enrolling them in hotel management courses and other degree courses, based on their eligibility," says Shalini Vidhani, Founder Secretary.
"We have also tried to encourage children who weren't able to complete their 10th and 12th grades to enrol into the National Institute of Open Schooling," she adds.
Furthermore, Smiles Foundation is also trying to educate many of the working class, who have not been able to complete their degree. At the same time, it is also creating awareness among parents to prevent them from sending children into labour, encouraging them to get an education.
While the team has been involved in multiple feats, the team structure is quite dynamic. Along with the core members, numerous volunteers join in as per the requirement. It also helps and supports any causes related to women and children, that are important to bring a change in their lives.
Ensuring Education for All with BYJU'S
"During the pandemic, we wanted to put a smile on children's faces. So we distributed foods like chocolates, drinking chocolate powders, fruit juices, etc., to these children. Their emotional reactions were priceless," says Uma.
"When they received the BYJU'S licence, they were even more thrilled as it was something they never expected," she adds.
She further shares that the children enjoyed the videos and quizzes, among other aspects.
"We believe that education is the most powerful weapon that can be used to change the world. All students have the potential but are subdued due to a lack of funds. And I'm happy that we at Smiles Foundation and BYJU'S EFA are together creating a bright future for them," Uma signs off.
BYJU'S Education for All hopes to ensure that children are given equal opportunities for education. We want to help them reach their dreams and aspirations, with a powerful tool and stepping stone for the road ahead – education.
---
BYJU'S Education for All is on a mission to empower 10 million children by 2025 with education. Through the BYJU'S Give programme, you can contribute to this movement and help children with quality digital learning. You can donate an old device, which we will refurbish, and then use the money raised to buy a new device. In case you do not have a device, you can also donate to an NGO partner, who will use the funds to buy devices for children.
In both cases, we will load our BYJU'S Think & Learn premium content onto these devices and distribute them to children in need.
Also Read: How Isha Vidhya is Making Education Accessible in Rural India