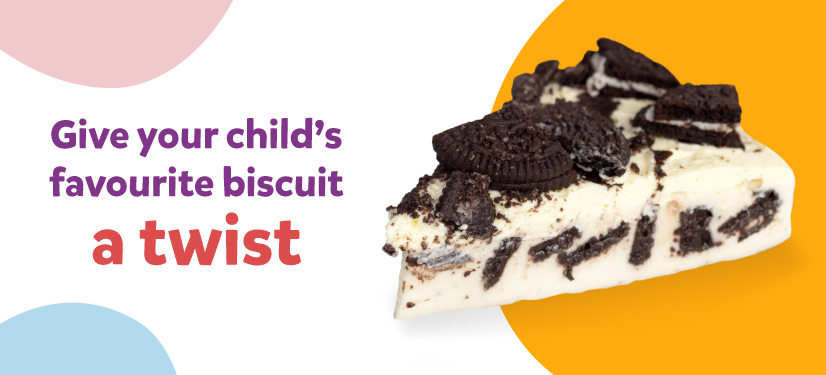 Does your child love the lovely crunch and smooth cream of Oreo biscuits? Why not help them make the most of it by turning it into a yummy cake? An Oreo cake! We have here a simple recipe for you and your child to make together. And guess what is the best part? You don't need an oven! It's a no-bake oreo cake. Time to get your aprons on!
Here's how you can get started:
Ingredients
40 pairs Oreo biscuits 
3 cups full cream
2 teaspoon vanilla essence
3 tablespoon powdered sugar
2 chopped fruit of your choice (optional)
1 cup crushed nuts (optional)
Chocolate sauce for topping (optional)
Method
Take a mixing bowl and beat together the cream, sugar and vanilla until perfectly combined. The texture should be thick and peaks should be seen. You can use a hand beater or an electric one as per your convenience. Once done, keep aside.

Take a flat base dish that is deep enough for you to make layers with the oreo biscuits and the prepared cream mixture. 

Make a layer with the oreo biscuits and cover it with a layer of cream mixture.

You can add the fruits and nuts in between these layers or at the end as a topping.

Repeat the same process until all the layers are finished.

Cover the dish and refrigerate overnight or for a minimum of 7 hours. 

When serving, pour some chocolate sauce if you wish.
Kids love having anything made out of oreo but do you know how to introduce new food items for kids?
Do tell us in the comments below if you enjoyed this no-bake oreo cake.