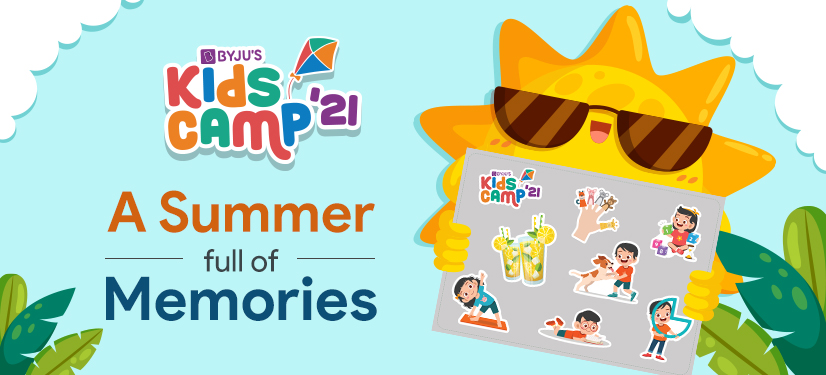 Our wonderful summer camp is about to come to an end but our memories don't have to! Here's a fun way to help your child save their memories of the camp or their most fun experiences in recent times.  A Scrapbook!
What You Need!
Empty craft book or loose sheets of plain or coloured paper

Sketch pens

Colouring pencils

Scissors

Stickers

Glue

Stapler

Glitter (optional) 

Ribbons (optional)

Photos (optional)

Dried leaves and flowers (optional)
Download Summer Camp Stickers Here.
How To Get Started?
1. Discuss with your child if they would like to create a scrapbook based on the Kid's Camp Activity Calendar. Or, if they would like to make something more personal like their first visit to the zoo.
2. Help them break their idea into different sections
Example 1: Summer Camp Activities
Page one could have pictures of their favourite moments from the summer cleaning day

Page two could have a rhyme or a poem that they composed  

Page three could be a memory of the

lemonade game

Page four could be a montage of pictures of their

finger puppets

Page five could be on how they

identify emotions
So on and so forth.
Example 2: Visit to the Zoo
Paste pictures of the animals they saw in the zoo

Name them

Paste the pictures that you may have clicked with your child

Paste any leaves or flowers that they may have picked in the zoo
3. Once you and your child have planned the flow of the scrapbook, get them to colour, or paste stickers, pictures, etc as per your plan.
4. If you used loose sheets, compile them in the order of your plan and staple or glue them as per your preference.
5. Let it dry and let your child show off their handiwork! 🙂
Why Is Scrapbooking With Your Child Important?
Scrapbooking is a fun way to let your child express their creativity, thoughts, and emotions. It also allows them to document important and memorable experiences of their life.  As a parent, it serves as an opportunity to bond better with your child and revisit old memories. You can also check out these scrapbook making ideas for reference.
Please note: The process of creating the scrapbook may be a little messy but it's important to appreciate your child's efforts and help them understand the concept. 
For more information on scrapbooking and different scrapbook ideas, read Scrapbooking: Making Memories One Page at a Time
Download Summer Camp Stickers Here.