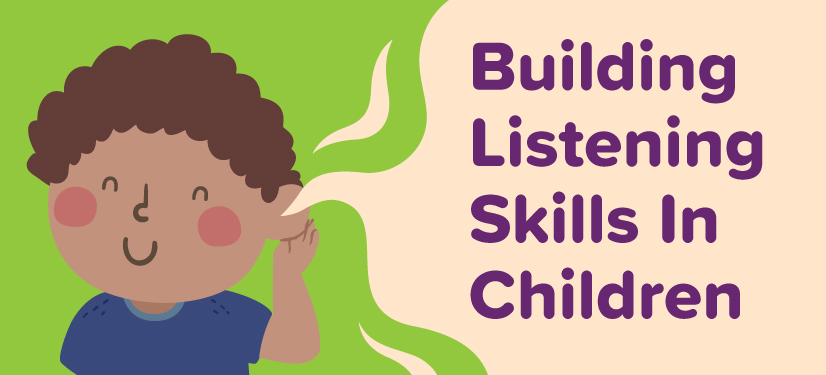 Most parents and teachers know that getting children, especially early learners, to listen is half the battle. Listening is so much more than just hearing. It requires us to process and understand what is being said. Children zone out, flatly refuse to listen or listen selectively. Occasional moments where children hear but do not listen can be brushed off, but eventually, fine-tuning the listening skills of children will definitely make them better learners. 
In this article, we will cover different ways of building listening skills in early learners. 
Techniques to improve

listening skills in children
Whole Body Listening 
In 1990, Susanne Poulette Truesdale, a speech-language pathologist, came up with a method called Whole Body Listening'. In this method, children are taught 'how' to listen. It teaches children what to do in order to listen actively. It is a teaching tool and not a rule. 
'Whole Body Listening' talks about these behaviours to facilitate active listening:
Eyes are looking at the speaker.

The brain is thinking about what is being said. 

Lips are closed. 

The body is still. Hands and legs to yourself.
Download the printable poster at the end of this post to reinforce 'Whole Body Listening' at home. 
TALS technique to build listening skills 
Once the child understands the 'whole body listening' concept and is comfortable with the process. You can introduce another technique named TALS, published in the journal of Intervention in School and Clinic. It teaches children how to process what they are hearing and fosters critical thinking. 
Think 

Ask why

Listen for what

Say to self
For example, let's say a new concept is being taught to children–perhaps how to tell time from a clock face. Before starting the session, children review the TALS strategy. Then, throughout the activity, TALS is used to help children think critically about what they are listening to. The process could look something like this: Think about clocks and time, ask why it is important, listen to the instructions and the explanation, and finally, tell yourself what you have just learnt. 
Tips and tricks
'Whole Body Listening' and TALS are two excellent ways to imbibe listening skills in early childhood. Here are a few tips to help your child's listening skills from the book by Diana Williams titled Early Listening Skills. 
Get on the child's level while interacting with them. Do not tower over them. 

Listening can be tiring. Do not worry if the child loses interest quickly. 

Ensure that neither of you is hungry or sleepy. Choose a time that works best for you both.

Help your child by minimising distractions. 
Like any other skill, listening skills require practice. Help your child be an attentive listener by consistently reminding them of these strategies and being patient. A visual reminder like this printable poster will go a long way towards building listening skills in your child. 
Download the printable 'Whole Body Listening' poster here. 
References
Swain, K. D., Friehe, M., & Harrington, J. M. (2004). Teaching Listening Strategies in the Inclusive Classroom. Intervention in School and Clinic, 40(1), 48–54. https://doi.org/10.1177/10534512040400010401

Truesdale, S. P. (1990). Whole-Body Listening: Developing active auditory skills. Language, Speech, and Hearing Services in Schools, 21(3), 183–184. https://doi.org/10.1044/0161-1461.2103.183 

Williams, D. (2018). Early Listening Skills. United Kingdom: Taylor & Francis
Also read,