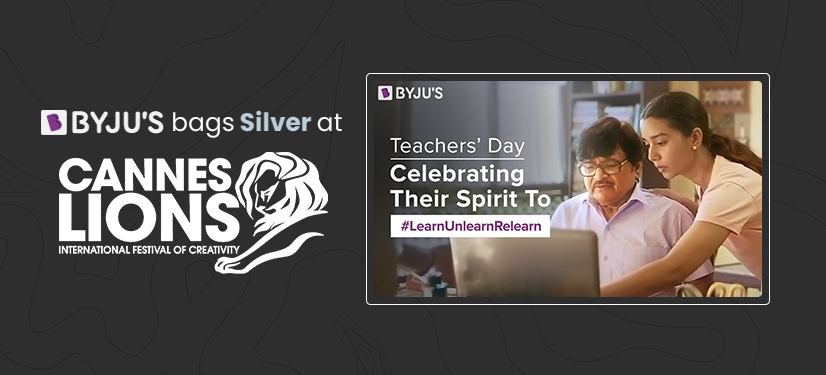 BYJU'S received three shortlists, two in the Film Craft category and the other in the Entertainment Category which translated into a Lion for 'Talent: Film, Series and Audio'
BYJU'S has been awarded a Silver Lion Award at the prestigious 2022 Cannes Lions International Festival for its popular 'Master Ji' digital campaign. The spot bagged the 'Entertainment Lion award in the Talent: Film, Series, and Audio Craft' category. This award strengthens BYJU'S position as one of the top creative teams in the world.
BYJU'S in-house brand and creative team entirely conceptualised and ideated the winning campaign, which was produced by Dora Digs Films. BYJU'S was nominated in this category alongside industry heavyweights such as Apple, Burger King, BBC, Renault, and Facebook. 
"It's a proud milestone for us at BYJU'S," said Vineet Singh, VP – Brand and Creative Strategy, BYJU'S. "In-house brand teams are quickly becoming the standard. They offer content solutions that are both agile and efficient. The win at Cannes Lions 2022, one of the biggest, most difficult, and credible stages, validates our team's efforts. The Master Ji campaign exemplifies BYJU'S belief in developing and delivering relevant messaging to its target demographic. We are tremendously grateful to everyone who helped us achieve this dream run,"he added. 
Since its inception in 1954, the Cannes Lions International Festival of Creativity has brought the creative communications industry together each year in Cannes to learn, network, and celebrate. Every year, the Cannes Lions Festival explores the value of creativity in branded communication, from product and service development through creative strategy, execution, and impact.
Released with the hashtag, #LearningUnlearnRelearn and #KeepLearning, the BYJU'S teacher's day ad campaign paid tribute to teachers who have made a difference in millions of lives while gently underscoring the struggles they may have experienced with the sudden shift to online classes during the pandemic. The film shines the spotlight on how teachers rose to the occasion during the pandemic and continued imparting knowledge while learning new tricks of the trade themselves, further cementing the message that learning never stops.
Click here to take an exclusive behind-the-scenes peek at the production of the award-winning campaign and here to view the other accolades won by the spot.
You can watch the award-winning campaign here: