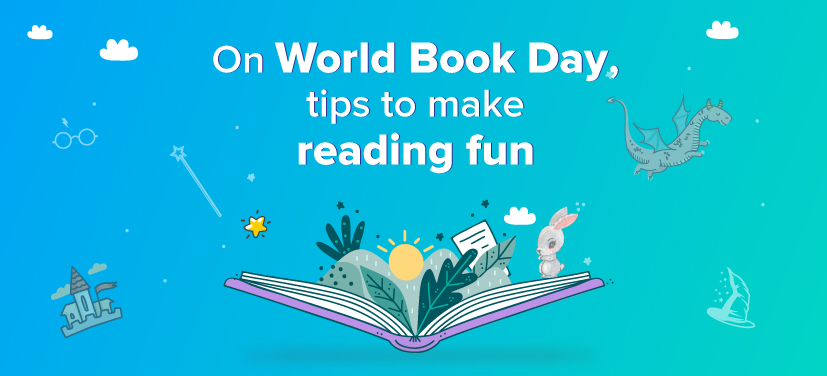 How many of you love reading books by Ruskin Bond or Enid Blyton  or have collected all editions of the Tinkle? 
Amid the various distractions around you, taking a book to read or even a comic can be a great escape. And as we all deal with the pandemic, books can be a great way to battle anxiety and boredom from staying indoors all the time. 
For a lot of you, I am sure that disappearing into a book must be one of your most favourite things to do, be it for pleasure or gaining knowledge. From characters in fictional story books or the evolution or your role model – if you prefer autobiographies –  books are a gateway into a whole new world. 
There are so many genres that you can choose from too! Be it Indian literature that has Panchatantra stories from Amar Chitra Katha or international authors such as Stephen King and Roald Dahl – you have a wide variety of literature at your disposal.
Moreover, with technology gaining prominence, you can 'read' books in the form of audio or video books as well. On the occasion of World Book Day, we show you some ways that can make reading fun for you! 
Have reading contests
Have a battle of the books! We know it seems a bit aggressive, but a friendly contest among friends to see how many books you can read within a short period of time is certainly fun!
You can form small groups and pick a theme every few months. You can begin exploring books that are of a common interest and read away!
If you aren't the type of person who prefers contests, look no further than the internet. There are social media groups that post reading challenges regularly with a common theme. And as an added bonus, there are suggestions on titles and also places where you can get the book for lower prices or even for free! 
So, what are you waiting for? Let the reading begin!
Book clubs
If there is something that is as exciting as reading a book, it would be discussing the book itself, and what its characters and  plot meant to you. You can also become a member of book clubs that meet every month, although virtually for now.
Won't it be  great to meet like-minded people and have healthy discussions on your favourite book? However, considering current times, you can look out for reading companions virtually as well. 
Social media platforms now have dedicated reading groups exclusively for children where parents and kids can discover new books and have enriching discussions with reading companions across the globe. Imagine sharing ideas and thoughts with kids of your age in Nigeria or the USA! Sounds fun, right?
Besides, these clubs can introduce you to genres that you have not explored before. It is like entering a Narnia of books!
Connect with the author
Thanks to the internet, it is very easy to get in touch with your favourite author.
Almost all publishing houses or authors are active on social media and conduct Facebook or Instagram live sessions to interact with their readers. Talking to them will certainly increase your enthusiasm to read more. You can understand the plot and characters of their books in a much better way. This might also encourage you to read the book again as well. 
Besides, you will know if the author is planning to publish newer books in the future. 
Won't that be a countdown you would love having? 
Ask parents for their favourite books
A great way to access literature from different eras is by finding out what your parents read when they were young, such as classics like. Famous Five and Hardy Boys. 
You can try searching for PDF versions of these titles online. And if your parents have physical copies, all the better! They are certainly timeless reads that you can enjoy regardless of the generation gap. You can also read favourite passages together and help them recollect their childhood memories. This way, you will not only get exposed to better books, but also develop a great bond with your parents.
Now that you know how reading books can be a lot more fun, go ahead and sign up on some websites and social media groups and tell us if you have found some new books that you love. Go ahead and share your experience with us in comments.