17 Indian Superheroes with 19 medals at Tokyo 2020 Paralympics, said loud and clear – I'M POSSIBLE!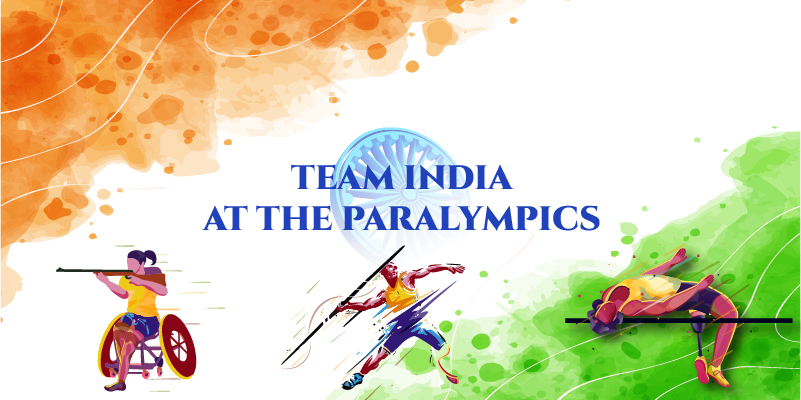 2021 has been a fantastic year for Indian athletes. After Neeraj Chopra scripted history by earning the first gold in athletics for India at the Tokyo 2020 Olympics, our contingent continues to make us proud in the Paralympics (an event for specially-abled athletes that takes place every four years, just like the Olympics).
Breaking all previous records, this year at Tokyo, our athletes brought home 5 gold medals, 8 silver medals and 6 bronze medals, bringing the medal haul to double digits for the first time in the Indian Paralympic history. From Sumit Antil's stunning gold-worthy performance to Avani Lekhara's historic double win in her debut performance, these athletes have proved that with strong willpower, hard work, and determination, they are truly unstoppable!
---
Also Read: What you did NOT know about the Olympics 
---
Meet the 17 amazing Indian Athletes at Tokyo 2020 Paralympics who won medals and millions of hearts
Sumit Antil
Sport: Javelin throw | Medal Earned: Gold
Ace javelin thrower Sumit Antil smashed his previous record thrice in the space of six throws to clinch the gold in the Tokyo Paralympics. The world number one in the F64 category produced a throw of 68.55m in his fifth attempt to stun the athletics world and register a new record under his name. 
The 23-year-old from Sonipat, Haryana, was a budding wrestler when his left leg had to be amputated after a motorbike accident. This is when he picked up the javelin. His back-to-back new records and a stunning yellow metal validate his hard work and dedication to the sport.
Avani Lekhara
Sport: Shooting  | Medal Earned: Gold and Bronze
Avani Lekhara scripted history with her debut performance in the Paralympics by winning a gold medal in 10m air rifle standing and a bronze medal in 50m air rifle standing. With this, she became the first Indian woman and the second Indian athlete to win multiple medals at the same Paralympic games after Joginder Singh Bedi, who bagged three medals at the 1984 Games.
This Jaipur based trailblazing shooter is only 19 years old. A student of law, Lekhara picked up the sport as a hobby on the insistence of her father. Confined to a wheelchair after a car accident that injured her spinal cord, she got serious about the sport after reading Abhinav Bindra's autobiography, in which he detailed his journey to being an Olympic champion. Soon after, she made her debut for India in the 2017 World Cup in Al Ain, UAE, where she bagged a silver medal and from there, there was no looking back! 
Manish Narwal
Sport: Shooting  | Medal Earned: Gold 
Pistol shooter Manish Narwal won a gold medal after creating a Paralympic record score of 218.2. The 19-year-old from Faridabad claimed the yellow metal in Mixed 50m Pistol SH 1 in his debut performance. 
Narwal began pistol shooting in 2016 in Faridabad, Haryana. A fan of Leo Messi, he wanted to pursue football, but couldn't go beyond the local club due to a congenital impairment in his right hand. On a close friend's suggestion, he joined the TenX Shooting Academy in Ballabgarh, Faridabad. He announced himself on the big stage by winning the P1 men's 10m air pistol SH1 gold and the P4 mixed 50m pistol SH1 silver at the 2018 Asian Para Games. In 2020, he was conferred with the prestigious Arjuna Award for his excellent performance. 
Pramod Bhagat
Sport: Badminton | Medal Earned: Gold
India's shuttler Pramod Bharat smashed his way past the finals to win the first gold in the men's singles (SL3 category). His explosive and well-calculated playing technique helped him defeat Daniel Bethell of Great Britain at the final of the men's singles badminton event.
This 33-year-old, left-handed para-badminton player from Bhubaneswar, Odisha has brought many laurels for the nation including the World Championships and Asian Para Games. Coming a long way to overcome a defect on his leg from an early age, Bhagat's dedication and discipline have helped him excel in badminton. This four-time world champion is ranked world number one in para-badminton (SL3).
Krishna Nagar
Sport: Badminton | Medal Earned: Gold
Para-shuttler Krishna Nagar took the biggest of leaps by winning gold at the Paralympics. With this win, he became the first-ever SH6 gold medallist in the history of the Indian Paralympics. The 22-year-old defeated Hong Kong's Chu Man Kai in an intense clash that ended in 21-17, 16-21, 21-17.
At just two years of age, Nagar was diagnosed with dwarfism and therefore, a deficiency in growth hormones. But that never stopped him from dreaming big. With a natural talent for sporting activities, Nagar excelled in jumps, sprints, badminton, and was a budding athlete from a young age. In 2017, when he came across para-badminton, his perspective on life changed and he started preparing for the Olympics. Since then, there has been no looking back for him as he kept on scaling higher boundaries. 
Bhavina Patel
Sport: Table Tennis | Medal Earned: Silver
Table Tennis player Bhavina Patel created history by becoming the first Indian para-paddler to win a silver medal. The 34-year-old from Gujarat played the finals against the world number one Chinese paddler, Zhou Ying, in the women's singles table tennis tournament.
Patel started playing the sport 13 years ago at the Blind People's Association, Ahmedabad. Soon she won her first medal in a competition while representing the Rotary Club in Ahmedabad. She went on to win several matches, including the International Table Tennis Federation Asian Para Table Tennis Championship, the PTT Thailand Table Tennis Championship and reached the rank of world number two. Confined to a wheelchair due to polio, Patel played in the Class 4 category (in para table tennis, classes 1-5 are for wheelchair athletes) in the Paralympics.
Suhas L Yathiraj 
Sport: Badminton | Medal Earned: Silver
The world No.2 in Men's Singles, Suhas Lalinakere Yathiraj ended his match with a historic silver at the Tokyo 2020 Paralympics Games. The 38-year-old from Karnataka is more than just a professional Para-Badminton player. He is also the district magistrate of Gautam Buddh Nagar (Noida) and hence the country's first-ever IAS officer to win a medal at the Paralympics.
From his long working hours during the day as the district's top bureaucrat to preparing for the games at night, Suhas LY had a strict schedule in the run-up to the competition. An engineering graduate from NIT Surathkal, Yathiraj, with a leg impairment cracked the civil services exam to become India's first specially-abled IAS officer in 2007.
Devendra Jhajharia 
Sport: Javelin throw | Medal Earned: Silver
Devendra Jhajharia made history for India as the second person to win three medals in the Paralympics after Joginder Singh Bedi. At the Tokyo 2020 Paralympics, he won silver in the men's F46 javelin throw after he pulled off a new personal best throw of 64.35m.
Hailing from Churu district in Rajasthan, the 40-year-old Jhajharia had to amputate his left arm after he accidentally touched a live electric wire at the age of eight. Being a true sportsman from his school days, he was fascinated by the sport that 'would require only one arm' to play. In 2004, Jhajharia broke all records when he brought home his first gold medal in Athens Paralympics (2004) and then the second gold in Rio Paralympics (2016). He is the first para-athlete to be given the prestigious Padma Shri award. In 2004, he was also awarded the Arjuna Award for his invincible spirit and his contribution to the field of sports in the country.
Yogesh Kathuniya
Sport: Discus throw | Medal Earned: Silver
Yogesh Kathuniya went on to win a silver medal when he sent the disc flying to a distance of 44.38m in his sixth attempt in the F56 classification.
Bound to a wheelchair after suffering a paralytic attack (due to a neurological syndrome called quadriparesis) when he was seven, it left him with a loss of function in all four limbs. It was his family's constant efforts and physiotherapy which resulted in Yogesh making a partial recovery and eventually getting into the sport. The 24-year-old discus thrower has earlier achieved two gold medals in the 2019 Handisport Open, Paris, one gold medal in the Indian Grand Prix, Bangalore 2019 and a bronze medal in World Para Athletics Championship, Dubai 2019.
Praveen Kumar
Sport: High Jump | Medal Earned: Silver
Jumping high enough to clinch a silver medal, Praveen Kumar made it a debut to remember in the men's high jump T64 event. The 18-year-old from Delhi also set a new Asian record with a 2.07m jump.
Kumar has a congenital impairment that affects the bones that connect his hip. But his disabilities never stopped him from dreaming high. He has recorded several accomplishments under his name, including a gold at the World Para Athletics GP. 
Nishad Kumar
Sport: High Jump | Medal Earned : Silver
Nishad Kumar clinched a silver medal in the men's high jump T47 event in the Paralympics. The 21-year-old cleared 2.06m on his second attempt to equal his own Asian record.
Hailing from Una in Himachal Pradesh, Nishad lost his right hand in a fodder cutting machine. In 2009, he took up para-sports and went on to compete and set records in several competitions, including the World Para Athletics GP and the World Para Athletics Championships for a berth in the Tokyo Paralympics.
Mariyappan Thangavelu
Sport: High Jump | Medal Earned: Silver
Defending champion Mariyappan Thangavelu cleared 1.86m to win a silver medal in the men's T63 high jump. The 26-year-old from Salem is a Padma Shri and Arjuna awarded for his outstanding contribution towards sports.
 When Thangavelu was five years old, he met with a tragic accident while walking to school. That incident left him permanently disabled in his right leg. Raised by his mother, who is a vegetable seller, Thangavelu battled abject poverty.
 Thangavelu became an overnight sensation after winning a gold medal in the Rio Paralympics and has since gone on to win bronze at the Asian Para Games (2018) and World Para Athletics Championships (2019).
Singhraj Adana
Sport: Shooting  | Medal Earned: Silver and Bronze
Pistol shooter Singhraj Adana registered two medals at this year's Paralympics – a silver in the Mixed 50m Pistol SH1 event and a bronze in the men's 10m Air Pistol SH1 event.
The 39-year-old who has a limb impairment due to polio showcased his brilliant performance by grabbing two medals in this year's Paralympics.
Manoj Sarkar
Sport: Badminton | Medal Earned: Bronze
Arjuna Award recipient Manoj Sarkar beat Japan's Daisuke Fujihara in a pulsating match to win bronze in the men's singles (SL3). 
Sarkar took up badminton when he was just five-year-old and played several inter-school competitions against able-bodied players before competing in para-badminton in 2011. A gold medal winner in the SL3 singles at the 2016 Asian Championships in Beijing, Sarkar was named Para Sportsman of the Year at the Sportstar Aces Awards.
Sundar Singh Gurjar 
Sport: Javelin throw | Medal Earned: Bronze
Ace player Sundar Singh Gurjar chipped in with a bronze medal in the men's F46 javelin throw event finishing after Devendra Jhajharia. Two-times para world champion, Gurjar had earlier won the gold medal at the World Para Athletics Championships – in 2017 & 2019.
Hailing from Rajasthan's Karauli, 25-year-old Gurjar used to compete in the general category before he lost his left palm in an incident in 2015. He shot to fame in 2016 when he registered the 'A' qualification mark for the 2016 Rio Paralympics with a performance of 59.36m in the IPC Athletics Grand Prix, Dubai.
Sharad Kumar
Sport: High Jump | Medal Earned: Bronze
With a high jump of 1.83m, Sharad Kumar grabbed a bronze medal in the F42 category. The 29-year-old Patna-born is also a Sports Authority of India (SAI) coach.
Kumar had suffered paralysis in his left leg as a two-year-old after being administered a spurious polio dose. He took to high jump when he was in Class 7 and made his international debut in 2010 at the Asian Para Games in Guangzhou.
Harvinder Singh
Sport: Archery  | Medal Earned: Bronze
Harvinder Singh made headlines in a thrilling shoot-off round against Kim Min Su of Korea to win a bronze in men's individual recurve open event. With this, he became the first-ever Indian archer to win a medal in the Paralympics.
The 31-year-old Singh, who hails from a small village called Guhla Cheeka near Kaithal in Haryana is an economic scholar who is pursuing his PhD. He was the first athlete from India to win a gold medal at a major para competition in the 2018 Asian Games.
Singh lost the ability to move his legs properly when he was a year-and-a-half old, due to the adverse effects of an injection during a bout of dengue.
The efforts put in by the athletes in this Tokyo 2020 Paralympics have placed India among the top 25 countries in terms of medal wins. Their determination and 'never give up' attitude is the testimony of their true sportsmanship. We salute our athletes for bringing glory to the nation.