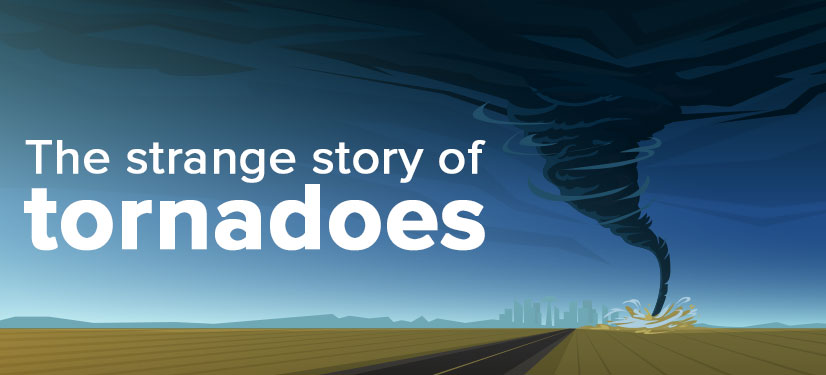 It's a cold monsoon day in the middle of July. Everywhere you step, puddles of mud and water greet your feet. A strong gust of wind blows past, and you hear a rumble in the sky; you look up expecting to see the pitter-patter of rain make its way down, but instead, a giant fish plops from the clouds onto your face.
Could this happen to you in real life? Yes, it could!
The "rain of animals" is a phenomenon where animals fall from the sky during storms. How is this even possible? When does this happen? How common is it? Let's find out!
It's Raining Cats And Dogs
Throughout history, there have been accounts of animals, especially marine creatures, raining down from the sky during turbulent weather. 
For the longest time, scientists dismissed this as a hoax, but it was the physicist André-Marie Ampère who first came up with an explanation for it. 

The same logic applies for marine animals too, except the tornados that pick them up, occur over water.
Swirls, Vortexes And The Physics Of Weather
A tornadic waterspout is a vortex that forms over water. They are long columns of clouds and wind that rotate on a water body. Similar to a tornado that occurs over land, a waterspout has very low pressure in the centre of its vortex with wind rotating in a circular motion around it.
It's this powerful low pressure at the centre of the vortex that sucks animals into the waterspout like a vacuum. As the winds of the waterspout travel over land, these animals are dropped, confusing the humans around them!
Sea It To Believe It
Scientists, so far, have never been able to observe a waterspout picking up marine animals into its vortex. An alternative theory suggests that the marine animals which rain down during storms are simply picked up by strong winds from the seafood markets in the locality and not from the actual sea!
Still, a monsoon where fish rain down from the sky is sure to be a memorable one, don't you think? What would you do if fish started raining over your city? Let us know in the comments below!