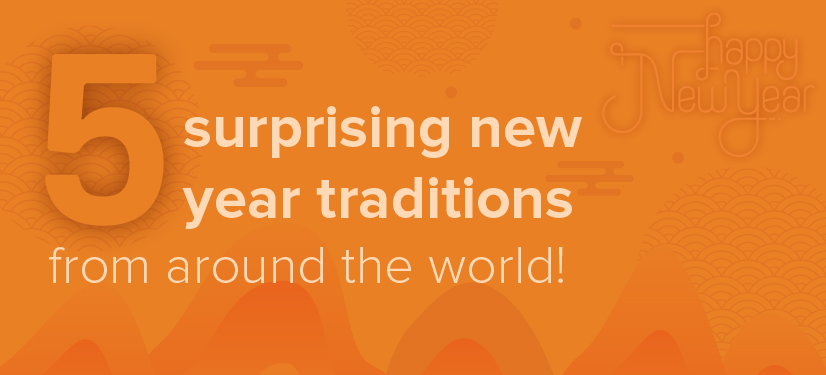 The world over, people celebrate the start of a new year with pomp and splendour! Take India, for instance, haven't fireworks, cakes and wishes become a standard New Year tradition?
But as you travel across the world, you will find that different countries have their own unique and sometimes quirky ways of ushering in the New Year. In this last edition of Weird But True for 2020, let's take a trip around the world to see different New Year customs and traditions!
Grapes are the way in Spain
In Spain, an age-old New Year tradition is the eating of 12 grapes at midnight on December 31. The rule is that you need to eat all 12 grapes before the clock finishes its 12th chime! People often gather in public places to share and eat their grapes. It is said that each of the 12 grapes signifies good luck for one month in the coming year. Hence, the hurry and excitement to eat all 12 of them! 
Turing the world a"round" in the Philippines
In the Philippines, the new year signifies the start of prosperity and good fortune. To attract as much luck as possible, Filipinos eat, wear, and decorate their surroundings with round things! But why the emphasis on 'round' you ask? Well because coins are round! Filipinos believe that by surrounding themselves with round things on the new year, round coins will grace their fortune in the future.
Breaking through bad luck in Denmark
If you spend New Year's Eve in Denmark, you will find that the sound of fireworks is accompanied by something else – the sounds of plates being broken! Danes believe that evil spirits can be ward off by breaking unused crockery. So come New Year's Eve, Danes start throwing plates and glasses at the front doors of their friends and family to ward off negativity in their loved ones' lives. Isn't that sweet? 
108 rings in the new year in Japan
The Japanese ring in the New Year, quite literally, by ringing their temple bells 108 times! This ceremony, that can start as early as 10 o'clock on the night of New Year's Eve, is done to ward off negative thoughts and usher in positivity. The bells are rung so that the 108th ring happens just as the New Year begins. People often gather outside the temple to hear the bells and start their new year on the right note.
Bags carry wishes in Columbia
Columbians have quite a few interesting New Year traditions. One of these is carrying an empty suitcase around the house on New Year! The locals believe that by doing this, their chances of travelling to new destinations increases in the coming year. So as the clock strikes 12, families take their bags and go out for a night stroll around their neighbourhood ushering in their travel dreams.
Learning about different countries and cultures is interesting, isn't it? Have you seen our social science videos that explore this? Click here to see them!
What was your favourite New Year tradition from the list above? Let us know in the comments!
Liked this? Read more stories like this here:
Can blind people see in their dreams?
What If ? #005 – Express edition!