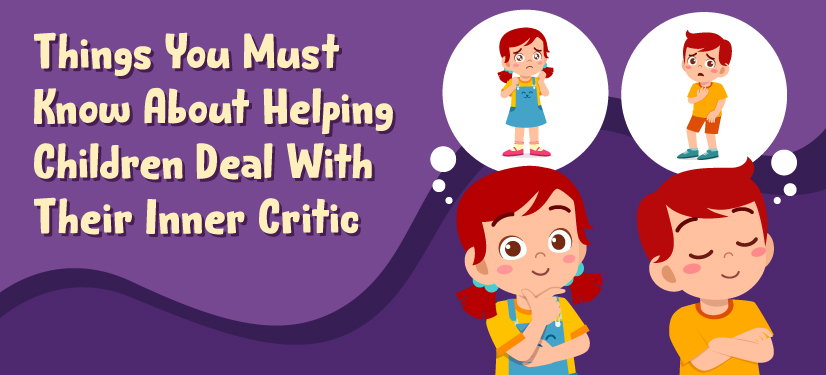 "The way we talk to our children becomes their inner voice." 
Almost all of us are familiar with a tiny voice in our head that criticizes everything we do. Like adults, this voice is present in the minds of our children as well. Shushing this tiny voice when necessary and using it to better ourselves instead of getting stressed about it takes years of practice. That is why parents need to teach their children effective ways of dealing with their inner critic.
In this article, we will cover:
How Does Children's Inner Critic Get Bigger?
Like everything else, children learn self-criticism from parents and other people around them. The book, The A to Z Guide to Raising Happy, Confident Kids, written by Jenn Berman, mentions three ways in which children learn self-criticism from parents. They are:
Seeing parents criticising themselves

Witnessing parents being critical of others

Being directly criticised by parents
How To Help Children Deal With Their Inner Critic
There are different ways and strategies that parents can incorporate into their routine to help children deal with their inner critic. 
The

book

by Karen K.C. Gibson,

One Hundred Parenting Tips Inspired by the Pandemic

, lists a few affirmations that can help children and their parents silence their inner critic. They are: 

Whenever you see your child being too critical of themselves, validate their feelings. The urge to brush off can be overwhelming as a parent but actually listening to them will create a safe space for your children to express their thoughts and feelings. 

Remind your children of other tough times that they have gone through to help them see things realistically instead of pushing them to be positive when they are not ready. 

Encourage your children to say things that their inner critic is saying in a kinder, gentler manner. You could ask your child questions such as 'how would you say this to your best friend?', 'what is the kinder version of this?', etc? 
Teaching children to silence their inner critic is important because it impacts their self-worth and self-esteem. They often find it difficult to stand up to their inner critic, and so do most adults, so it helps to lend your children that required support and help them see how wonderful they are. 
How do you help your children deal with their inner critic? Do share your tips and strategies with us in the comments section or drop a note at storyweavers@byjus.com.