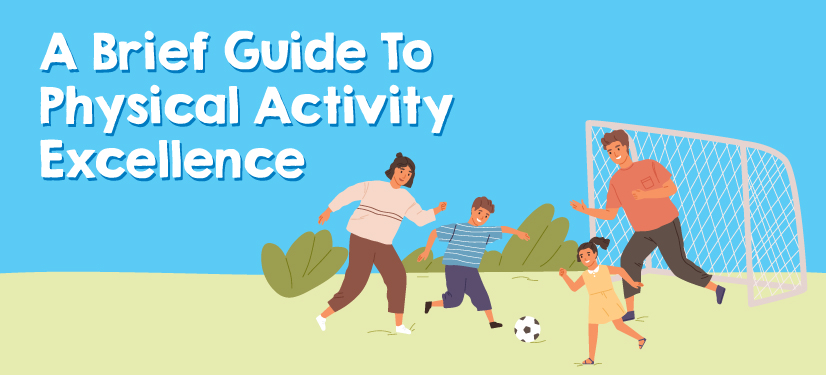 "The only bad exercise is the one you skipped."
If there is one thing that this pandemic has taught all of us, it is that good health is everything. The World Health Organization (WHO) defines health as a state of complete physical, mental and social well-being and not merely the absence of disease or infirmity.  
Like adults, children also need a daily dose of physical activity to stay healthy. This also creates lifelong habits that serve them well later when they are older. That is why, it is important for parents to understand the basics of physical activity for young children. 
In today's article, we will cover:
Characteristics

of a physically educated person
Parents need to teach their children about physical education for their holistic development. Stephen J. Virgilio's book, Active Start for Healthy Kids, mentions the characteristics of a physically educated person. Stephen J. Virgilio, PhD, has researched and worked on issues concerning children's health for about 25 years. Here are some characteristics of a physically educated person:
Has learnt or (in case of a child) is acquiring skills to perform a variety of physical activities

Is physically fit or (in case of a child) is acquiring cardiorespiratory and muscle endurance, flexibility, etc. 

Participates in regular physical activity (such as exercise, sports)

Knows the implications or benefits of physical activity or (in case of a child) knows that physical activity is a healthy practice

Values its contribution to a healthy life or (in case of a child) finds it fun and enjoyable
Physical activity guidelines every parent should know
A report published by the U.S. Department of Health and Human Services in 2018, Physical Activity Guidelines for Americans, mentions a few key guidelines for preschoolers and children. They are as follows:
For Preschool Children (Age 3 to 5):

They should be active throughout the day to aid their growth and development. 

Active play with a variety of activities should be encouraged at this age. 

For Children and Adolescents (Age 6 to 17): 

They should be provided with a variety of activities that are age appropriate and enjoyable. 

Children and adolescents should engage in a 60-minute moderate to vigorous activity for at least three days a week:

Moderate Intensity Aerobic: Playing games that involve catching or throwing, household work such as sweeping, etc. 

Vigorous Aerobic: Jumping rope, running, games that involve running or chasing, martial arts, etc. 

Muscle Strengthening: Games like tug of war, tree or rope climbing, body weight exercises, etc. 

Bone Strengthening: Hopping, skipping, activities that involve rapid change in direction, etc. 
These are a few things that every parent should teach their children and explore with them for their holistic development. To reduce the risk of injury, please start slow at a comfortable pace and then increase the length and intensity of the physical activity. Do not overtrain your child. 
Did you enjoy reading this article? Did you find it useful? Do share it with your family and friends. Also, let us know your thoughts in the comments section below. 
Disclaimer: These are generic guidelines. Parental discretion advised. 
References:
Active start: SHAPE America physical activity guidelines for children from birth to age 5. (n.d.). Physical Education and Health Education-Shape America. Retrieved May 24, 2021, from https://www.shapeamerica.org/standards/guidelines/activestart.aspx

Physical Activity Guidelines for Americans (2nd ed.). (2018). U.S. Department of Health and Human Services. https://health.gov/sites/default/files/2019-09/Physical_Activity_Guidelines_2nd_edition.pdf 

Virgilio, S. J. (2006). Active Start for Healthy Kids: Activities, Exercises, and Nutritional Tips. Human Kinetics. ttps://www.google.co.in/books/edition/Active_Start_for_Healthy_Kids/QX_mlU__mEEC 
Also read,