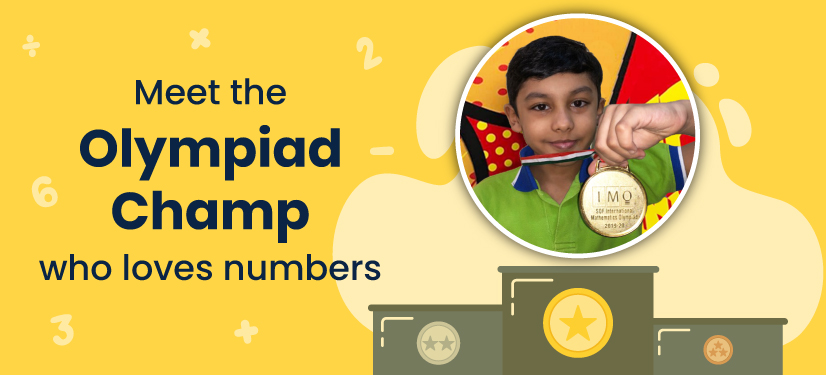 Eight-year-old Dheer Bhattacharjee's love for numbers is admirable. The International Olympiad champ from Mumbai likes to convert everything into the number format so he can retain basic concepts, and perform mental calculations easily. "If you simply tell him 'four hours', he will try to break it into minutes and tell you how many minutes there are in four hours," shares his mother Dipanwita Bhattacharjee. The Class 3 student had won the International Mathematics Olympiad in 2019 when he was just six-years-old. He also stood fourth in the Science Olympiad and second in the English Olympiad from his school in the same year.
The International Mathematics Olympiad (IMO) is a Mathematics-based competition, conducted each year by the Science Olympiad Foundation (SOF). The selection process for the competition consists of a series of tests that are considered extremely tough to crack. Out of thousands of applicants, only four to six students get selected for the final round. However, students from Classes 1 and 2 are not required to appear for the second level exam and are ranked based on their performance in the first level exam.
Prepping for the big day
When we asked Dheer how he prepares for an Olympiad exam, here is what this young lad had to say, "I have seen my older brother prepare for the Olympiad every year and that's how I got motivated to take the test too. I get all the books and previous year questions papers from him. I practice those rigorously and that's what has helped me over the years."
His mother adds, "Apart from what he is taught at school, we get the previous year papers too. Dheer got interested in the Olympiad watching his older brother solve and take part in the tests. He wanted to do it too and asked for the materials. Primarily, the books that come in specifically for the Olympiad and the test papers are what he solved before taking the exam. Last year's Olympiad was online due to the pandemic and there were a few discrepancies, which led to the ranking system taking a hit. We have registered for the Olympiad this year too." 
IMO will be conducted on three dates this year, December 4 and 5, December 24 and 26, 2021 and January 8 and 9, 2022. However, these dates might change depending on the impact of the Coronavirus pandemic on the functioning of schools across the country.
Making things simpler, courtesy BYJU'S
Most parents would agree that it has been a challenging task for them to get their kids accustomed to online learning since lockdown last year.
Dheer, however, adjusted pretty easily, adds his mother. "He has been pretty confident with the online classes and taking tests on the computer screen. He had his initial hiccups but then he adjusted. Studies for them are also fun when they are physically present in the classroom, but that element is completely missing now. For instance, teachers will ask children to mute themselves while she's teaching a lesson – our young kids are not used to these things. However, Dheer, with time, is coping well with the entire online system of learning," she shares.
The eight-year-old and his mother seem to agree on one thing completely — things became easier with the Disney.BYJU'S Early Learn App. "The reason we enrolled Dheer for BYJU'S was because last year during May their online classes had not begun. Therefore, I wanted to ensure he's occupied with something. Both my children love it now. When they are  brushing up their school lessons with the BYJU'S app, it helps them remember the concepts much better. The best part is the availability of video lessons, which have a lot of recall value. That's one of the reasons why Dheer likes it," his mother Dipanwita tells us. To this, Dheer is quick to add, "I like the Disney characters on the app, they are quite funny. I specifically love Jack and Jane as they are always embarking on new adventures."
Apart from being an Olympiad champ, Dheer is also taking gymnastics and martial arts classes, learning chess and solving puzzles. Recently, he has also begun his Whitehat Jr coding classes, his mother shares. 
Team BYJU's is super proud of Dheer and wishes him best of luck for all his future endeavours.