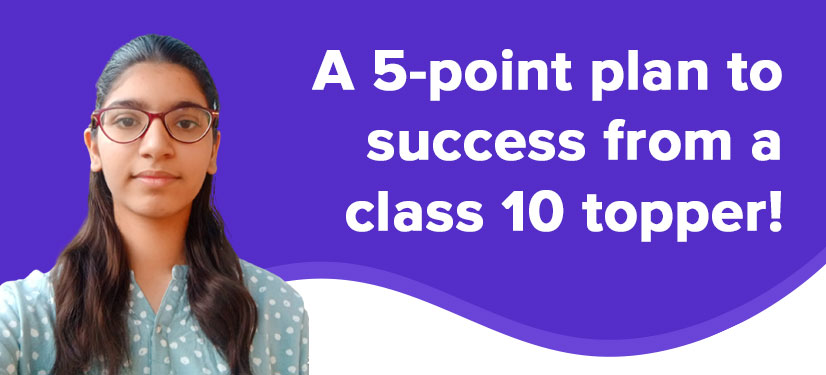 It's time for celebration for BYJU'S Topper Sakshi Mothsra, from Dewas, Haryana! This bright student scored a whopping 98.6% in the CBSE, class 10 board examinations. A confident, young girl, Sakshi took time out to share her exam prep journey with Team Storyweavers. Let's have a look at what helped her ace the boards!
Dedicated from the start
Speaking to Sakshi made us realise that she means business, and works hard to achieve her goals – all you need to do is take a look at her schedule! "I wake up at 3:30 am, study, play badminton with my family, study some more, attend school, study for the third time, then play football," says Sakshi, recounting her typical day. "During my 10th grade, I dedicated 4-5 hours every day after school for exam preparation," she adds. That's what we call a productive schedule!
In addition to being an exceptional student, Sakshi is also a quizzer. "Since class 7, I have taken part in the Bharat Ko Jano quiz conducted by the Bharat Vikas Parishad. I have won first place in the district level in all the years I have participated, and last year I won the first prize at the state level too!" says Sakshi brimming with confidence.
It was this interest in quizzing that also acted as a stress buster for Sakshi. "Sometimes, I would get exhausted from my studies, and quizzing refreshed me. My mother was a little apprehensive about this since I was in class 10. But I assured her that if I miss out on studies, I can easily make it up with BYJU'S!" she adds.
Kindling a love for biology
Her mother's work with the regional health department put Sakshi in close quarters with doctors and medical equipment from an early age. "I was in class 4 when I learned how to use a BP measuring device!" she says. While her mother always wanted her to become a doctor, Sakshi says it was the visual lessons on BYJU'S that made her fall in love with biology. "From the time I started studying biology from BYJU'S, I fell in love with it. The videos with the animated sessions that show the internal body structure of humans and plants are brilliant. I can see what I am supposed to learn. That helped me understand concepts so well," she explains.
This love for the subject, fuelled by a desire to do well, proved to be the winning combination for Sakshi. Motivated by her mother, Shakuntala Dhillon's support, Sakshi put up a fantastic performance in her class 10 board exams. While speaking about her daughter's journey with BYJU'S, Dhillon says, "Working in a government health department I was posted on the field in a place where I didn't have any options for tuitions for Sakshi. This is where BYJU'S helped us a lot. I advised Sakshi to study from school first and then study from BYJU'S and give the BYJU'S tests. That helped her well."
Sakshi also shares some of her top preparation tips to help other students!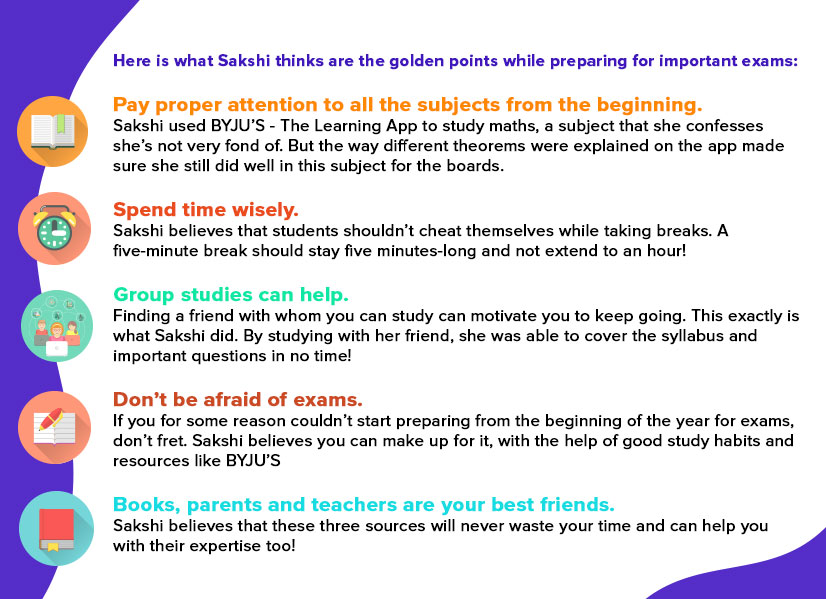 Team Storyweavers wishes Sakshi the very best for all her future endeavours! We are sure a determined student like her will reach extraordinary heights in everything she does!