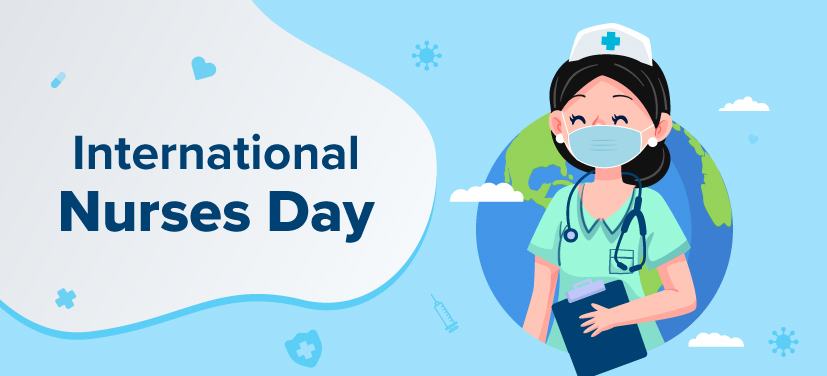 This International Nurses Day, Shijin K Mathew, a BYJU'S student from class 12, shares the story of his mother, Jiji Varghese, a nurse bravely fighting COVID-19 from the front line. Here is what he said.
---
"When I was five years old, I remember my mother dropping me off at my aunt's place while she went to work at the hospital. Her shift timings were long so she would return only at night. It was much later that I actually visited her at a hospital and saw her work.
She was a senior nurse so the responsibility of guiding and helping the other nurses fell on her. It made me proud.
Now, during the pandemic, she is working even harder. I am proud of being the son of a mom who helps all and saves lives. Recently, she got infected by the coronavirus but not once did she think 'I can't work. I give up.' She took time to recover, got vaccinated and went back to saving lives. 
Currently, I am in Kerala and she is in Delhi so I miss her a lot. She used to help me with my studies and is my biggest supporter. I really miss her now that she is in a different city. But I never let her know that. I instead encourage her and tell her, 'You are doing good work'. If you personally know healthcare workers too, I request you to do the same thing. Be proud of them, make them happy. They are working for me, you and everyone else. 
So I encourage my mom whenever I can. In return, she encourages me to work hard and tells me, 'You should help your younger brother too. Help him grow up to be a good person.' My younger brother is only 13 years old now, so I don't know if he will listen to me! But I try to be a good person myself, wherever I can, so he can see me and learn.
As the son of a nurse, I would also like to request everyone to please stay home during this pandemic. When my mother comes back home from a shift at the hospital, she doesn't even come near us, let alone hug us. She is afraid that the virus will come to us too, so she only interacts with us after sanitising herself thoroughly. 
My entire family works in healthcare. My mom is a nurse and my father is an ambulance driver. So I too want to work in the medical field like them by becoming a doctor. This is my dream and my mom's dream too. One day, I am sure I will make it come true."
---
We thank Shijin for sharing his mom's story with us. This International Nurses Day we salute all nurses like Shijin's mom who are saving countless lives at the front line. Thank you for the amazing work you do. ?