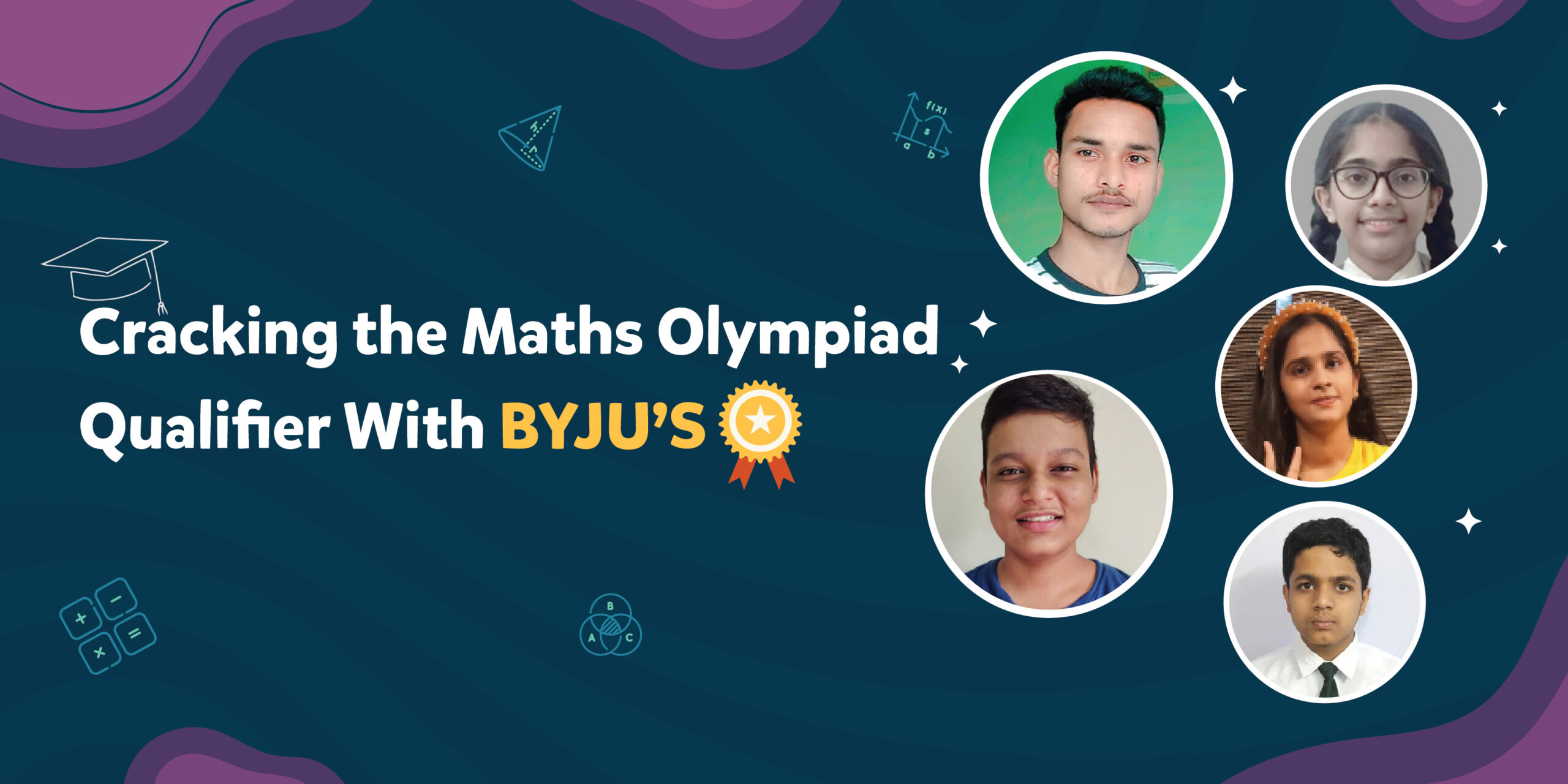 The Indian Olympiad Qualifier in Mathematics (IOQM) announced the results of their Level 1 examination in April 2022. This year the IOQM Level 1 exam was held on March 6, 2022, due to the delay caused by the COVID-19 pandemic. The exam authorities had also introduced several changes given the prevailing situation. The number of stages in the qualifier had been reduced to five, compared to previous years when it was six. Despite the hardships faced by IOQM aspirants, we at BYJU'S are extremely proud of our students, who succeeded in IOQM's Level 1 exam to qualify for stage 2, the Indian National Mathematical Olympiad (INMO).
We spoke to the students who cracked the IOQM stage 1 this year, and here's what they have to say:
"I studied rigorously for three months before the exam from numerous books and questions papers, specifically meant for Olympiad preparations," says Satyendra Kumar, a Class 10 BYJU'S student from Bihar. Satyendra dedicated two hours daily to prepare for the qualifier with BYJU'S as a constant companion. "BYJU'S helped with my Olympiad preparation as the lectures and videos on the app teach us concepts and topics that aren't taught in school. This gives me an edge over other students and helps me stay ahead. I solved a lot of sample papers as well that gave me an idea of the questions I can face," he adds.
Tirtha Samir Desai, currently a Class 10 student hailing from Gujarat's Bharuch, tells us she began preparing for the IOQM exam a year ago. "I followed several books and modules to study for the qualifier. Good study material is available online as well, and all of this helped me to score well in the Level 1 exam.
I took BYJU'S subscription from Class 9 to 12, so for Mathematics, I watched videos on the app for a few Class 11-12 topics to get my concepts cleared before the qualifier. Then I solved a lot of question papers and practice tests, which helped me to be confident during the examination. Depending on my regular study schedule for the week, I used to study for the Olympiad. At times, I could dedicate an hour or two and the rest of the time, I just squeezed it in with my regular curriculum," she says. For students aspiring to take the IOQM exam next year, Tirtha adds that proper time management is extremely important, and one should also solve previous year's papers to get a hang of the test.
A Class 12 BYJU'S student from Jharkhand, Krrish Chanchal, shares that he had already been preparing for JEE, which has also helped him with the Olympiad. Krrish has been a student of BYJU'S from Class 8, which has helped him with his JEE and the Olympiad qualifier preparations. "Recorded lectures and videos on the app helped me clear my concepts. I revised and solved several Mathematical problems starting from Class 9 to 12 that helped me crack the IOQM Level 1 examination," he says.
For Pulkit Agrawal, a Class 12 student from Mumbai, solving sample papers and getting his major concepts cleared just two weeks before the Olympiad qualifier helped him ace it. "I have also been preparing for JEE, which has already created a base for this qualifier. I have also been a BYJU'S student since Class 7 and as a lot of questions in the exam were from Classes 7-9, BYJU'S classes could help me with that. Numerous video lectures and practice tests after every chapter helped me to manage my time accurately," he says. "Building concepts is the key. Also, solving previous year's question papers will help you to score well in the qualifier," Pulkit suggests to the aspiring students who wish to take the exam next year.
Sneha Bajpai, a Class 10 student from Agra, had been preparing for the past one year for this exam, with BYJU'S as her constant companion. "With BYJU'S, things became a lot easier as it helped me to study topics like sets, inequality and relations for the IOQM exam with ease. I was also enrolled with Aakash BYJU'S and they had given me a separate module for IOQM, that contained books and practice tests every week. The video lectures on the BYJU'S app and their customised learning experience also helped me to crack this," she says, adding that a week before the IOQM examination she put in some extra hours during the weekends as well. For students keen to attempt IOQM, Sneha believes that one should be really interested in Mathematics or should have a knack for the subject before they take the exam. "The questions that are asked are not from a single book and require a lot of on-the-spot thinking. But you do not get enough hours to think, hence you have to be quick. This needs a lot of practice," she shares.
---
About IOQM:
The Indian Olympiad Qualifier in Mathematics (IOQM) was a three-hour examination and was jointly organised by the Mathematics Teachers Association of India (MTAI), the Indian Association of Physics Teachers (IAPT), the Homi Bhabha Centre for Science Education (HBCSE) and the Tata Institute of Fundamental Research (TIFR).