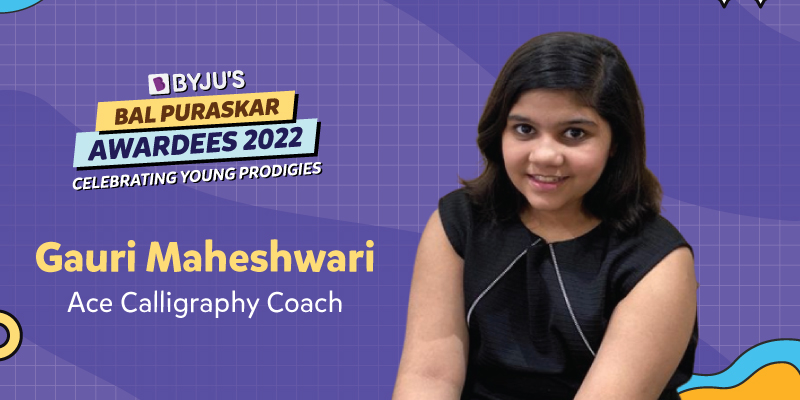 When you think of calligraphy, perhaps the first things that would come to your mind are fancy fonts and special pens! But calligraphy is more than just that. It is also a great test of patience and concentration, which helps you master this art form with ease.
This is what we see in the case of 13-year-old calligraphy coach, Gauri Maheshwari from Ajmer. She is a certified calligraphist who has already managed to enthral over 1500 students in her classes so far. And they are not just young learners; her students also feature senior citizens who are keen to learn something new.
This vast spectrum of students, coupled with supportive parents, has enabled Gauri to flourish in her role as India's youngest calligraphy teacher. Her classes are held online, and she also handles her YouTube and Instagram channels with tutorial videos based on this penmanship. Soon, she may also introduce a multilingual app to help budding calligraphists.
With the coveted Bal Puraskar Award added with the entries in the India, Asia, and International Book of Records, she has her sights set higher, more than ever before.
In this conversation with BYJU'S, watch Gauri and her parents talk about calligraphy, her inspirations and their reaction to winning the Bal Puraskar Award.
(As told to Tanaya Goswami)
Also read:
Dancing With Fire: Bharatanatyam Prodigy Remona Evette Pereira on Winning The Bal Puraskar
Bal Puraskar 2022: Banita Dash — The Innovator Who Discovered An Asteroid
I Want to Become Like Arijit Singh: Youngest Multilingual Singer Dhritishman on Winning The Bal Puraskar