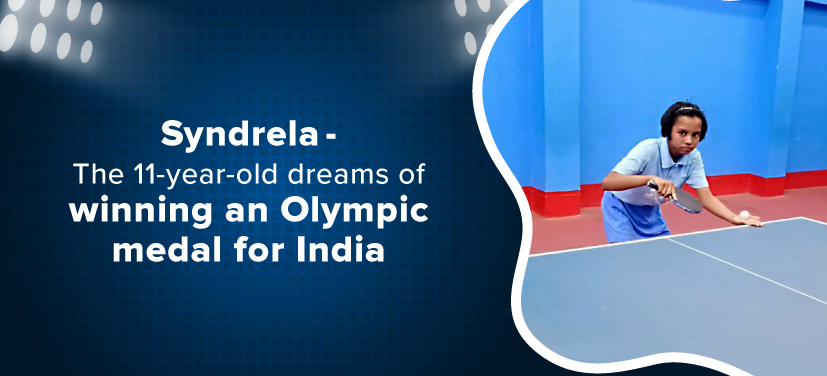 Just like every aspiring sportsperson in the world, no dream is too big for table tennis champ Syndrela Das. "I want to win an Olympic medal for my country," says the high-spirited 11-year-old from Kolkata. At such a young age, Syndrela has already made a name for herself with stellar performances in various state and national-level tournaments. She has won four medals and an impressive number of certificates and is currently honing her skills for the national selection trials.
Ranked 9 in the Under-12 category by the Table Tennis Federation of India, she recently participated in the 82nd Cadet and Sub-Junior National Table Tennis Championship, held from February 25-March 6 at Indore. She is also a regular in other competitions like the Inter-State East Zone Tournament, Sub-Junior Girls (U-15) Tournament, and Cadet Girls (U-12) Championship.  
"I started playing TT as a hobby and it slowly developed into a passion," says the Class VI student, whose mother Sushmita Das was the one who introduced her to the sport. She says that the youngster has been playing table tennis professionally for around two years, and has now mastered the sport. 
"I taught her how to play table tennis when she was just three-and-a-half years old. My husband and I enjoyed playing TT and so we thought we might try to teach her as well. When she held the paddle in her hand for the first time, I realised that she was quite interested. So from then on, I insisted on letting her play every day," she said. 
A young star in the clouds
Syndrela started participating in district and state-level tournaments in 2018 under the guidance of her coach Soumyadeep Roy, who is a former National TT champion and recipient of the Arjuna Award.
"For any player, early lessons are without a doubt the key to developing a strong foundation and so we sent her to Soumyadeep Roy and Poulomi Ghatak's academy here in Kolkata. Initially, they refused to train Syndrela as she was too young. But after looking at her swift wrist movements and brilliant paddling technique, they agreed to grant her admission in the academy," said Sushmita Das. 
Syndrela practices six days a week, for five hours a day, and credits her coaches for her achievements. "They have been my mentors throughout. I've learned a lot from them. It is due to their efforts that my interest in learning TT kept on increasing," said Syndrela.
When asked what is the one quality that sports has taught her, she replied, "It has taught me patience and teamwork. I believe that I have become more confident in whatever I do – be it studies or playing tournaments."
Balancing studies and sports with BYJU'S
For someone with a sports schedule as rigorous as Syndrela's, it is natural that getting time for studies will become a challenge. Syndrela however ensures that she is not only focused on TT but also equally concerned about her studies and school. Which is why she turned to BYJU'S –  The Learning App to make up for lost hours while training. After returning from school, Syndrela sits down to learn new concepts and clear her doubts on the BYJU'S app and has come to love every minute of this experience.
"It has been the only way I have managed to cope with all the lessons I missed out in class. The fun quizzes and practical examples on BYJU'S have made me fall in love with learning, especially subjects like Math," she said.
Her mother couldn't agree more. "I subscribed to BYJU'S in 2018 since Syndrela started playing TT professionally. The best feature of the app is that it makes understanding the fundamentals behind the concepts much easier. She no longer had to worry about missing classes as with the help of BYJU'S she could learn at her own pace and clarify her doubts at any point of time," said Sushmita.
Syndrela's commitment to studies becomes even more evident when she says that she wants to become a teacher when she grows older. "As a teacher, I want to make a difference in the lives of children in order to help them realise their true potential," she concludes. 
BYJU'S wishes Syndrela the very best for her future endeavours.