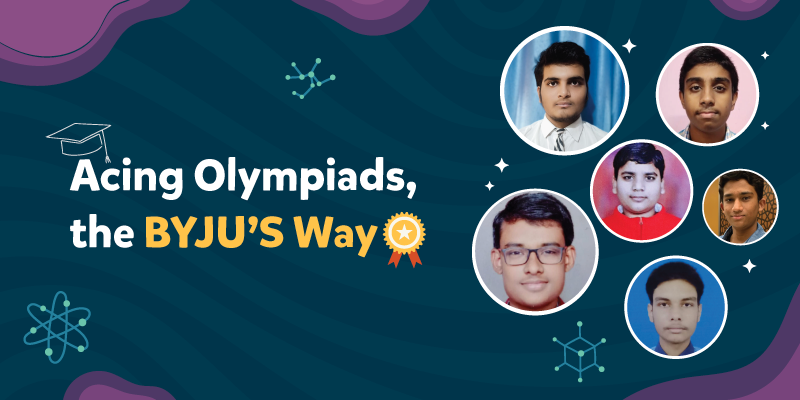 The Indian Olympiad Qualifier in Junior Science (IOQJS) announced the results of IOQJS Part I in April 2022. And we at BYJU'S are extremely proud of our students, who succeeded in Stage 1 with flying colours and qualified for the second stage of the examination. The main objective of the exam is to inspire students to evaluate their science skills on a global platform.
We spoke to some of those BYJU'S students who qualified for Stage 2 of the IOQJS examination held this year, and here's what they have to say:
Gautam Garg, currently a Class 10 student, tells us that he began preparing for the IOQJS exam when he was in Class 9. "BYJU'S was of great help, especially the video content on the app helped me to prepare for the exam and made my concepts clear," he says. Gautam said that of the 85 marks that he has scored, he owes a major chunk of his achievement to BYJU'S. "I came ahead of the other students because I was well-prepared, all thanks to BYJU'S," he adds.
Lloyd Roshan, a student of the Aakash BYJU'S Foundation Course, also began preparing a year early for IOQJS. "I did not have a stipulated time to study for the Olympiad, so I managed it along with my regular classes. Video lectures and solving question papers helped me the most," he says. "Preparing for the Olympiad also helped create a basic foundation for what students will study in Classes 11 and 12, especially if you are a Science student or a JEE aspirant," adds Lloyd for students aspiring to take the IOQJS next year.
"I have been dedicating one to three hours each day for the IOQJS exam. Lectures, notes and test experience on BYJU'S helped me to get a hang of the exam, how things work and what I should expect," says Yogesh Baranwal, one of the qualifiers. His message for aspirants is to be consistent and hard working. "Always follow what your teacher or mentor tells you, be punctual, so that there's no burden to finish a lot of things at the last minute," he adds.
A Class 10 BYJU'S student, Tejasvi Shrivastava shares that he has been preparing for JEE, which has also helped him with the Olympiad. "I read several books provided by BYJU'S for JEE preparation and solved many sample questions for IOQJS. Video lectures from BYJU'S also helped to clear my concepts. Students planning to take the Olympiad qualifier should learn a few things outside the syllabus, maybe prepare the basics in Science from Classes 11-12, which would definitely help. Study regularly and follow a routine and you could score good marks," Tejasvi suggests.
For Abhinav Raj, solving the previous year's question papers a month before the main exam helped the most. "I mainly studied from the module provided by Aakash BYJU'S. Regular tests were conducted, and we had a separate module to prepare for the Olympiad exam. That is what helped me get qualified for the IOQJS so easily," he adds.
Aditya Sameer Vichare studied rigorously two weeks before the qualifier while solving test papers and watching video lectures on BYJU'S. "I had begun my general preparation a year ago, but then I went on to solving the tests provided by BYJU'S to time myself. I did it along with my regular classes and didn't really dedicate separate hours to prepare for IOQJS," he shares.
---
Aroosh Singh has been taking the Aakash BYJU'S classes since Class 9. He dedicated one or two hours every day to Olympiad preparation. "BYJU'S was my favourite learning companion while I prepared. The practice tests helped keep the pace going, and the videos helped clear concepts even at the last moment. I set a fixed timetable to help me study and manage my regular classes," he says.
---
About the Olympiad qualifiers:
Among the sciences in the Indian Olympiad Qualifier (IOQ), the Olympiad programme in Astronomy (junior and senior level), Biology, Chemistry, Junior Science and Physics is a five-stage process for each subject separately. The first stage for each subject is organised by the Indian Association of Physics Teachers (IAPT) in collaboration with teacher associations in other subjects. All the remaining stages are organised by Homi Bhabha Centre for Science Education (HBCSE).
The National Olympiad Programme in Science subjects for the year 2021 had been disrupted by the COVID-19 pandemic. The examination underwent a major change in its pattern, and the number of stages were reduced, as compared to previous years. A three-hour and two-part examination called the Indian Olympiad Qualifier (IOQ) was jointly organised by the IAPT, HBCSE, and the Tata Institute of Fundamental Research (TIFR).
For more information on next year's exam pattern and dates, visit the Olympiad website: https://olympiads.hbcse.tifr.res.in/