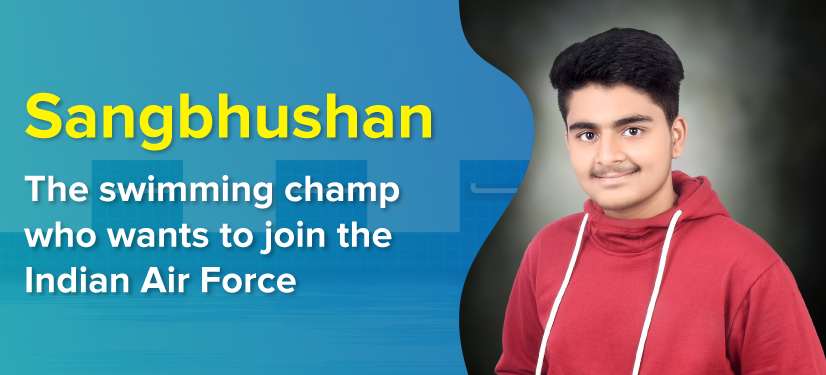 When Sangbhushan Sharad Jadhav was a little boy, his father was keen that he try out every sport, be it swimming, volleyball, or cricket. And even though Sangbhushan tried his hands in almost every one of them, it was swimming that he enjoyed the most. It may have been just a hobby when he started swimming at the age of six, but his passion for the sport grew considerably while in school. 
However, little did he know that a few years down the line he would make a name for himself with his prowess in the pool. At present a student of Class 10, Sangbhushan has cornered glory in various inter-school swimming competitions by now, bringing home three silver and one gold medal to boot.   
Based out of Mumbai's New Panvel, the young champ proudly credits his achievements to his father, who unfortunately died of COVID-19 last year. He says that it was with his father's support that he has been able to come this far. "My father would accompany me to all competitions. He kind of prodded me into taking up the sport and I liked it. In fact, three years back, I got selected to represent Maharashtra in a state-level swimming competition," says Sangbhushan.  
For now, the teenager is preparing for his board examinations this month and for this, he needed a little help to keep up with his academic learning. That's where BYJU'S came in. "Due to my swimming commitments, I needed help to keep up with my studies. That's when I turned to BYJU'S-The Learning App. The biggest advantage of using the app is that I can learn at my own speed. Also, the detailed explanation provided for each concept in Math and Science is great and their interactive videos make learning fun."
Last month, Sangbhushan also appeared for the National Talent Search Examination conducted by the National Council of Educational Research and Training (NCERT), the results for which are due. "I took Science lessons from BYJU'S and I'm confident about my performance," he said.
To add to this, Sangbhushan's mother, Sarala Sharad Jadhav, says, "I have subscribed to BYJU'S for both my children. In fact, because of BYJU'S, Sangbhushan was able to score well in Biology, which was his weakest subject. Instead of making him simply memorise lessons, the app helped him understand the concepts. Moreover, the engaging videos boosted the interest levels of my children in subjects through various practical activities and games. This made learning more enjoyable for them and promoted deeper thinking."
Although he aims to join the Armed Forces in the future, he's equally interested in continuing to pursue his passion for swimming. "I would like to join the Indian Air Force, but I will continue being involved in sports on the side. Sports has taught me the ability to fail and learn from setbacks to move forward, which is a vital life skill too."
Sangbhushan has miles to go, but we believe that he's ready for any obstacle that comes his way.
Team Storyweavers wishes Sangbhushan all the very best for his future endeavours.